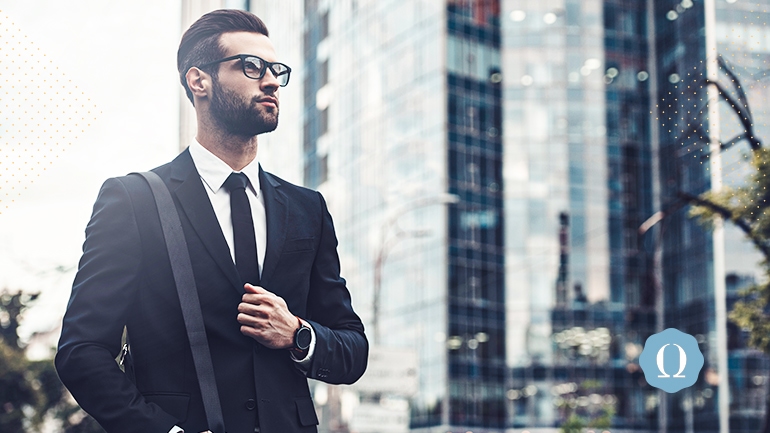 Fraternity communication basics may at first seem—well, basic.
What's so hard about it? Officers try to tell you what to do, and you, a born rebel, throw paper airplanes at them and "boo" from the back of the chapter meeting.
What is this, you wonder, amateur hour?
Then, one day, you're elected to an executive position in your chapter. You must present some important information to your brothers, but a knot forms in your throat as you see them: sitting close together, with suspicious smiles on their faces and arms crossed, are all the outgoing officers.
Is that the former treasurer cracking his knuckles? Why is the VP making all those spit wads?
You may not make it through this presentation in one piece.
Fret not, young officer. It's not too late to repent your ways and become the model officer. By learning to communicate effectively, you're well on your way to becoming the revered executive who keeps your chapter running like clockwork.
The more advanced your communication skills, the more clearly you can direct the many moving parts of your brotherhood. Also, clear, straightforward communication is contagious. You'll be passing these skills on to your fellow brothers. Score!
However, if you want to get to the advanced stuff, don't skirt the basics—you need a strong foundation to build upon.
OmegaFi can help. Let's build together. This is Fraternity Communication Basics for the New Officer.
Communicating Effectively Builds Confidence
New officers sometimes fall into the trap of believing good leadership is all about bravado and flair. They think you constantly must remind people you're in charge, crack the whip, etc.
And yes, there's a time and a place for putting your foot down. Brothers still have to follow the rules.
Yet brothers who try to lead with false confidence can end up overdoing it, without the bite to back up their bark. This leads members to view you as either a jerk or wishy washy.
Instead of trying to conjure confidence out of midair, trust that it will come once you've built the right communication skillset.
How exactly do you do this? What tools do you need?
Here's a quick primer to get you started:
Build a Solid Plan. Then Explain That Plan to Yourself.
As an officer, there are many times you'll need to convey a project or initiative that requires your brothers to volunteer or participate, to understand their role, and what exactly it is their dues dollars are paying for.
You're still getting the hang of things, so instead of rushing in, build a plan first. Take your time with the details. Work together with the previous officer in your position or other executives if necessary.
Make sure you can explain the plan logically to yourself, in straightforward terms. If you were the one being told this plan by an officer, what exactly would you need to know? What information detracts from the message and could be left out?
Knowing exactly what you'll say, and having a clear, straightforward idea of what it is you want to accomplish, will give you and your brothers the confidence to pull it off.

Sometimes new officers will feel overwhelmed because they're putting too much pressure on themselves.
They believe, falsely, that they're all alone and must be the sole voice of reason within their position.
It's true that you'll be the leader when it comes to your duties, but brotherhood is never about one person. It's crucial that you make communication about conversation and collaboration, not about dictating your whims.
This will take some of the weight off your shoulders. It will also give brothers more confidence that you'll hear their concerns and ideas.
What you'll learn through brining brothers in on the process is that some ideas work, while others don't. You'll learn to give everyone a fair shake, but also to guide the conversation in a productive way.
It's a process through which you can strengthen your own ideas and help brothers refine their thoughts on these projects. It can also help them build the critical thinking and leadership skills to one day become officers themselves.
You can attend as many leadership seminars as you want. They'll help you, no doubt.
But no seminar will stop you from making mistakes.
Accept this fact, and you'll be able to grow into a stronger communicator and brother from the mistakes you make, instead of letting them keep you down.
We're not saying to throw things at the wall with wild abandon to see what sticks. But if you trust your new officer training, your instincts, and the advice and decisions of the executive council--understanding you're still going to get it wrong occasionally--you'll be fine.
Analyze your mistakes. Pinpoint where communication broke down, then make the right adjustments to do better next time.
How Can OmegaOne Communication Software Help?
Building a self-reliant set of communication skills as a new officer is important, but software tools like OmegaFi's OmegaOne can help streamline and simplify your efforts.

Check Out What OmegaOne Has to Offer Here.
OmegaOne is a comprehensive, all-in-one, premium communication tool built with fraternity chapters like yours in mind.
Thus, this software is custom tailored toward the specific challenges brothers face every day.
Let's look at a few of the ways OmegaOne can help with the officer communication skills we've discussed.
This software:
always keeps you connected with your brothers with customized announcements, text, email, and more.
helps you get conversational feedback from brothers on your ideas with quick surveys and directly connecting to the right brothers at the right time.
lets you set event details on a shared calendar, with geo-location-based check-ins for members.
"the wall" keeps each member informed of important announcements.
communicating about dues is easier than ever, as members can pay chapter bills via OmegaOne.
OmegaFi offers software solutions for fraternity chapters for recruitment, budgeting, communication, and more. Learn more about our services or call direct at 800.276.6342.
Are you a new fraternity officer? Leave your questions or comments about OmegaOne or communication basics in the comments below!