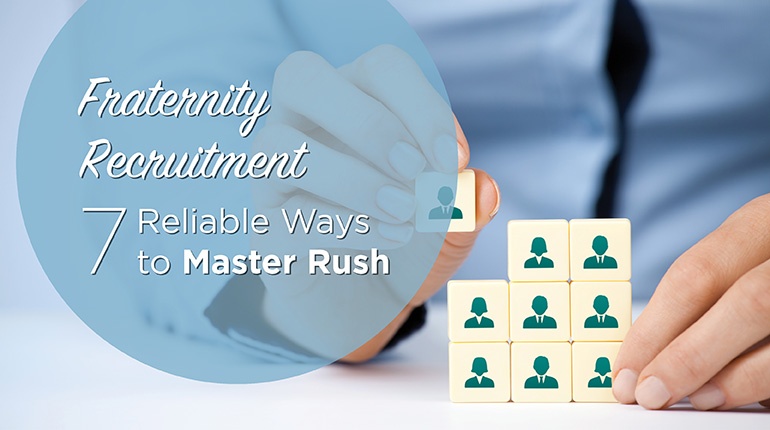 Your brothers are the lifeblood of your fraternity. Without its awesome members, your organization couldn't make a positive impact in the community through leadership and fundraising campaigns.
So how do you make sure you're sustainably bringing in enough new members — and the right members for your organization — every year?
We've got 7 fraternity recruitment tips to guide you through rush:
Ready to bring on the next generation of incredible brothers? Let's get started!

1. Learn from past fraternity recruitment.
Do you want each year's recruitment to go more smoothly than the last? You've got everything you need to make it happen.
Leverage the experiences of new and returning members of your Greek organization to make each year of recruitment better.
One of the most efficient ways to gather feedback about their rush experience is to send out a survey to your recruits and your brothers. Consider asking open-ended questions on specific topics to get the best feedback. For example:
Were your conversations with current brothers helpful?
Were you comfortable in the atmosphere of the events?
Did you feel well-informed about the bid process?
Are there aspects about the recruitment process you would change?
Make sure you use fraternity management software that allows you to segment your members into categories. Survey results will be most useful if you can separate those from new and returning members. With OmegaFi's partner the GIN System, your members can answer poll questions sent by your leadership team. See what that your members see in the screenshot below: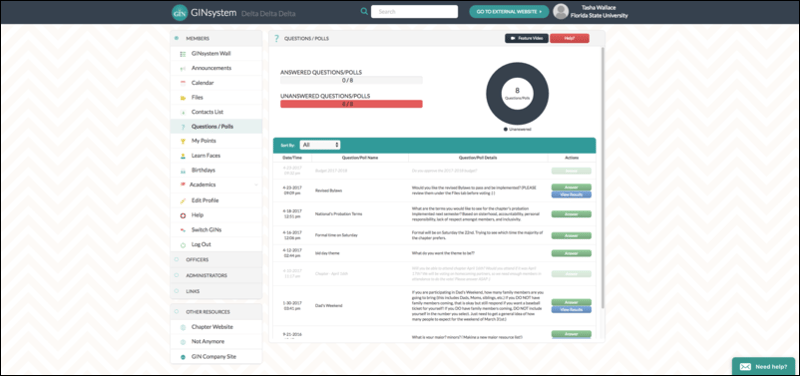 It's not just the member experience that determines the success of your fraternity recruitment. Take a look at your finances, too.
Investigate your return on investment. How much did you spend on this year's rush? How much will you get back from dues, fundraising, and other sources? Ensure that you're getting out what you're putting in — and that you're keeping good enough financial records to figure that out.

2. Leverage your fraternity's network.
Recruits want to know that they're joining a fraternity that will support them for the rest of their lives.
Show potential members that you'll be their lifelong cheerleader by keeping your circle close.
Your on-campus members and alumni comprise an expansive network of potential role models and advisers for younger members. All you have to do is facilitate those relationships.
Storing relevant information in a database will make it easier for you to keep everyone engaged:
Contact information: You need to know how to get in touch with your brothers!
Employment history: By tracking your members' employment, you can introduce younger members to successful older members working in the industries they want to enter.
Interests: You can connect new members with older members with the same interests, who will provide your newer recruits with recommendations and connections they wouldn't have otherwise.
Your alumni in particular probably won't appreciate it if you only reach out to them when you want something from them. Make it a habit to stay in touch via a newsletter and alumni events, too, to build a relationship that extends beyond donations.

3. Stay organized before (and during) recruitment.
Rush can only be as successful as it is organized. If your potential new members don't know when or where to show up where or what they're supposed to bring, then they can't navigate the rush process.
Lay out a clear communication strategy before rush starts, and manage your messages using communication software, like the one in the screenshot below: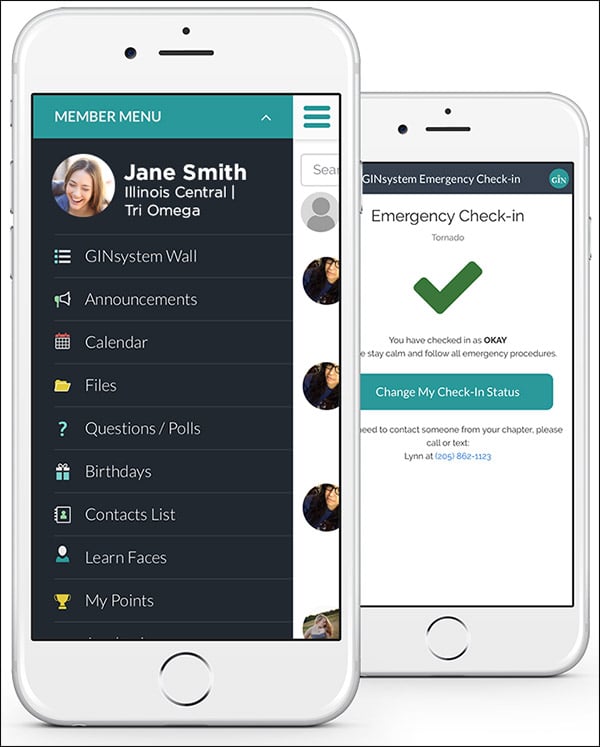 There are definite perks to implementing communication software instead of simple email for recruitment:
Organization: The sheer volume of potential recruits can get overwhelming. When you use software instead of a regular email account, you lower your chances of missing something.
Automation: Communication software makes it easy to schedule messages. Set reminders in advance so no one forgets to attend an important meeting.
Delegation: Keeping track of who's in charge of what can get messy, but you can designate specific roles for different users in some communication software.
Documentation: You never know when you might need to go back to what exactly was said. Communication software keeps time-stamped logs of all your messages, incoming and outgoing.
In the chaos before and during rush, you don't want to be worried about emails. Let software take care of it while you focus on making recruitment a fun experience for everyone.

4. Build from your fraternity's philanthropy.
Rush is a way to share your accomplishments and find those recruits who want to continue the brotherhood's good work.
Ensure you're finding like-minded new members for your organization by promoting your philanthropic efforts in all of the following ways:
At your rush events.

On your website.

On your university's website.

On marketing materials like T-shirts and flyers.
Make sure to highlight your accomplishments in philanthropy through your fundraising efforts. You can show leader boards, statistics, and any awards you've won as a result of your fundraising efforts on your website or anywhere else you promote your good work.
Think about the message that sends to potential recruits: you support a good cause together as a group. Potential new members want to be a part of something bigger then themselves, and you're showing them just how much bigger that something can be!
Your fundraising strategy throughout the past year will directly impact what you can present to recruits during rush, so make sure you're getting the most out of your fundraising!!

5.
Keep fraternity recruitment fun.

The good you do through your philanthropy brings you all together. That kind of brotherhood should be celebrated!

By hosting fun fraternity recruitment events and activities, you give your recruits a taste of the kind of group you are, and you get a sense of whether the recruits are the right fit for you.

Your choices for recruitment events are practically unlimited, but here are some popular picks:
Ice cream social
Cookout
Bowling or roller skating
Board game or card game tournaments
Pick-up basketball tournament
Capture the flag
Newlywed game
Trivia competition
Give your recruits plenty of guidance when planning an event. They'll be nervous, so they will appreciate any bit of information about your event you can provide, like times to show up and what to bring or wear.
Set these reminders in your management software to make sure your current members, not just your recruits, know when to show up. The GIN System's calendar feature, pictured below, is great for keeping everyone in the loop: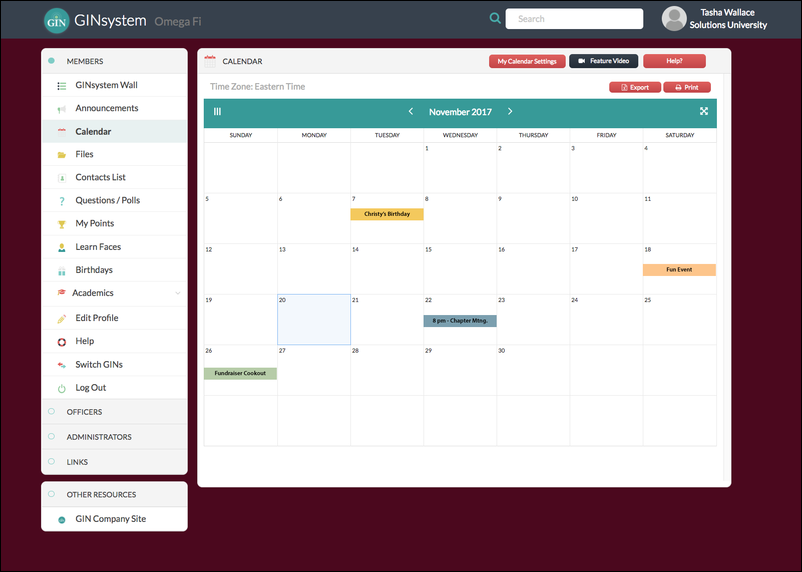 Whichever event you decide to host, keep in mind that the point is to make connections, not just to have fun (though you should be doing that, too!). Give out name tags and instruct current members to make conversation.
And if you don't have much control over which events you host during recruitment because your university handles planning, then make sure you keep the events going after recruitment ends.

6.
Stay in touch with recruits

.

It's important to give your recruits a way to contact your leadership team if they have a question about rush, but remember that recruits are probably a little intimidated by you. They might not reach out to you even if they need to.

The best way to make sure potential new members stay in the loop is for you to initiate the conversation, and do it often!

Setting automatic reminders for rush events or paperwork deadlines keeps your organization in their inbox. You can also send messages reiterating your university's policies on Greek life or your philanthropy statistics.

No matter what you're sending, always include something at the bottom of your messages to let recruits know they can reach out if they need something. Try something like:
"Don't hesitate to email us at this email address if you have a question about this event."
"You can always get in touch with the leadership team at this email address."
"Just fill out this online form to submit a question to us before the deadline."
You can also include this wording on the contact page on your website!
Of course, communication with recruits must follow rules set forward by the universities and national headquarters. If current members aren't allowed to contact potential members outside recruitment events, then make sure all communication is going through your official channels and coming from your leadership team.

7.
Brand your fraternity

.

The more recognizable your fraternity is, the more potential members are likely to know about you and be interested in joining. A fairly universal fraternity recruitment strategy, brand awareness leads to more interest in your organization.

But it's not just your letters you want recruits to recognize — it's your brothers and your accomplishments, too.

Anything you can do to reinforce the connection between your awesome members and your organization is effort well spent:
Order recruitment T-shirts: Special T-shirts just for recruitment will draw attention to the people wearing them. Recruits will associate your fraternity with conversations about mutual interests and passions they had with people wearing their letters.
Print business cards: Nothing says successful and professional quite like a custom business card. Small cards are easy for members to tuck away into their pockets and give out when they meet recruits at rush events.
Go digital: College students find out about their classmates on social media. Encourage your members to post their letters on their profiles for recruits to see. You can also create branded cover photos, photo frames, filters, or videos for all of your brothers. Make sure your website is also branded — and if you need some inspiration, get some inspiration from Double the Donation's collection of the best nonprofit websites.
For budget-conscious organizations, T-shirts will give you the biggest bang for your buck! Make sure your members post pictures of them wearing their letters online.
By emphasizing the connection between your awesome members and their accomplishments with your organization, you make your fraternity less intimidating and more appealing for recruits.
---
Recruitment should be fun, not a source of stress. By implementing software and working out your plan in advance, you can make sure everyone has a good time and finds the perfect organization for them!
Ready to dive in deeper with other fraternity topics? Check out these additional resources for managing your organization: