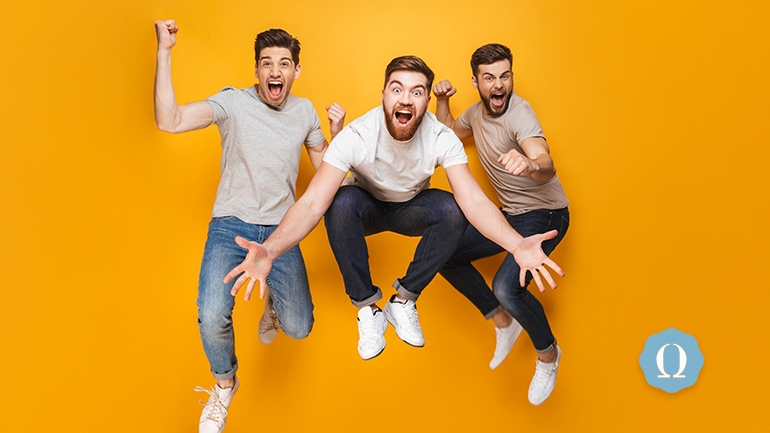 Every brother needs to understand fraternity communication basics, even . . . you know who.
We all know the bro-iest bro in our chapter. You don't have to name names. Please don't name names. He'll be boasting about it for weeks.
He's the brother who's in a constant flux of gym time: recruiting people to go to the gym, talking about leg day, on his way to the gym, getting his reps in all morning, sore from crunches, drinking a mystery protein shake whose ingredients you're afraid to ask about.
He's basically a personal trainer with no clients except himself and (unwillingly) you. Still, he's socially outgoing, the center of the fun, and meets new people easily.
None of these qualities is inherently bad.
Why? Because he contributes to his chapter when he needs to, and he's great at attracting potential new members. He's a community man, and that's important to a brotherhood.
He's great at bringing people together.
However, he's not necessarily a detail man.
When it comes to the finer touches of chapter communication, sometimes, he needs help redirecting his efforts so he can bring out his best.
Even this very minute as you're reading this, he's mentally calculating his next bench press goal and how to get more sisters from your Greek Week partner to come out to your next event.
So how can you explain fraternity communication to him in his terms?
Often, the "bro" of your chapter can be a huge asset and a great contributor, once you understand his mindset and give him the tools that maximize the strengths of his personality.
It's possible the bro is you. If it is, embrace it. Be the bro, as it were.
Here are OmegaFi's Fraternity Communication Basics for Even the Bro-iest Bro.
Communicating in a Way That Excites Fraternity Men
Some brothers have a natural gift for making people around them excited simply from the way they communicate. They're emotive, relaxed, and relate information in simple, direct terms.
You get what you see.
On the flip side, some fraternity officers are great with numbers and planning, but don't communicate fraternity goals in a way that gets brothers' attention.
Tap into what got you excited to bid your fraternity in the first place.
Let's say you're a fraternity treasurer, giving your weekly financial report to the chapter—pretty boring stuff, and on top of that it's hard to digest for some brothers.
Remind them who owes dues, and the consequences of not paying.
But also focus on all the amazing and fun stuff you want to do with your budget: win intramural games, hold killer socials and formals, make a name for yourself on campus.
Put a carrot in front of their faces. Tell them how close you are to reaching your goals.
Bring a positive message, and do the math so they don't have to.
Use this same positive, outgoing, and straightforward approach to all communication, from recruitment to collecting volunteers for your annual philanthropy goals.
How Does the Everyday Brother Communicate?
It's not just about the words you use, and the spin you put on those words.
Brothers can easily ignore what you're saying if you don't get it to them through the right channels.
Communication is an ever-evolving concept in a fraternity. While it's often crucial to sit down and talk to your brothers in person, you can't do that all the time. Brothers are scattered. They're at class, working, hanging out off campus, or watching your school's basketball game.
Getting all brothers in the house at the same time is . . . well . . . difficult.
Some might say it's impossible, unless it's for chapter or study hours and you're threatening them with fines.
The point is this: You can get a message to most if not all brothers when you find common, easy-to-use modes of communication that even the bro-iest bro will approve.
Fraternity communication software can be a great way to help achieve this goal.
Social media, like Facebook, can be a useful fraternity communication tool, but be careful. Otherwise, soon you'll be relying on Facebook, Twitter, and Instagram for all your communication between brothers, alumni, and others.
The problem is that, while Facebook is a great communication tool for fraternities, social channels aren't personalized toward fraternity goals and needs.
You can start groups and promote your chapter on social channels, but you don't want to use them as home base for your inter-chapter needs.
Instead, try communication software made specifically for fraternity chapters.
You'll want software that optimizes for communication goals your chapter faces:
Scheduling events and meetings on a shared calendar
Send chapter announcements
Track study hours with member check-ins
Share map locations, files, and more for event planning
Executive officers can create quick questions and polls
Mobile-friendly app
No matter how often a brother is at the gym, he'll always know where and when he's supposed to be when it comes to the chapter.
He'll always have the information he needs in an easy, compelling format. This software will help you reach every brother when you need to.
Be Straightforward, and Rely on Others
Some day, that "bro" may become a strong, resilient chapter leader. He may take on an executive officer role. He may become the one guiding young new members.
That said, it's crucial that this brother learns strong communication techniques from those around him.
After all, what is brotherhood for if not to help one another?

Those who've held these roles before, as well as alumni chapter advisors, Greek Life officials, and others, can guide any brother toward strong leadership and communication skills.
It's up to this brother only to be open and honest about his challenges, and up to the chapter to reinforce rather than penalize him, teach him rather than put him down.
It's not just the bro-y bro who will make communication mistakes, either.
Every. brother. makes. mistakes. This is true from the chapter president on down to the newest new member.
Rely on each other. Your strengths may be another member's weaknesses, and vice versa.
When you learn to communicate well with each other, your chapter will be unstoppable.
What questions do you have about fraternity communication? What works for your chapter? Let us know in the comments below.
OmegaFi offers a variety of communication and other software tools for fraternity chapters like yours. Click here to learn more.