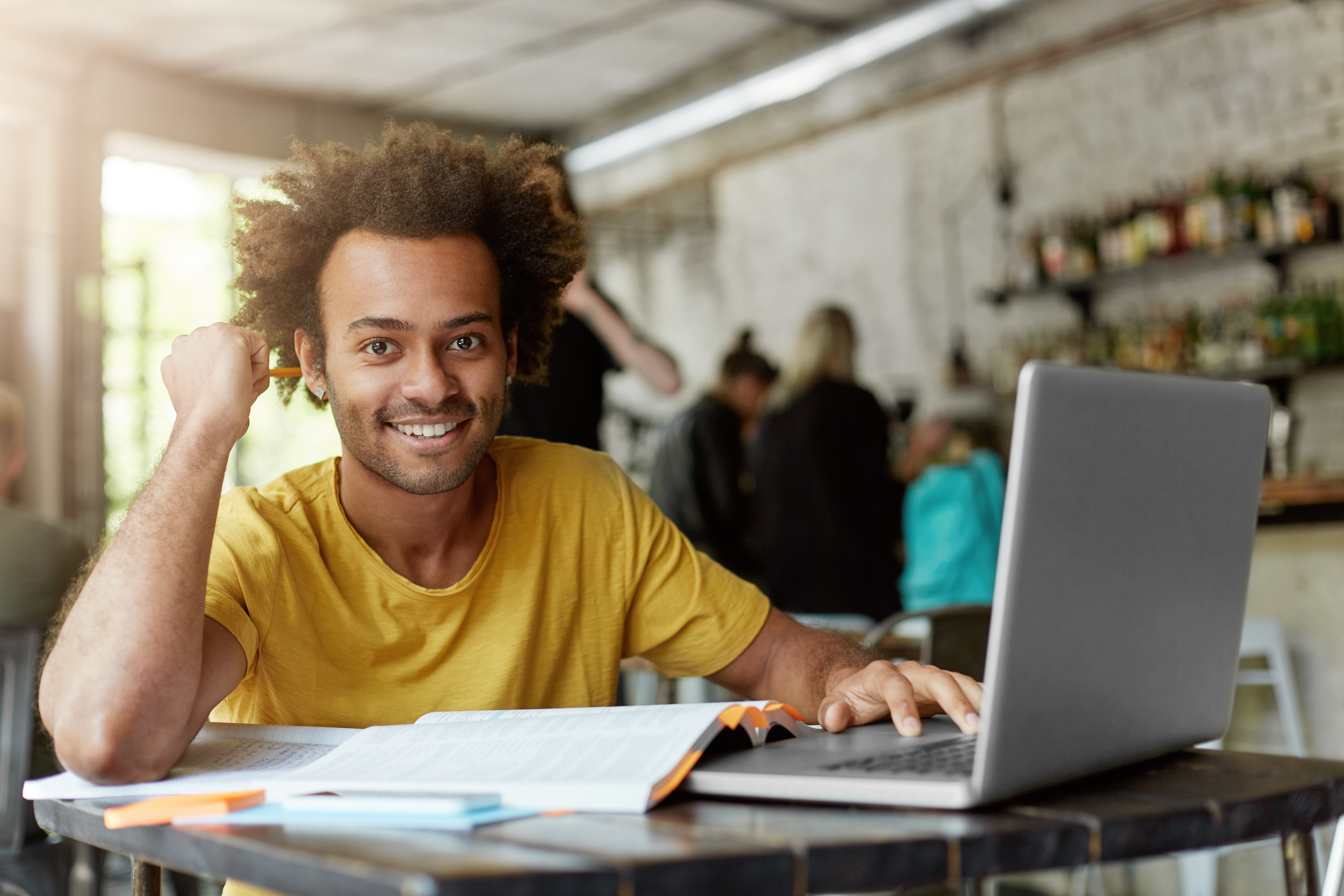 As a fraternity or sorority leader, you know that in order for your chapter to function, you have to work with your members as a team, which is only possible through effective communication.
Luckily, it's easier than ever to not only get in contact with your brothers or sisters but to brighten their day in the process by using eCards.
Usually sent via email or SMS, these messages are stylized with unique, eye-catching graphics that break through the cluster of nondescript messages in your members' inboxes. Your chapter's leadership can customize eCards for any occasion, but we'll be focusing on five key use cases for you to leverage. Let's explore how to use eCards to elevate member engagement, cultivate community, and streamline the chapter management process.
What to look for in an eCard platform
The easiest way to get started with eCards is to use a specialized software solution to help you design your own. According to Nonprofits Source's guide to eCard software, some essential features to look out for include:
Message personalization
Read receipts
Scheduled sending
Mobile responsiveness
Integration with other software, like your

chapter management software
Social media, email, and SMS sharing options
Drag and drop design functionality
Easy implementation
Email deliverability
Reporting on key metrics, like open rate
Most importantly, you should be able to tailor your eCards to your chapter. Your chapter has distinct brand elements, such as your Greek letters, that you should include in your eCards to appeal to your community. Ensure your platform has many native design tools that allow you to add your chapter's unique colors, typography, and logos to your eCards.
1. Welcoming new members.
Joining a fraternity or sorority, while exciting, can be overwhelming for your new members. That's why it's crucial to stay as positive and welcoming as possible to ensure a smooth transition from recruitment to normal chapter life.
Sending eCard welcome messages is a great way to inform the entire chapter of new arrivals and add excitement to the announcement. You might customize your eCard to display:
Headshots or group photos of the new recruitment class
Names of the new recruitment class
Photos from recruitment events
Take it a step further by including clickable links to your new members' social media accounts or email addresses so existing members can say hello privately. Just ensure you have their permission to share their contact information first.
2. Celebrating Achievements and Milestones
One of the best use cases for eCards is to celebrate your fellow brothers or sisters when they achieve their goals. For instance, you could send eCards to celebrate a brother's or sister's:
Acceptance to graduate school
Engagement
Job offer
Dean's List recognition
Extracurricular or sports-related win
Philanthropy goal achievements, like total hours volunteered or funds raised
Participation in an academic conference
Successful completion of entrance exams or finals
Election to the new executive board for the upcoming school year
Sending eCards to celebrate members' achievements positively impacts the entire chapter's motivation, pride in each other, and overall familial connection.
3. Expressing Gratitude and Appreciation
Your chapter wouldn't be able to pursue its mission without your brothers' or sisters' hard work and dedication. Whether they're contributing to your philanthropic efforts or helping run recruitment events, they provide the foundation to build your legacy upon for years to come.
Expressing your heartfelt gratitude is crucial to maintaining members' level of engagement and satisfaction in your chapter. Showing your thanks via eCards demonstrates the effort you put into appreciating them personally and encourages them to continue giving back to the chapter. For instance, consider this example from eCardWidget's showcase: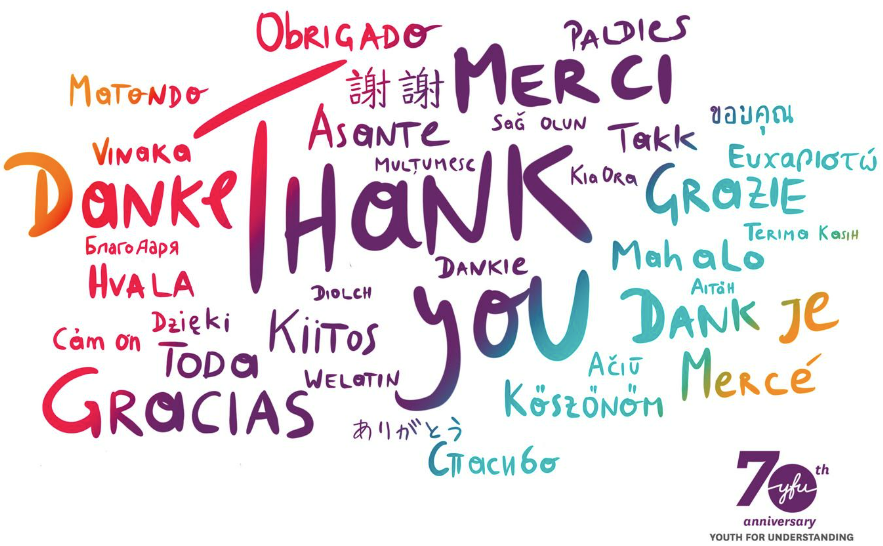 This Youth for Understanding eCard captures the widespread impact of the recipient's actions by including many examples of "thank you" in different languages. Plus, the eCard's graphic design elements, such as its bright color scheme, reflect the powerful effects of the recipient's actions on others.
Your fraternity or sorority can similarly leverage eCards to impart the significance of your members' actions on both your chapter and the external community to inspire them to keep supporting your initiatives.
4. Promoting Events and Initiatives
eCards are a great tool for cutting through the clutter in your members' inboxes and driving participation in chapter events, social activities, and philanthropic initiatives. Using a streamlined eCard design, you can provide the following important information:
Attendance requirements (ie., required or optional)
Timeframe
A brief overview of the activity
RSVP requirements
Dress code
Philanthropic cause supported (if applicable)
Collaborations with other fraternities or sororities
Any information provided by your university
Providing this information in a visually-appealing and centralized location makes it easy for your chapter members to get all of the details and provides a resource for them to reference as the activity draws near.
5. Sharing Important Chapter Updates
Perhaps the most important eCard use case for sorority and fraternity leaders is keeping your chapter members on the same page. But, by effectively communicating relevant updates in a timely manner, you can navigate any questions or obstacles as a united front.
Some top eCard software features that facilitate communication include:
Read receipts:

Your leadership can see who has opened a message and who has yet to read it so you know who's in the loop.
Integration with your database:

Ensure you're sending information to the right people at the right times by using segmented

contact details from your database.
Email deliverability:

Don't stress about your eCard going to spam and your members missing out on important details with email deliverability best practices, such as optimized subject lines and text-to-image ratios.
eCards are not only a helpful communication resource for your members, but it's also a convenient way for your team to craft engaging messages that your brothers or sisters are likely to see.
Wrapping Up
Your chapter likely has anywhere from 20 to over 100 members, and managing them all can be challenging. However, eCards provide the perfect balance of personalization, utility, and visual appeal to be a winning solution for any chapter. As long as you choose an eCard platform with the right features, you'll facilitate a vibrant, welcoming, and interconnected chapter culture.