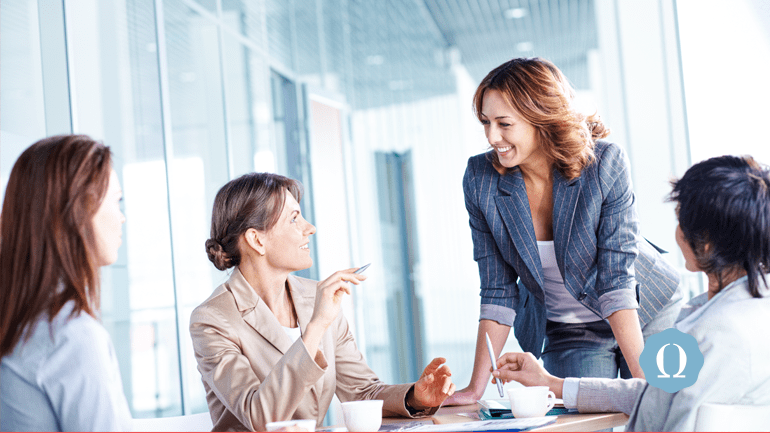 So, say that you're the president of your sorority. And, not only are you responsible for the entire membership of the sorority, but you need to be adept at communicating with members, officers, chapter advisors, alumni, and the general community. There are some sorority communication basics with which you should familiarize yourself, regardless of whether you are the chapter president.
Sorority Communication Basics
There is often so much going on in a sorority that is helpful for the executive board if everyone -- including newly-recruited members -- should be involved in improving the chapter's communication across the board.
The first thing to do is to come up with solid, realistic sorority communication goals. What is the reason for communicating? And how often, and what form(s) should this communication take? It is important not to fill sorority member inboxes with emails, but at the same time, you don't want to leave sisters out of the loop. It's a delicate balance that even sorority communication experts probably still struggle to maintain.

Be sure to keep in mind both short- and long-term goals for the sorority chapter, because each is essential to excelling at sorority communication basics. Your personal communication goals will vary, depending on what your current role is in the sorority chapter. For example, the president and other members of the executive board will be handling more far-reaching goals, whereas individual sisters will not need to worry about all of that -- but their responsibilities are significant nonetheless.
Another critical aspect of sorority communication basics is ensuring that your sisters are always on the same page -- not literally, of course, unless you're all reading from a book or magazine at the same time. Any confusion among sisters could lead to anger, distrust, and possibly even seeing some of them leave the sorority. You also want to encourage sisters to ask questions if there is any befuddlement as to what is going on in the chapter. Your sisters should always feel comfortable coming to you, an officer, for help with any issue.
It is similarly important to recognize who is in charge of communication in your sorority chapter. You really can't become familiar with sorority communication basics until you know for certain who exactly is managing the myriad aspects of your chapter's communicative efforts. Sorority historians, presidents, and treasurers, to name a few, all have different communication-related responsibilities. It is up to each individual to recognize what aspects of sorority communication they will be handling, and to move forward accordingly.
In addition, newly-elected officers have different challenges as they adjust to their new roles. They may need to quickly familiarize themselves with sorority communication basics, and to discover and determine where their communication duties lie.
Different Types of Sorority Communication Basics
Immediate sorority communication is perhaps the most common mode of communication in 2020, with the prevalence of various types of social media and other technology aimed at making our lives easier.
Even though most sisters in the chapter will be relatively familiar with social media, they might not be knowledgeable about the best practices for maintaining healthy, active accounts. Facebook can be especially tricky to navigate. There is a certain art to perfecting the Facebook algorithm, which can either help or hinder your sorority communication and recruitment.
It is probably in your sorority's best interests to maintain active -- but not too active -- accounts on Facebook, Instagram, Twitter, and the like. It is also a good idea to ensure that all of your social media accounts are connected to your chapter website, which should be regularly updated. Your chapter website is an excellent method of communicating to current members, future members, alumni, chapter advisors, and others. And, unlike with social media, you have total control over your website's design, layout, and features.

Even if all sisters in your sorority are living under the same roof, you might not see them often enough to engage in in-person communication. In these instances, it's easy and best to communicate electronically. You can do so through texting or some sort of app, through social media, and through sorority newsletters.
It may seem archaic in the digital age, but printed newsletters can be an integral part of sorority communication basics. Of course, if your chapter sends e-newsletters more often than paper newsletters, that is perfectly fine. The goal is to make each newsletter easy to read, and you want to make good use of the space available in whatever template or created-from-scratch design you are using.
When it comes to things such as special events like fundraisers and road trips or retreats, different communication techniques might be necessary. And, again, it is essential for all sisters in the chapter to be aware of what is going on -- especially those who are participating directly in those events.

Of course, this is very unlikely, but it is always better to be safe than sorry in regards to preparing for emergencies. It could be a security issue on the college campus or even a natural disaster, and in those instances sisters will want to ensure that everyone is safe.
How Sorority Software Can Help with Sorority Communication Basics
As we have discussed, it can be much more tedious and stressful to become adept at sorority communication basics than you might have thought (or wanted). Maybe you're just looking for a more efficient method of managing sorority communication, or maybe you're not even sure what type of software your chapter needs.
Sorority software like OmegaOne can help with your sorority's communication needs.
OmegaOne is designed to help sorority chapters just like yours. OmegaFi recognizes the importance of sorority communication basics in running your and other chapters. In particular, sorority communication software OmegaOne can be used to share information to sisters via a mobile device.

Sorority software like OmegaOne can make it much easier for you to thoroughly smash your communication goals, whatever they may be. Sorority communication software can help fill in the gaps between chapter meetings, so that you are planning meetings as efficiently as possible.
You can learn more about OmegaFi and our products by visiting www.omegafi.com. Or call 800-276-6342 or email us at info@omegafi.com.