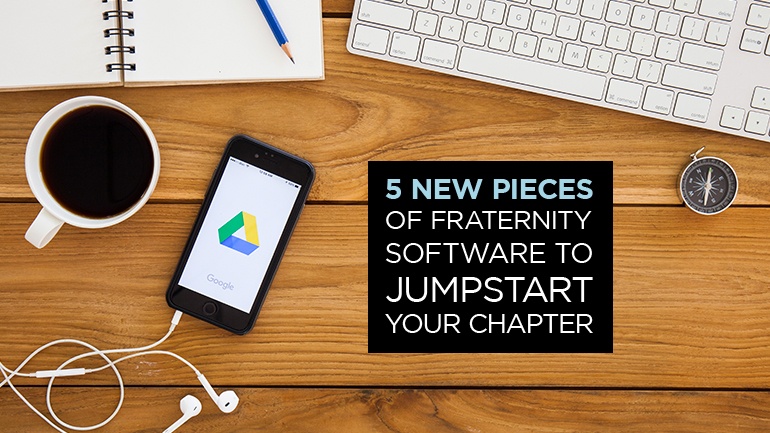 Being a student these days can be hard enough without having to worry about making sure your chapter is both efficient and successful in its endeavors. The stresses of keeping up with classes in combination with the responsibilities of fraternity membership (let alone holding an executive position) can make balancing academics with extracurricular and social affairs particularly challenging. This is a dichotomy of attention that only Greeks can truly appreciate, and yet, we all need a little help sometimes.
A fraternity brother often lives multiple lives. First is his academic life. He's a student first and foremost. The second is his Greek affiliation. Yes, his name may be Richard, but once he becomes Greek, he instantly transforms into Richard the Pike. The third life (if applicable) is his leadership role(s) in other student organizations. Each one of these lives can be a full-time job, and nearly every brother of a fraternity experiences at least two of these lives throughout their college experience. This time crunch and wide berth of obligations can have overarching effects on a chapter and its ability to execute its duties.
Although some help can come in the form of third-party financial management organization such as OmegaFi, technology is golden and there are a variety of free or low cost apps that can be a big boost to your organization's operations.
For your benefit, OmegaFi is here to bring you 5 New Pieces of Fraternity Software to Jumpstart Your Chapter.
5. Smartwaiver

Smartwaiver is an intuitive digital waiver signing platform that equips organizations such as sororities and fraternities with the tools they need to effectively manage their chapters' inherent liabilities.
With Smartwaiver, you can
create new waivers using an intuitive waiver editor and unlimited templates
transform existing waivers to a digital format
capture photos of individuals as they sign their waivers for added security
send texts or emails linking to your digital waiver
embed a waiver widget in your website
continue to collect waivers when you go offline
add notes to users' records
easily export participant data
4. Wunderlist

For those uninitiated, Wunderlist is a task-management app that allows the user to create a comprehensive list of categories (Today's Work, Errands, etc.) that can be filled with tasks to be checked throughout the day. As a system that incorporates reminder functionality by sending you an email, as a well as a feature that allows a single task to be repeatable as desired (for instance your Monday workout), Wunderlist is a tremendous app for organizing the various tasks of your day. This app is particularly useful for executive leadership within a fraternity's chapter, as it allows each executive position (president, vice president, secretary, treasurer) to maintain a full task list on their chapter responsibilities. As an app that's both free (there's a premium version, but it's not necessary) and coupled with an instantly accessible user-interface, Wunderlist is an app that will change your life right out the box.
3. Trello

When it comes to keeping your committees organized or having a general idea of the progress of certain events within your social calendar, Trello is invariably the answer. As a digital content board, Trello is set up similarly to a larger version of Wunderlist. Each user will have an individual account associated with the Trello board, which acts similarly to a physical project board. Using columns that can be customized to reflect the events and tasks of each committee, Trello is an excellent tool committee chairs can use to input their upcoming social calendars in columns, and create tasks (called "cards") within them. Brothers can then be added to these cards to reflect their specific duties and obligations. In this sense, the executive board can have a clear idea of what's going on within the social calendar as well as who to speak with or hold accountable for any missed deadlines or delays.
2. Google Drive

Sharing documents and information within a fraternity is par for the course in nearly every chapter. Whether it's emails, paperwork, or Excel spreadsheets, it may be wise to make this process more efficient by taking it out of email. To simplify this process, particularly when sharing documents amongst other chapter roles and positions, use Google Drive. It's free. Google Drive allots approximately 15 gigabytes of free storage that can be tied to a chapter Gmail account. By using this digital space to host web documents, the link to the Google Drive itself can be shared more easily than multitudes of individual documents. Further still, the Google Drive documents can be put into folders and given special permissions. This means that when sending out a shared link to your chapter, you can ensure that the average brother doesn't have access to the paid dues roster. This method is simple, safe, and secure.
1. Studious

Now that we've covered the pieces of fraternity software that can make your chapter more efficient, the question is, What about you? We mentioned before that being a student in a fraternity can be a challenging experience. Simply keeping all your chapter and student organization responsibilities and obligations in line can be difficult enough without having to add in school. We've all experienced the encroaching test that we haven't studied for, or worse, the assignment due tomorrow that's going to take us—at minimum—the next 4 hours, and it's already midnight. For these issues, the app Studious shines brighter than anything else. Although it may take a bit of an investment upfront-- as the app requires the user to input their full school schedule and will feed them reminders as projects, tests, and assignments come into focus--this app can be revolutionary for those who've previously felt overwhelmed. So make the initial investment, and put the time in to ensure your academic success.
Enjoyed our 5 New Pieces of Fraternity Software to Jumpstart Your Chapter? Got a few suggestions that you use for your chapter? Let us know in the comments, and we may just add it to the list!