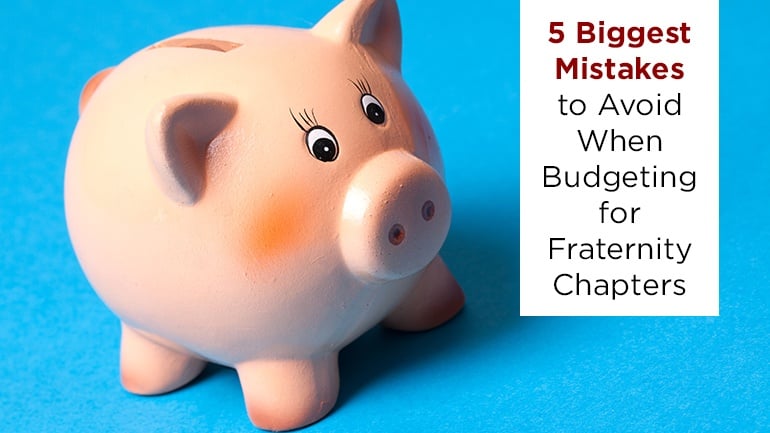 Being a college student comes with a lot of financial responsibilities--paying for rent, tuition, books, meal plans, gathering up spare change to fill your Civic's tank (which seems to be perpetually on "empty"). On top of that, if you join a fraternity, you're going to be paying dues that funnel into a larger system for various uses. You'll be taking part in an organization with possibly over a hundred members and complex finances. Fraternities are essentially like small businesses, with a mission statement, various positions, and goals that require funding. As organizations, individual chapters take part in a variance of activities that will require brothers to perform some savvy budgeting of the treasury.
The chapter treasurer, and the chapter in general, have some lofty goals in setting a budget. Factors to consider include national and IFC dues, house payments, initiation fees, insurance, a social budget, intramurals, philanthropy, and alumni engagement, just to name a few. Then compound that with collecting delinquent dues from brothers and matching these deficits against the budget, and it might make your head want to explode. You aren't an accounting major! You have finals this week and instead of studying you're going over and over the numbers trying to figure out what's gone wrong. Why is this job so incredibly challenging? "Because it is" isn't the answer you likely want to hear, but it's true. Running an organization is hard, and there are a ton of successful strategies as well as pitfalls. To help ease the ache in your eyes from staring at a ledger for hours and hours, we'd like to present you with the 5 Biggest Mistakes to Avoid When Budgeting for Fraternity Chapters.
5. Being too Flexible with the Chapter Budget

Sometimes as treasurer it's simple to see when goals reach beyond your chapter's expectations. If a social event needs to be dialed back, or the recruitment budget trimmed, these issues can require some legwork and creativity on the part of brothers to still have a say in deciding what's important and in most need of cash flow. However, what about the intangibles? What about brothers seeking reimbursement from the chapter for things that you know don't really qualify for reimbursement, but you don't want to make waves? Say a brother brings you a receipt for tacos from an informal dinner, claiming it was a recruiting event, though it isn't really accounted for in the chapter budget? It would be a mistake to continually reimburse for unaccounted for and avoidable debts. You should avoid this mistake by not reimbursing unless the brothers ask approval in writing ahead of time.
4. Being too Unrealistic with the Chapter Budget

Yes, you may want to throw the biggest Greek social on your campus and make your chapter the envy of the other fraternities and sororities. Still, it's important to understand the reality of your chapter's inflow of cash, and it can be a mistake to assume those delinquent on dues are going to always get the money to you in time to pull off everything. As much as it's a reality we don't like to acknowledge, some brothers will not pay on time and may even drop out of the organization without paying, causing the organization to have to seek legal action or just take a hit when budgeting. Just moving money around from philanthropy or alumni relations to force a solution isn't going to work. To avoid being too inflexible, make sure the most important aspects of philanthropic efforts, recruitment, housing and dues, are covered first and foremost. There are also some additional ways to avoid budgeting that is too flexible or inflexible, and consider and plan your chapter's budget.
3. Forgetting that Collecting Dues is Just Part of Chapter Budgeting

This can't be overstated. Budgeting is in a literal sense allocating funds to various projects and goals of the chapter, but one of the biggest mistakes you could make is to focus on the allocating and ignore the source of funds: dues! It's not always easy to collect money, and the chapter treasurer shouldn't be the sole individual having to enforce the collection of dues. Yet it's important to set clear precedents for what the cost of brothers taking part in your chapter is, and simply put, it means remaining current on dues. That means as much as possible, brothers should be given incentives to pay. Brothers who aren't up to date shouldn't be allowed to attend events that are paid with dues, and that includes not just purely social events, formals, sports, and retreats, but also important ceremonies. They should also have positive incentives to pay dues on time, such as a percentage taken out of their dues the following semester (which of course would be factored into the budget). Ignoring the collection of dues or assuming everyone will automatically pay on time is definitely one of the biggest mistakes your chapter can make when budgeting. Check out some ways to make collecting dues easier here.
2. Not Saving When Budgeting for Your Chapter

Saving sounds difficult, especially if collecting dues is an issue in your chapter. But one of the biggest mistakes you can avoid when budgeting for your chapter is having such a tight dollar-for-dollar budget that you'll inevitably run into future financial snags. Say recruitment doesn't reach your goals in the coming semesters. What if as treasurer you had put aside a paltry five percent of dues paid in a rainy day fund? Savings can help the chapter tremendously during difficult times, or even if important philanthropic, recruiting, and other upkeep goals need additional unforeseen funding in future semesters. When budgeting, it would be a big mistake to ignore the benefits of setting aside part of the budget for savings. You might also consider how alumni contributions factor in to the ability for the chapter to establish a savings, made easier with the use of budgeting and payment programs.
1. Trying to Solve the Budget by Yourself

It's a no-brainer that the treasurer cannot be the only brother presiding over the chapter budget. There needs to be not only accountability, but he needs the help of other chairmen to determine the goals and needs of those aspects of the chapter. Essentially any chairman or officer who will be spending money needs to be in on the meeting for how the budget will be set. This includes social, philanthropy, recruitment, IFC, intramurals, house manager, and others. These brothers should work to make sure all expenses and important bills are covered first and foremost before other less pressing budget aspects are addressed. Avoid the mistake of the treasurer taking on the budget by himself.
These are what we consider the 5 biggest mistakes to avoid when budgeting for fraternity chapters, but we'd love to hear in the comments if you have any tips that have worked for your chapter budgets and treasurers. Let us know what you think!