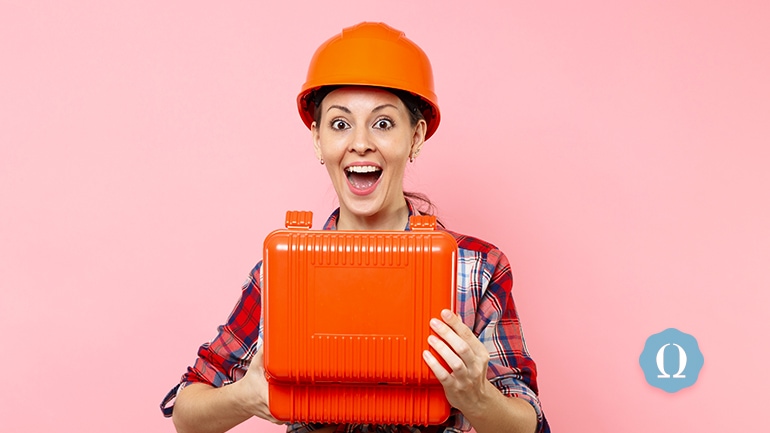 We've been trying to find better ways to communicate since the days of tin cans connected by string.
Soon enough we graduated to walkie talkies. Sometimes we passed notes in class—always with a risk of the teacher finding out and reading our words aloud. Then we borrowed our parents' cordless phones to talk about classmates we had crushes on.
Finally, we got cell phones, and that just about put a period on our communication game. Now we're texting and Facebooking and Instagramming. We're video chatting and "Rolling On the Floor Laughing."
Those Office memes and cat videos aren't going to share themselves.
However, we often rely on our phones so much that we forget how many ways there are to communicate, and how much that communication enriches our lives.
Good communication goes double for Panhellenic Sororities, who rely heavily on connecting and working together. In what ways can you enhance sorority life by touching base with your sisters, and what specific ways can that have a positive impact on your Panhellenic association?
These are important questions, and the answers can make a major difference for Panhellenic member chapters everywhere.
OmegaFi knows the impact communication has on your organization and sorority life on your campus. Let's explore: What's in Your Panhellenic Communication Toolbox?
Placing a Bid for Better Communication
Bidding new members can be exhilarating and overwhelming at the same time.
Rush week is a whirlwind. Before you know it, you're done meeting everyone, learning so many new names, hobbies, and majors you can barely remember your own.
What comes next determines the future of your chapter: Who do you bid?

Don't panic. You've prepared for this moment. And with the right communication tools in place, you're ready to get this recruitment show on the road.
If you aren't already doing so, recruitment communication can be greatly enhanced by using specific sorority software to centralize potential new member data. For instance, OmegaRecruit has the ability to give you quick access to constantly updated information about PNMs and your chapter's rush.
Here are some of OmegaRecruit's features that help you communicate better:
You can vote on PNM bids and view graphs and statistics on voting in real time, so you're constantly in touch with the voting process with other members.

You can categorize PNMs in order to better communicate certain chapter needs and hazards, like "legacy" or "GPA risk."

When coordinating which members will communicate with certain PNMs, use OmegaRecruit's matching function.

ICS integration allows you to easily communicate with your Panhellenic or university about your PNM bids electronically, without the need for printing various spreadsheets.

This software is mobile friendly, so you can recruit on the go.
Whether or not you use software like OmegaRecruit, keep in mind that you'll want to have a clear line of communication between all voting members, PNMs, your Panhellenic, national organization, and university.
Make sure to use whatever tools your Panhellenic provides for rush—especially any specific rules for rush events and schedules, as well as how and when to file bid paperwork.
These tools can usually be found on the Panhellenic association's website.
Panhellenic Networking
Panhellenic associations offer networking for chapter members on the local level, as well as the international level through the National Panhellenic Conference.
Who knows who you might meet! Networking opportunities can put you into contact with a future best friend, work colleague, or even co-founder of your own business venture.

"The opportunities are limitless when sisters work together."
You might be surprised by how quickly you can meet fellow sorority sisters and expand your Greek family when you get involved with the programs offered by your Panhellenic.
Ask about leadership conferences and other programs where you can meet other Panhellenic sorority women.
The NPC and your Panhellenic association offer opportunities not only to mingle, but to learn and grow together into strong, independent-minded leaders. They offer scholarships and other opportunities to make you better students, Greek leaders, and future successes in your career field.
As you become a more effective leader, you learn how to guide others to do the same.
Even outside these tools, find whatever way you can to connect with other sisters on campus. This might be co-sponsored philanthropy projects, socials, or tailgating a football game.
When you're building a stronger Greek community, communication is key. The opportunities are limitless when sisters work together.
Joining Voices with Your College Panhellenic
One of the best communication tools offered to Panhellenic sorority sisters is the opportunity of direct participation.
The more involved you are, the stronger the bond you can create with your chapter and the sorority community.
Consider:
serving as a delegate for your chapter on the College Panhellenic Council
Delegates attend Panhellenic meetings and vote on issues on behalf of the chapter, serving as the chapter's voice, while also relaying to her chapter important topics and rule changes discussed at the meetings.
However, other members can and should attend Panhellenic meetings at least occasionally.
applying to serve on the College Panhellenic executive board.
Serving on the Panhellenic's executive board takes a lot more time and responsibility, but it can be very rewarding.
You become not only a voice for your chapter, but you get to have a say in the Panhellenic Ethics Board, bylaws and other official documents, recruitment, risk management, and more on your campus.
These are major leadership roles that impact sorority women everywhere.
The more involved you are in the conversation as a Panhellenic sister, the more you can uplift your Greek community and make a positive difference.
There are many different ways to communicate in productive ways, and your Panhellenic communication toolbox can help get the dialogue going.
OmegaFi works with Panhellenic sorority chapters just like yours every day. If you'd like to learn more about our services, you can request a demo here, or reach us directly at 800.276.6342.
What questions do you have about Panhellenic communication tools? If you're part of a Panhellenic, what methods of communication have you found most useful? Let's talk in the comments below.