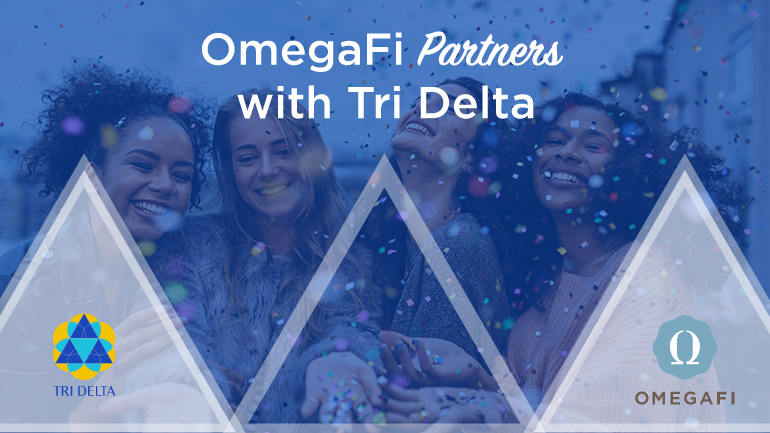 COLUMBUS, GA - March 6, 2019 – OmegaFi, the leading technology company serving Fraternity and Sororities, announces a strategic partnership with Tri Delta Fraternity to provide financial management for all Tri Delta chapters.
OmegaFi currently provides several different solutions to Tri Delta chapters through OmegaRecruit and GINsystem. This new partnership will expand the relationship with a full implementation of financial solutions for chapters scheduled for the 2020 academic year.
Vault, OmegaFi's key service, along with communication and recruitment solutions, will allow Tri Delta chapters, volunteers and staff the ability to effectively and efficiently handle tasks, reach goals and stay on mission.
OmegaFi's unmatched customer service model, platform integrations, online budgeting, bill payment and contract tools will help all Tri Delta chapters reach operational goals and aspirations.
"As we continue to elevate Tri Delta as a premier women's organization, OmegaFi will allow us to provide our members with services that will improve chapter operations and enhance the member experience," says Tri Delta CEO Karen White, Georgia. "OmegaFi's considerable expertise is a perfect match for Tri Delta as we passionately pursue operational excellence, innovation and agility on behalf of our members, volunteers and donors."
OmegaFi is proud to offer clients innovative tools with a customer-centered approach to help chapters, house corporations, headquarters and foundations optimize operational efficiency and increase revenue.
"Tri Delta was one of the early pioneers to begin using enterprise-level software to manage collegiate finances," explained OmegaFi CEO, Fred Maglione. "Over the last few years, Tri Delta has worked hard to enhance the member experience and further strengthen their operations. This work resulted in the need for new capabilities and support from their technology partners. OmegaFi is excited to be a part of their growth and contribute to their lofty aspirations by providing an embedded software and support solution for their financial, member engagement and recruitment operations to benefit all Tri Delta collegiate chapters and the Executive Office."
ABOUT TRI DELTA:
Founded in 1888, Tri Delta is a premier women's organization dedicated to helping women live, learn and lead – with Purpose – for a lifetime. With more than 236,000 members worldwide, Tri Delta operates 141 collegiate chapters and 54 chapter facilities on campuses across North America, and provides resources and support to 66 local house corporations nationally and 254 alumnae chapters globally.
As a society created to be "kind alike to all," Tri Delta is rooted in kindness with a three-pronged philanthropic focus: sisters helping sisters through the Tri Delta Foundation, and support for childhood cancer at the local/regional level and nationally through its 20-year partnership with St. Jude Children's Research Hospital.
ABOUT OMEGAFI:
At the intersection of technology and fraternity, OmegaFi offers a great depth of knowledge and history of innovative solutions for fraternity and sorority management. OmegaFi's innovative financial, recruitment and communication tools aligned with a customer-centered approach help collegiate chapters, house corporations, headquarters and foundations optimize operational efficiency and increase revenue.
For more information about the partnership, please contact Trey Trotter, Director of Partner Success at: ttrotter@omegafi.com.