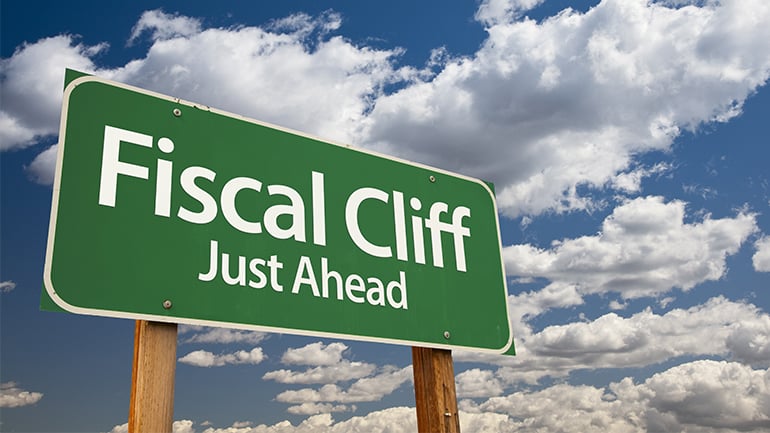 We are just a few hours away before the United States goes over the so-called "fiscal cliff" and at OmegaFi, we look at every issue - especially one this serious - and ask what it means for fraternities and sororities. Our conclusion is that the fiscal cliff will have only a minor effect on the average chapter and inter/national headquarters. It could, however, have a big impact on the national foundations supporting your headquarters and chapters.
If you are not familiar with the fiscal cliff, you can obtain a good overview from the Washington Post, CNN or virtually any news source you trust. In a nutshell, on January 1, 2013, a series of changes to the law automatically go into effect that will raise taxes on almost every American and reduce spending by the federal government in what many believe are profound ways. Income tax rates, the payroll tax, capital gains taxes and more all increase on January 1. Many people who die next year are going to pay a lot more in estate taxes. The money the government pays to the unemployed and to doctors for Medicare is being reduced. The money the government spends on defense and nondefense programs is also going to be reduced fairly dramatically. There's more to it, but those are some of the highlights. Analysts predict if all of these measures go into effect, the United States will go into another recession.
Although most analysts also predict Congress and the President will reach some sort of compromise (likely retroactively) to mitigate the effects of these changes, nothing appears to be in the works right now. Assuming the worst, what impact will the fiscal cliff have on fraternities and sororities in the U.S.?
Thankfully, I think the fiscal cliff will have little impact on local fraternal organizations, campuses or inter/national headquarters. I do have some concerns about the impact it may have on the national fraternal foundations supporting these entities. I'm basing this conclusion on the following five factors:
1 - Mission: The fundamental mission of most fraternal organizations becomes even more important if we go over the fiscal cliff. Faced with an uncertain economic future and instability in the workforce, students and alumni will look for a support system and job networking assistance. Fraternities and sororities can provide that help for their members. Furthermore, with the cuts anticipated to the federal budget, social service and charitable organizations are likely to receive less funding from the federal government. Greek organizations can play an even more important role by raising money and providing man power to worthwhile organizations in their communities.
2 - Membership: In recent years, membership in fraternities and sororities has gone up during a recession. No one is exactly sure why that happens, but it happens nonetheless. Most inter/national organizations and campuses have seen modest if not explosive membership growth over the past few years. Although students and their parents may be paying more in taxes, I suspect - and the data suggests - that membership levels should remain stable if not continue to increase. Our data also suggests that members continue to pay their dues, rents and fees at regular rates reagardless of economic conditions in the country.
3 - Fundraising for the Chapter: Raising taxes would make you think most Americans have less money to spend and donate to causes like their home chapters. Interestingly, that has not been our experience at OmegaFi. Even during the worst of the recession in 2008 and 2009, the chapters we worked with raised the same amounts of money chapters were raising pre-recession. It may have taken a little longer, but donors were contributing notwithstanding the economy. These donors also continued to fulfill the pledges they had made. We saw zero - that's right no noticeable decline - in the fulfillment rate for fraternity and sorority alumni/ae who had made pledges to support the construction or renovation of their chapter house. In my experience, donors to their local fraternity or sorority consider giving to their fraternity or sorority different than their other charitable giving. In the minds of many Greek alumni, the gift is separate and distinct from the way they think about giving to their church, university or local nonprofit. Although fraternity alumni/ae may be paying more in taxes next year, the decision to support a local chapter or house corporation is rarely logical. Thus, these gifts are likely to still come. Some gifts may be lower than they might otherwise have been, but I think the difference will be modest. I also want to point out that any changes proposed to the charitable gift deduction (another change being considered by Congress and the President) should have zero impact on local fraternal organizations. Gifts to individual fraternity and sorority chapters and house corporations are not currently tax deductible. Although I've known plenty of donors over the years who have claimed the deduction on their tax returns, changes to the charitable gift deduction laws should have virtually no impact on giving to local chapters and house corporations. I believe donors contribute to their local chapter for reasons other than to obtain a tax deduction. That spirit and interest in giving is not going to change no matter what turn the U.S. economy takes.
4 - Fundraising for the National Foundation: Unlike local chapters and house corporations, most gifts to your national 501(c)(3) foundation are tax deductible to the extent permitted by law.NULL Here is where the fiscal cliff could have a larger impact, but I still think it is negligible. With a few rare shining stars in the fraternal world, most national foundations raise gifts in small denominations. I believe those donors are making their gift for many reasons other than to receive a tax deduction. Some foundations may see modest declines in giving. However, because their gifts are traditionally smaller (under $5,000), it is unlikely most donors will stop their pattern of modest support even if they are forced to pay more in taxes next year. For the few foundations that have a robust major gifts development program, the fiscal cliff may have a larger impact. However, these same foundations have better cultivation and stewardship programs in place than most of their peer foundations. They have better systems in place to manage the relationship with their major gift donors and weather any storm caused by the fiscal cliff. Interestingly, an increase in the capital gains tax also makes it more attractive in some cases for a donor to contribute appreciated stock. Foundations would be wise to shift some of their fundraising strategy to encourage donors to contribute stock in 2013.
5 - Endowments of the National Foundations: Here is where the fiscal cliff matters. A second recession will likely have a negative effect on the stock market which will, in turn, drive down the value of the endowments held and managed by your national foundation. During the 2008 stock market slide, we saw the collective value of every fraternity and sorority endowment drop considerably. Most are still recovering from that downturn. Further erosion of endowment principal is likely if the country goes into a second recession. Such an erosion will force foundation boards of directors to make some very difficult decisions that likely involves reduced spending on academic scholarships and leadership programs of the national fraternity/sorority. Programming and the support these foundations provide to students may suffer during a second recession. Foundation boards should begin conversations immediately with their counterparts on the fraternity/sorority national board of directors. Both sides should explore how to mitigate the impact of reduced educational support from the foundation by, among other things, offsetting those cuts from educational foundation grants with the potential increase in membership dues organizations have and are likely to continue to experience if another recession comes our way.
What actions Congress may take in the next few days or weeks remains a mystery. Surely a deal of some sort will be devised. Although many individual students, parents, alumni and their families will be negatively impacted by the fiscal cliff, I take some consolation in that the fraternal institutions should survive relatively unharmed. Why would we expect anything different? Fraternities and sororities survived the Civil War, World Wars I and II, the Great Depression, the college unrest of the late 60s and early 70s and multiple economic recessions and other calamities over the years. They will surely survive the fiscal cliff. With proper preparation and some readjustment to strategy, the national foundations that support these students and alumni can successfully weather this storm, too.
* * * * * * * * * *
Fred Maglione, CFRE, JD, is CEO of OmegaFi, a company that works exclusively with college fraternities and sororities and their related organizations to improve business practices, optimize operational efficiency and increase financial success. OmegaFi provides solutions to fraternal organizations that are comprehensive, customer service-focused and IT-intense. Among other things, OmegaFi helps fraternal organizations collect money, budget, raise money, communicate with their constituents, file their tax returns, pay their bills and manage their membership and donor records.