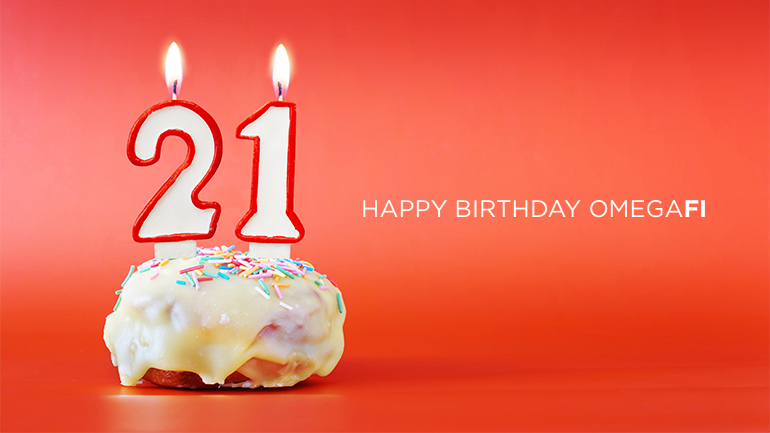 Twenty-one years ago, a fraternity man with a vision drove down to city hall to obtain a business license. That's the day OmegaFi officially got started. Not yet out of college, Todd Reaves truly believed his junior year's class project had the makings of a real business. Surely there was a better way for fraternities and sororities to operate, he thought. Surely, there was a better way to collect dues. Inspired by his own experience as treasurer of Kappa Alpha Order at Auburn University, Reaves envisioned a future for fraternal organizations that was different from "the way it's always been done." He was going to change the business of operating Greek organizations. The idea for the company seems so obvious now. In 1992, however, it was extraordinary. Itemize the amounts a fraternity man owes his chapter? Send an actual invoice to a member and her parents? Hold students accountable for the debts they incur? Really assess members for the benefits of their membership? Provide a way for a student to pay his bill other than sliding a check or envelope full of cash under the chapter treasurer's door?
Before smart phones, before debit cards, before most college students carried credit cards - even before the internet - Reaves dreamed of a better way. And it worked. In those early days, we concentrated on collecting dues, rents and fees, and we transformed the way chapters managed their finances. Then, we began thinking about ways fraternities and sororities could improve other aspects of their operations, and we began helping them raise money from and communicate with alumni and friends, file their tax returns and pay their bills. We also began collaborating with several different inter/national headquarters about how they could improve their business operations. Here's one example.
Historically, most organizations maintained their membership records on index cards and old library card catalogues (for all of you Generation Y-ers, visit Wikipedia to see pictures and learn about a library card catalogue). In the mid-1980s, some groups began to put their membership information into computers. However, updating it was a tedious process of manually re-entering information sent in by alumni - when they bothered to send it, which was not often. Headquarters have had digital membership records for many years now, but until recently the available technology did not allow the member to see or update his or her information.
Consequently, mailing addresses and email addresses quickly become outdated, and the number of lost alumni/ae grows larger with each passing day. In that scenario, is it any wonder that we find it harder to engage graduates? How can we invite alumni/ae to serve our local chapters as volunteers or to support the inter/national Foundation when we don't know where they are? In some cases, we also don't know who they are. Women's organizations have struggled for years to maintain the ever-changing landscape of last names for their members, and they've developed complex procedures for recognizing their alumnae, in large part because the only last name they have on file, in many cases, is the maiden name from the date of her initiation. Entire industries have developed to help inter/national headquarters track down lost alumni/ae and improve the quality of their membership data. Most involve producing an alumni directory of some sort that is usually out of date as soon as it is published, and even those generate marginal results, at best. And in many cases, the massive amount of information provided is so overwhelming that it simply never gets updated.
OmegaFi believes there is a better way to do business. First, you trust and empower alumni to update their own information. I'm not talking about asking the member to send an email with a new mailing address that one of the staff members at headquarters re-types into the database. I'm talking about giving the member real-time access to view his/her membership records and make changes online. Membership organizations should be doing as much as reasonably possible to empower their members. If Thurston Howell, III goes by "Trey," that is valuable information a membership-based organization should know. If Elizabeth Taylor is about to get married for the eighth time, we should encourage and empower her to provide us with her newest married name. The last thing her sisters want to do is to communicate with her using the last name of husband #4. Empowering the members of membership-based organizations and giving them access to their own data is just one of the latest ways OmegaFi is trying to improve the way fraternities and sororities do business.
I suspect in just a few years, we'll look back on this phenomenon like we look back on sending a professional bill for fraternity dues and wonder why no one thought of it sooner. That's the beauty of OmegaFi and one of the things that makes it such a special place to work. Yes, we're driven by some pretty amazing technology and a strong commitment to customer service, but like our founder, we go to work each day thinking about how we can dramatically change and improve the way fraternal organizations do business. That is why we exist. I think that is one of the reasons OmegaFi continues to thrive 21 years later, and why so many other firms have come and gone. There have been a lot of copy cats and imitators over the years. Fortunately for us, they don't really understand what we do. We still collect rents, dues, and fees for more than 2,220 fraternity and sorority chapters and nearly 160,000 members across the country, but that's far from all that we do. We envision new, better ways for Greek organizations to do business, and we make it happen. Happy 21st birthday OmegaFi! * * * * * * * * * *