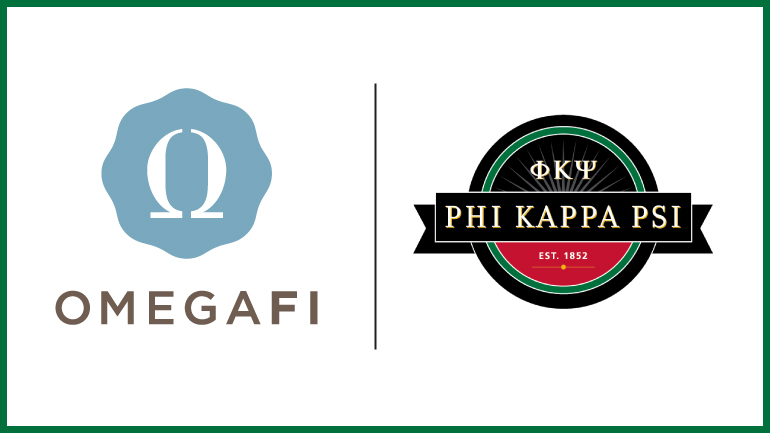 Phi Kappa Psi Fraternity has chosen OmegaFi to provide financial management software, training and support to undergraduate chapters and house corporations. Beginning in July, Phi Kappa Psi organizations will be encouraged to utilize the chapter finance and management tools provided by OmegaFi to streamline operations, enrich data quality and improve their financial performance.
Phi Kappa Psi's Executive Director Mark Guidi explained, "We recognize OmegaFi's unique ability to provide ongoing education and a robust suite of services to position our students, advisors and chapters for financial success and security. A number of chapters already partner with OmegaFi, some for almost 20 years. They provided great feedback about their experience. Working with OmegaFi will help our chapters file their IRS Form 990, enjoy high collection rates, save time, reduce fraud and more easily pay National dues and fees."
"We are excited to work with Phi Kappa Psi and pleased we were chosen after a thorough review and comparison to other companies," commented OmegaFi CEO Fred Maglione. "I envision great results from this partnership and OmegaFi is eager to help chapters generate more money, maintain their tax exempt status and safely spend fraternity funds. We even have a fun new awards program planned to recognize Phi Psi chapters with best financial management practices. It's a new day for Phi Kappa Psi, and we are proud to be aligned with this leader in the fraternal world."
About Phi Kappa Psi Fraternity
The Phi Kappa Psi Fraternity, founded in 1852 at Jefferson College, engages men of integrity, further develops their intellect and enhances community involvement. With a legacy built on acceptance and trust, each brother realizes his highest potential through a lifelong experience of service and excellence. Today there are 101 undergraduate chapters, 51 alumni associations and more than 124,000 lifetime initiates.
About OmegaFi
At the intersection of FinTech and fraternity, OmegaFi, headquartered in Columbus, Georgia, provides financial, fundraising and communication software, payment solutions and support for fraternities and sororities across the United States. Their innovative tools, expertise and customer-centered approach help fraternal chapters, house corporations, headquarters and foundations optimize operational efficiency and increase revenue. Partnering with OmegaFi provides administrative relief and support allowing key officers and staff members to focus on mission-driven priorities.