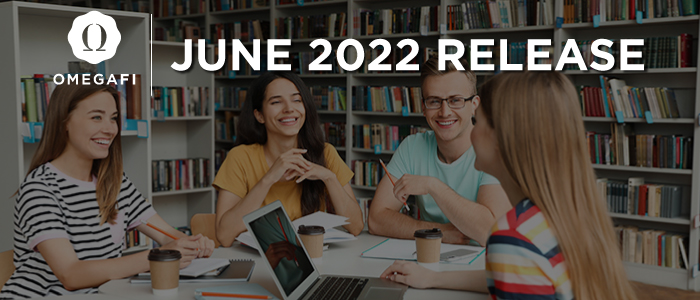 NEW FEATURE: LEGFI TREASURY
We are excited to announce a new feature that will launch later this month…LegFi Treasury! This new feature of LegFi allows chapters to create Treasury accounts and order Treasury cards to easily make purchases and track spending.
Your members' payments in LegFi can be routed to your Treasury account. You can also link an external bank account and transfer money into your Treasury account. Use your new Treasury card to make purchases with the funds in your Treasury account. View the transactions in real time in LegFi to track spending and expense reporting for your chapter.
LegFi Treasury will be live and available for use on June 21! We invite you to see what it's all about in one of our upcoming live webinars. Select a link below for the day/time that works best for you. (All webinars will contain the same content.)
Thursday, June 23 at 4:00 PM EDT
Wednesday, June 29 at 1:00 PM EDT
Monday, July 11 at 3:00 PM EDT
Tuesday, July 26 at 4:00 PM EDT
Can't make it to a live webinar? That's ok! Just register and the recording will be sent to everyone who registers. It will also be available in the LegFi Help Center.
Also check out our LegFi Basics video for more info on other features of LegFi.
Contact your Success Manager with any questions.
OMEGARECRUIT ENHANCEMENTS
Just in time for recruitment, we enhanced and updated several features of OmegaRecruit to make navigation easier and more intuitive.
Party Column on PNM Report
We added party numbers to the PNM report to help with transparency and consistency across all other items in the PNM section of OmegaRecruit. This is especially helpful and necessary when multiple PNMs have the same name. Because the party numbers are dynamic and change between rounds, the Party column per Round appears on the report.
Matching Limit Increase
We increased the number of matches the system can generate from 99 to 500. This benefits chapters on large campuses who have many PNMs. It also provides a more holistic view of the match possibilities for a PNM or a voting member.
Ballot and PNM Upload Verbiage Changes
On the ballot, we updated the verbiage from "Submit Vote" to just "Submit". We also changed "URL" to "PNM Picture" on the Upload PNM page making it more intuitive.
Chapter Payment Status Report
On our Organization Admin level, which is the access level for head volunteers and headquarter staff, we created a Chapter Payment Status report. This is most valuable to partners whose chapters pay OmegaFi directly for their usage of the product.
Configuration Page Move to Main Menu
Partners who have specific configurations will now see their Greek letters in the main OmegaRecruit menu. This is where the organization's specific configuration information is now located. It was previously in the Chapter menu. This allows chapters to easily familiarize themselves with their voting/scoring setup and mitigate questions.
Don't forget the OmegaRecruit Help Center is available 24/7 with articles and videos to assist you and your chapters.
Contact your Success Manager with any questions.
ENHANCEMENT: FUNDRAISING ASKS IN ADVANCED SEARCH
In our Spring 2022 Release, we announced the new feature, Fundraising Asks. Since then, we added Fundraising Asks to Advanced Search. Include this new and important donor information in your advanced search criteria.
As a reminder, you can view and track donation requests (Fundraising Asks) your organization makes to potential donors. The Giving Potential page on an individual's fundraising record includes information on Open and Closed Asks for donors.
The Snapshot screen of a record also contains a new section with Fundraising Ask summary information. You can also pull Fundraising Ask information into a 360° Report to use in your fundraising efforts.
Step 3 of the Fundraising People Search also contains a tab dedicated to Fundraising Asks so you can include this in your fundraising search criteria. We also have a Fundraising Asks section in the +/- columns to add this data in your search results. Fundraising searches with the Ask data can also be saved and configured for automatic distribution via email.
Visit the Compass Help Center > Fundraising Asks section to access articles to help you navigate this feature in Compass.
Contact your Senior Client Operations Specialists with any questions.