On June 21st, we'll be going live with LegFi Treasury, our newest feature that will accelerate the way LegFi customers manage and access their funds. Here's how LegFi Treasury will become the future of finance for fraternities and sororities.
Treasury Accounts
In the past, most chapters were limited to maybe one or two accounts to deposit funds and pull from, with LegFi Treasury customers will be able to create multiple Treasury accounts for specific areas of operations like housing, social events, recruitment, meals/food, t-shirt or merchandise orders, and philanthropy events.
Additionally, invoices to members can be directed to specific Treasury accounts to automatically deposit payments where they need to go.
Here's an example: Your chapter needs to collect parlor fees from non-live-in members to help cover housing related costs. Your chapter can now invoice those specific members and those payments can be told to automatically go into the Treasury account for housing.
These Treasury accounts are also FDIC-insured, which means transactions have an extra layer of security and authority. With Treasury accounts that are tied to the chapter/organization and not an individual, chapters no longer have to rely on dangerous cash collecting procedures or using multiple Venmo/PayPal accounts to collect money for specific expenses.
Click here to see why we advise against chapters utilizing Peer-2-Peer Payment apps like Venmo and PayPal.
Treasury cards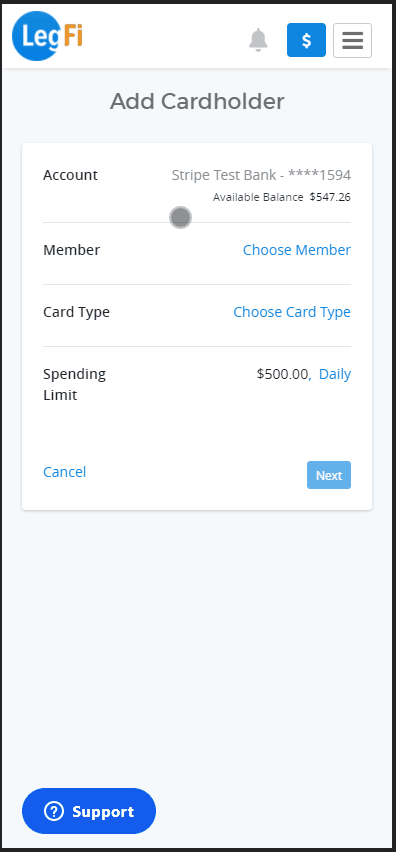 Pre-paid spending cards and debit cards are not new to fraternities and sororities, but they come with well known weaknesses and frustrations. Pre-paid cards are typically complex to setup, difficult to manage with limited transparency, and limited in use. Debit cards tied to external bank accounts are also dated for similar reasons.
With Treasury cards, chapters can create multiple physical and/or virtual Treasury cards that are tied to specific Treasury accounts. These cards are all tied to specific members who can begin using them immediately for any purchases in-app, in-store, or online.
Admins can review transactions in the LegFi app, dispute transactions easily, freeze cards, and report stolen/lost cards with just a few clicks.
Here's an example: Before, chapters would have to pass around the one or two debit cards they had for officers to make purchases. Now, each officer can have their own Treasury account (with budgeted funds transferred into them) AND their own Treasury card tied to just that account to use for purchases. Virtual cards can even be created quickly and remotely for officers to use immediately for time-sensitive purchases.
The Future of Finance
LegFi Treasury marks a major milestone in the way that fraternities and sororities access, manage, and use their funds. They can even link external bank accounts to pull funds from and distribute to specific Treasury accounts.
LegFi Treasury also boasts a clean look and feel that is suitable for every generation of user and similar to apps that students, alumni, and volunteers use today.
And this is just the tip of the iceberg. There are more features on the roadmap for LegFi Treasury that we believe will make every LegFi customer today and tomorrow a raving fan.