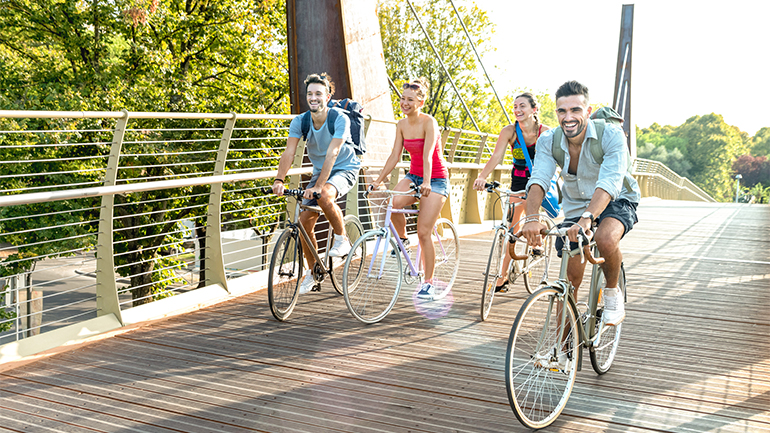 Let's talk about summer and all things related to this great and deceiving season. There is a lot to do as summer approaches, especially if you are a senior approaching what could be the last summer break of your life. If you are nervous or unsure about what's going to happen next, relax. You're not alone. I have some ideas and thoughts for you below. I also have some very exciting news about a great summer giveaway OmegaFi is offering to one of our faithful followers that is sure to generate some excitement. I know I'm excited to share this news with you, and I am so excited to be writing the second post on the new, improved, and super awesome OmegaFi blog.
Let me explain why I think summer is great and deceiving at the same time.
I am sure seniors are rejoicing in the fact they will no longer (for some) endure pencils, books or teachers dirty looks. However, too much rejoicing can lead to the dreaded "senioritis." Its crunch time, people! We are all very aware that the job market is rough, and it pays to be ahead of the game. Now, if not several months ago, is the time to start reaching out to potential employers, networking, speaking with your fraternity brothers, sorority sisters, chapter advisors, and anyone who will give you the time of day in order to make connections that could possibly pay off, literally. For those of you who are involved in a Greek organization, you have such a great networking resource at your fingertips. Fraternity and sorority members make up 85% of the Fortune 500 key executives1. Most people think you need a diploma in hand in order to start contacting employers about obtaining an interview or speaking with them regarding possible employment. That is usually not the case. The most important thing you can do is get your face and name in front of hiring personnel. Contact them letting them know you are a soon-to-be graduating senior who is interested in "XYZ" position and would love the opportunity to shadow and/or speak with someone knowledgeable regarding the career path that interests you.
Internships are another great way to get your foot in the door. I know, easier said than done. If you can't find a paid internship, and if you can swing it, try to go for an unpaid internship, and I will explain why. You are there with your butt already in a chair. You have the advantage of already having some training with the company. Training is expensive and time consuming for any business or company. If they can keep you on staff as a partially trained employee then that saves them the time and money of turning around and training someone who is still standing in "square one." Plus, you can make an impression as the sharp, eager go-getter that you are!
Take this time to prepare and set yourself up for success come Fall. It's hard to wrap your head around not having a plan since the past 17+ years have been a constant cycle of school, break, school, break, part time job, etc. You are now responsible for making the plans for your life from here on out. Nothing is guaranteed, handed to you or expected. You have trained for this, young Padawan! You are behind the wheel of this bus so you have to know where you are going.
Now here is the harsh reality that took me a good six months to come to terms with...ready? Summer is no longer "summer." As I was getting used to my new life out of college, all I wanted to do was pull a Billy Madison and grab young faces on campus telling them to "Stay here [college] as long as you can. For the love of God, cherish it. You have to cherish it."Besides the temps warming up, pools opening and grills lighting, the summer as you know it, is a distant memory. You are a working adult now. Also, start coming to terms with the fact that Christmas break, spring break and any other break you can think of are long gone. Unless you are a teacher - in which case you deserve it. However, earning a paycheck makes the pain of losing summer and any other break from school MUCH easier to bear.
I know this is a lot of information and probably quite traumatizing, so I will stop there.
The main lesson to take away from this post is now is the time to act! Don't spend your entire summer, sleeping in, watching daytime TV, at the beach (I am grinding my teeth as I type this, I <3 the beach) or on Pinterest, unless you are checking out our "Life After College" board (shameless plug) which contains tips on how to land a successful interview and much more.
If you have made it to this point, then I think you deserve a reward. Above I said don't spend your entire summer out and about, but I will allow you to spend the weekend of June 12-15, 2014 at BONNAROO! OmegaFi wants to reward one of our faithful followers with a trip to Bonnaroo in Manchester, TN. The winner will receive two general admission passes to the festival. Complete the puzzle below to reveal the details of the contest and stay tuned to our other social media outlets for details!
Comments, suggestions, opinions and controlled rants welcome in the comment section below. We want to hear from you!
1 "Student Involvement." Fraternity & Sorority National Statistics. University of Missouri-Kansas City, n.d. Web. 02 Apr. 2014. http://www.umkc.edu/getinvolved/fsa-national-statistics.asp