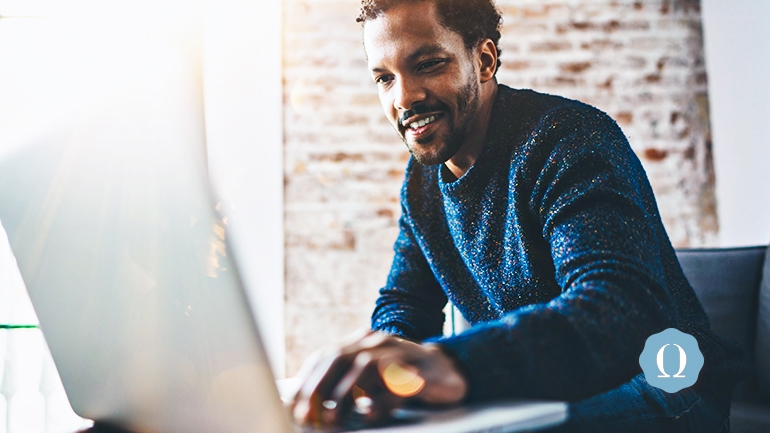 Nailing your fraternity software basics can make a world of difference in your chapter.
It means investing in the right software tools for the right job at the right time, whereas relying on the wrong tools can leave your chapter with scattered resources and inefficient efforts.
Chapter software can be a little "buyer beware" and a little "you get what you pay for."
Sometimes investing in fraternity software means dropping cold, hard cash to get the best optimized, heavy-lifting software. But that doesn't mean you can't find free software out there to help get limited chapter tasks done in a pinch.
Before you decide to invest in the best software on the market, let's cover a few of the free applications out there, and how they might affect your chapter operations—for better or for worse.
Here are OmegaFi's 3 Pieces of Free Fraternity Software Useful for Any Chapter.
3. Microsoft OneDrive (for Storing Important Chapter Files)

Pros:
If you're going the free route, OneDrive can be a massive help in storing chapter files in one central place.
You might be thinking: Wait. Why not just use Google Drive or Dropbox?
Here's why. Google Drive gives you 15 gigabytes of free storage (including Gmail and other account-tied applications). On the other hand, Dropbox offers only 2 GB of free storage.
Now, it's true that OneDrive's free version only offers you 5 gigs of cloud storage, making it one of the weaker options.
However, Microsoft Office 365 Personal or Home Users get 1 Terabyte of storage per user. And, if you're a college student, chances are most of you have access to these Microsoft products for writing papers and putting together PowerPoints. If you don't have Office on your computer, you know someone in the chapter who does (if the chapter doesn't have their own account).
OneDrive is essentially a free perk for students that use Microsoft Office products.
You can likely store every important piece of chapter data in a single OneDrive account, plus any extra files alumni or nationals wanted to store there.
Cons:
Since this software isn't specific to fraternity life, it won't be integrated with other apps and you'll have to accomplish other tasks with other tools. Plus once your Microsoft account expires, you'll no longer have the free storage.
If this doesn't work for you, Google Drive and Dropbox are still both reliable and reputable storage choices.
2. Canva Design Software (for Fast and Easy Fraternity Promotion)

Pros:
Every chapter faces the time-consuming task of creating t-shirt designs, banners, posters, and promotional flyers.
If brothers must design these materials by hand, it can take precious hours to complete. But when it comes to promoting your chapter the quick and easy way, Canva's a great way to simplify that process.
Sure, you may have a graphic design artist or two in your chapter—yet the sheer mountain of different promotional materials you're creating can quickly overwhelm any brother.
A free design tool like Canva can cut through the extra steps by offering you eye-catching, professional design templates for any social event, philanthropy effort, recruitment campaign, or other initiative when you need to get the word out.
This tool is designed for everyone from beginners to pros and is mobile friendly. With it you can design:
flyers for your next social event
schedule programs for recruitment, parents' weekend, or a Founders Day picnic
officer presentations
chapter officer business cards
food menus for your next formal
announcements and newsletters for alumni engagement
web banners, ads, blogs, and ebooks
The possibilities are endless. Using software like Canva can help you spend less time designing ways to promote your chapter goals and more time achieving them.
Cons:
Canva isn't specific to fraternity life, and there may be better-suited outlets for some common chapter promotion like t-shirt design. It's still useful for many promotional needs, though.
1. Hootsuite (for Managing Fraternity Social Media Posting)

Pros:
Often, it's small businesses that need to manage and schedule social media posts, but in many ways a fraternity chapter resembles a small business. Getting the word out on social media has become a crucial part of how a chapter operates.
Hootsuite has one of the most popular social media management software tools on the market.
Their free version allows you to manage up to three chapter accounts, such as Facebook, Twitter, Instagram, Pinterest, YouTube, LinkedIn, and more, depending on which are most crucial to your chapter's needs.
You can schedule up to 30 posts per month, integrate RSS feeds, and have access to helpful information and tutorials about boosting your chapter's presence on social media.
Cons:
The free version feels slightly limiting, especially if your chapter has more than a few social accounts and posts frequently.
If you want to move beyond a free option, the professional version is only $29 per month. This allows you to manage up to 10 social accounts and bulk-schedule unlimited posts, as well as offering some other additional features.
OmegaOne (for When You Need the Ultimate Premium Fraternity Software Tool)
There are many useful free software applications out there that can help alleviate one-off needs for your chapter.
The problem is that:
These tools aren't always fully integrated, so you often must switch through different accounts with different usernames and passwords to accomplish your tasks.
These tools aren't designed with fraternity chapters in mind. They're great for general use, but sometimes you really need software tailored specifically to your brotherhood.
OmegaOne is your all-in-one software to connect brothers on all crucial levels.
With OmegaOne, officers can quickly disseminate information to brothers through customized wall interfaces, custom group email or texts, a shared chapter calendar with event and study hour management and geo-location check-ins.
You can also:
store and manage important files with cloud storage
create, sign, and collect contracts and waivers
manage chapter bill payments
send an emergency check-in alert for members during a campus crisis
Free tools can be useful, but keeping a chapter fully connected and on-task often requires software like OmegaOne—built for Greeks by Greeks.
OmegaFi offers software solutions for fraternity chapters for recruitment, budgeting, communication, and more. Learn more about our services or call direct at 800.276.6342.
Leave your questions or comments about fraternity software in the comments below!