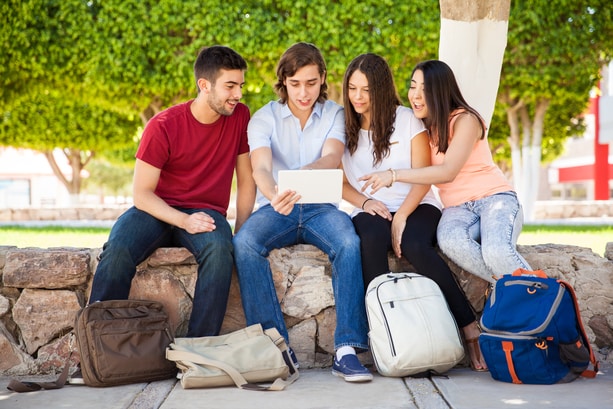 What motivates a college freshman to seek membership in a fraternity or sorority? There are a number of possible reasons — for example, college students are often seeking chances to get involved with campus life or build their resumes. However, one of the overarching reasons students seek out membership in fraternities and sororities is the connections they find with others.
Connection — this is the ultimate goal of every fraternity and sorority, to connect members, alumni, and college campus communities with each other. Through that connection, everyone involved can achieve common social, philanthropic, and academic goals while striving to become better people and leaders.
So, what helps a fraternity or sorority foster connection between these different groups? The answer lies in effective fraternity and sorority management.

Fraternity and sorority management is what makes the difference between a fraternity chapter and a group of friends who get together to play pool, watch a football game, and grill together. It's what differentiates a group of sorority sisters who run study groups or blood drives from a few friends who want to do well in school and make a difference in the community.

In other words, fraternity and sorority management is essential to the health and success of your organization. In this guide, you'll learn everything you need to know about solid management and the key players and tools you'll need to be successful. Specifically, we'll cover:
If you're ready to take your chapter to the next level and improve every aspect of your operations, it's time for you to learn all about fraternity and sorority management. Let's begin.

Fraternity & Sorority Management: The Basics
Fraternities and sororities thrive on solid management strategies carried out by the right people. But to implement those strategies, we first need to establish what fraternity and sorority management is and who the key players are.
What is fraternity & sorority management?
Sorority and fraternity management is the process by which a chapter goes from being a purely social group to being a legitimately professional organization on a college campus.

Effective management involves individual chapters planning and running activities each semester, guided by a set of principles and regulations. These are enacted by a hierarchy of executive officers who help oversee finances, chapter operations, chapter house living, and more. These officers work alongside national advisors and university officials, all while fostering relationships with alumni.
Who is involved in fraternity & sorority management?
Fraternities and sororities have a hierarchical structure. Generally this hierarchy includes the following key players:


Local advisors and university officials
President
Vice President
Other officers and committee chairs (treasurer, house manager, recruitment chairperson)
Though titles higher in the hierarchical structure (like president or vice president) may carry more clout in a chapter, it's important to note that these positions aren't more important than a t-shirt chair or a first-semester sister or brother who doesn't currently have an executive position. Everyone has a role to play.
Fraternity & Sorority Management In Action
What does fraternity and sorority management look like as everyone, from presidents to new members, strives to play a part? Let's take a closer look to find out.
Fraternity & Sorority Management: From the Top
It's a common misconception that a fraternity or sorority president sits at the top of the fraternity or sorority management pyramid. The president is at the top of your chapter's executive board, and is the officer with the most overall managerial power when it comes to making decisions for many facets of their chapter's daily operations.

However, the president is not a dictator or the person through whom all decisions are made. In fact, it would be fairer to think of the president as a conduit between the chapter and other parties, such as university personnel, national advisors, the housing committee, alumni, and any partnering organizations.

The president is the "face" of the chapter, someone who fills many roles, such as meeting with potential new members, making financial decisions, enacting disciplinary measures when necessary, and more. They also attend national conferences and help define the chapter's role in the fraternity or sorority organization overall, as well as on campus and in the community.

While the president certainly acts as the face and voice of their chapter, and must oversee many of the chapter's activities as an elected leader, presidents also understand that they are strictly regulated. These regulations usually come from advisors in the chapter's national organization and university officials, acting together to enforce standards, encourage certain guidelines, and advise the chapter in many aspects of management.

For example, a chapter president has leeway in certain decisions with the chapter, enforcing chapter bylaws and so forth, but they cannot exceed their authority on matters that pertain to the image or legality of the national organization or campus. They cannot, for instance, bypass anti-hazing regulations, take actions which tarnish the fraternity's letters, disregard guidelines related to chapter finances, or otherwise overstep their bounds.

Other executives play equally crucial top-level roles in the chapter. For instance, the chapter vice president may be seen as a more complementary, hands-on role to carry out the president's vision (and that of the chapter overall). Some of the vice president's jobs might include leading executive council meetings and the standards committee, having a hands-on role in overseeing all committee chairpersons, helping with officer transitions, being a positive influence on sisters or brothers, checking chapter reports, and even taking on the president's responsibilities when they are unable to do so.
Fraternity & Sorority Management: From the Middle
Rather than acting alone as executives of their chapters, the fraternity or sorority president and vice president serve as one part of a larger leadership structure. Their functions complement other roles, including:
The treasurer: A treasurer may not have direct power over the chapter as a whole, but handles one of the most critical parts of fraternity and sorority management — finances. The treasurer leads the chapter in setting and managing the budget for each semester or school year, collects membership dues, and keeps meticulous records of financial transactions, ideally using financial management software to do so. This helps the chapter maintain transparency in the community and work toward larger goals.
The recruitment chairperson: Without consistent effort to recruit new members and keep the vision of the chapter alive, a fraternity or sorority chapter can't properly function on a day-to-day basis or plan for the future. A recruitment chairperson and their committee play a critical role in creating and carrying out a fair and sustainable recruitment process, holding values-based rush events, managing the voting and bidding process, and educating and initiating new members.
The house manager: The house manager plays an important part in making the fraternity or sorority house a great place to live and learn. Their roles include collecting rent, overseeing maintenance and safety inspections, managing house staff, developing dining menus, and stocking the kitchen with food. The house manager reports to the housing committee, university, or owners of the house regarding important updates or needs. However, their most important role is to be there for their sisters or brothers, mediating arguments, serving as a role model and confidante, and communicating with parents as needed.
Depending on your specific chapter's goals or needs, you likely have even more middle-tier key players (such as an event planning chairperson, fundraising chairperson, etc.) helping you manage your operations. Remember that each of these individuals can make a difference to your chapter as a whole as they're encouraged to fully participate and grow within their roles.
Fraternity & Sorority Management: From the Foundation Up
It's important that all members take part in fraternity and sorority management. This means that each brother or sister must act with, not against, the will of the chapter and fraternity or sorority at large. Each must pay their membership dues on time, attend study hours, participate in fundraisers and events, follow the rules and house regulations, and more. By doing these things, each member can play a role in enhancing the chapter's success.
By refocusing fraternity and sorority management as a responsibility each member must take on, a fraternity or sorority chapter ensures its long-term success as a professional campus organization that truly represents its letters.
Fraternity & Sorority Management: How a Management Solution Can Help
Clearly, fraternity and sorority management is no easy task. Solid management takes a concerted effort on the part of every chapter member, and there are a variety of moving parts to account for. Some chapters struggle to maintain everything on their own, and that's where fraternity and sorority management software comes in.

Management software can empower everyone in your chapter, from top-level leaders to new members, to experience what your organization is truly all about. A solution like OmegaFi can help you with every aspect of fraternity and sorority management — including financial management, collecting and using member and alumni data, chapter communications, and recruitment.

Work with your executive board and national advisors to determine what management software is best suited for your chapter and budget. Easy-to-use management tools can make all the difference in your chapter's operations!
Wrapping Up
Regardless of one's place within their fraternity or sorority chapter — be it president, treasurer, recruitment chair, house manager, national advisor, alumni, or a regular, every day member, everyone has a role to play in fraternity and sorority management and driving connection between members, alumni, and the community.

Use this guide to review how your chapter's leadership structure is functioning, and consider using a management solution to make the job easier.

Looking for more information about managing your fraternity or sorority? Check out these additional resources: