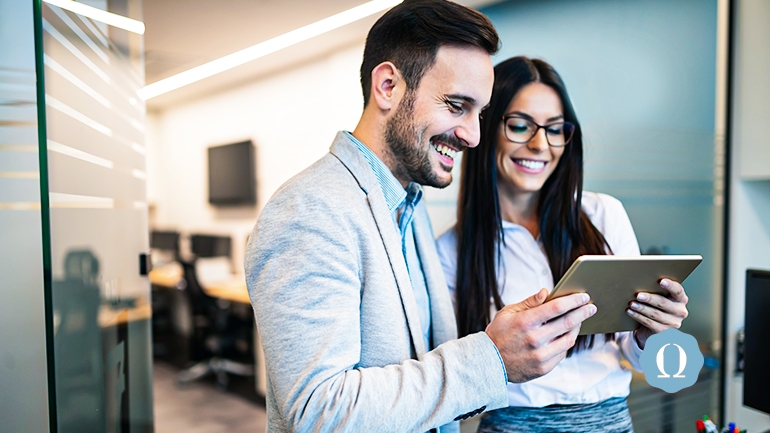 Brothers and sisters may not always show it, but they rely on fraternity and sorority life advisors.
The Greek community on your campus owes its success in large part to you.
That's no small feat.
Getting a bunch of fraternity and sorority members, their alumni, and college administrators on the same page is something of a minor miracle, truth be told. You don't do it alone, of course. You work with some talented, amazing, and dedicated people. But you also put in your share of hard work.
So be proud. Pat yourself on the back. You deserve it.
Yet you owe it to yourself and everyone up and down Greek Row to make sure you have the right tools at your disposal every time. Not only can an effective advisor toolbox save you time and effort, it can help you reach your goals in a more streamlined, effective way.
Here are OmegaFi's 6 Essential Tools Every Fraternity and Sorority Advisor Needs Right Now.
6. Up Your Advising Game with AdvanceU
The Association of Fraternity/Sorority Advisors offers many learning opportunities to its members. One of those opportunities is the AdvanceU online learning program.
As opposed to having to attend live seminars in your area—or travel, which is even more time consuming—AdvanceU acts as a virtual classroom where you can learn from a variety of experts on different topics.

Some of the things you can learn about in depth from AdvanceU include:
character development
CAS standards
success transitioning into a new role
risk management
project management
There are tons more of these topics for advisors to learn or brush up on.
These skills are also applicable to many positions beyond the fraternity and sorority life advisor role.
This will bring you success in your current duties, plus make you a stronger candidate should you seek other positions in higher education.
The best part? You can watch these webinars in your office with a tie on—or in your pajamas in bed on your iPad.
5. Get an AFA Research Grant
Have something to contribute to your fellow Fraternity and Sorority Life Advisors?
If you would like to conduct a research project to enhance Greek life through the AFA and its membership program, consider applying for an AFA research grant.
We'll be honest here. This tool isn't going to make your life easier right off the bat.
Obviously, there's a lot of extra time and effort on top of your regular job description that goes into a research project like this. Of course, it's fine if you don't want the added responsibility and would rather focus solely on making Greek life rock on your campus.
The takeaway? You'll be helping build tools for future advisors.
The AFA guides your research based on certain topics. If you aren't up to it, talk to academic professionals or graduate students who may be able to contribute their research.
4. Scholarships Aren't Just for Students. Do You Qualify?
The AFA Foundation accepts donations that contribute to important causes in your field.
But did you know they also offer scholarships?
Like the grant opportunities mentioned above, the AFA offers a variety of endowed scholarships to graduate, professional, and affiliate members.
There are 38 scholarships offered to members per year.
Obviously, joining the AFA would be a great benefit for many reasons, and this includes scholarship opportunities.
If you haven't already, check out all the AFA Foundation has to offer.
One of these opportunities could provide you valuable resources to use toward improving the Greek community for your chapter members.
3. The Council for the Advancement of Standards in Higher Education (CAS)
If you don't know about the CAS, take the time to check out their resources. CAS tools can be a game changer in helping you reach your professional goals as an advisor and beyond.
CAS is a group of 43 professional associations dedicated to developing professional standards in institutions of higher learning.
They provide resources for a variety of needs a Fraternity and Sorority Life Advisor may have during her or his tenure.

Many topics are covered in detail regarding CAS standards and guidelines, including:
advising program planning processes
access and equity standards
standards of financial planning
navigating professional success as an advisor
self-assessment standards and practices in Fraternity/Sorority Life departments
CAS standards can truly guide advisors toward professional success and improving the experience of chapter members on their campuses. Taking the time to add these tools to your toolbox is well worth the time and effort, and they help not only you but your entire network of Greek professionals.
2. Pull out Your Reading Glasses: Journals for Advisors
Fraternity and sorority life changes every day. It's a constant evolution of standards and practices.
You need to be on top of your game to know how to best serve all brothers and sisters, as well as help attract new members in a positive and inspiring way that matches their needs.
Reading journals aimed at fraternity and sorority life advisors has several benefits. It keeps you up to date on the newest trends in Greek and college life, sparks new ideas and innovative problem solving, and gives you access to the voices of national Greek and educational leaders.
A few journals to consider include:
1. ICS Recruitment Software Is One for the Ages
ICS software is by far a fraternity and sorority life advisor's best tools. Why? Simply put, recruitment is one of your most important—and stressful—undertakings each year.

ICS recruitment software streamlines the recruitment process through a central database for everyone, from Potential New Members (PNMs), to Greek councils, to chapters.
You can manage PNM registration and fee payment, set guidelines and restrictions, get daily reporting, receive chapter bid lists electronically, and more.
OmegaFi offers software solutions for you and your member chapters for recruitment, budgeting, communication, and more. Learn more about our services or call direct at 800.276.6342.
What are some of your favorite fraternity and sorority life advisor tools? Let us know in the comments below!