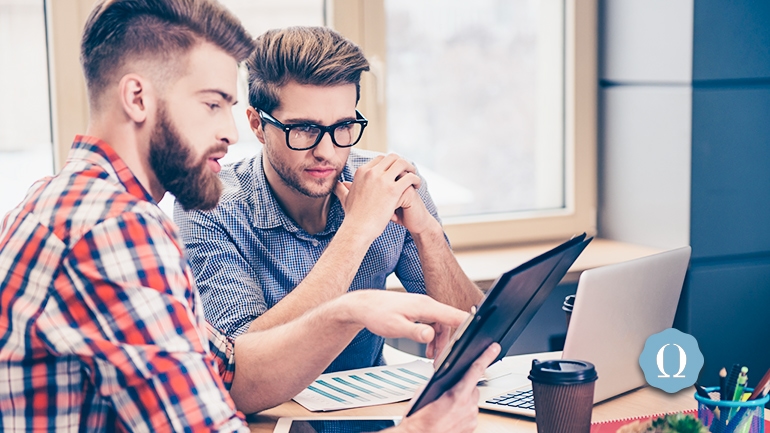 Fraternity and Sorority Life Advisors are some of the most important people in chapter members' lives.
Communication is at the core of this relationship.
Simply put, brothers and sisters would not succeed without the sage guidance of advisors.
This isn't to say that your members aren't intelligent, hardworking, or committed to growth. Yet there are challenges and crucial turning points for every chapter.
Executive leadership changes. Goals and initiatives change.
That's why advisors like you offer consistency and leadership when it matters most.
We're guessing you signed up for this role because you care deeply about Greek culture and the future of your chapter.
While brothers and sisters focus on their own place on campus and the local community, you have the advantage of a broader view of your campus. You can figure out how to capitalize on positive trends in the Greek world—and avoid the consequences of negative ones.
Your main goal as an advisor is likely to find better ways to communicate with your chapters. By doing this, you earn the trust of chapter members, as well as their understanding.
You enhance their ability to take actions that will ultimately benefit both them and college Greek culture.
What a monumental task, and what a rewarding experience, right?
OmegaFi wants you to be able to communicate with your Greek community to the best of your ability. Here are our 5 Tips for Better Communication as a Fraternity and Sorority Life Advisor.
5. Act as an Interpreter of Complex Information
As an advisor, you're going to be dealing with any number of complex issues that don't have straightforward, easy answers.
You'll need to often make decisions that impact a single chapter and beyond.
The more you familiarize yourself with the issues related to all stakeholders in your fraternity and sorority community, the more easily you can communicate this information to chapter members.
For instance, you already:
Prioritize strategically and show chapter members how to focus their efforts.
Predict long-term outcomes and translate those into manageable goals.
Keep your chapters' goals tethered to the values and expectations of the university, national organizations, and other advisors and officials.
The more effort you put into interpreting the expectations of the stakeholders, the more easily you'll be able to help chapter members find direction and meaning.
4. Good Advisors Bridge Gaps
Working with various college groups, national organizations, and chapter members means you're going to be dealing with many different personalities and viewpoints.
It also means different groups will have different levels of knowledge and skill in dealing with certain situations.
Fostering positive growth in a chapter means bringing all those viewpoints together and communicating what's needed for these groups to understand one another.
One way to do this is to make sure everyone you communicate with—from the first-year chapter member to the university administrator—feels heard.
Whenever possible, consider giving everyone equal space and time to express their ideas. Then help guide those ideas toward the best possible outcome.
3. Communicate Better among Other Greek Professionals

When you're trying to communicate better with chapter members, it's immensely helpful to foster good communication with other professionals in the Greek world.
This includes people like:
Other fraternity and sorority life advisors and alumni volunteers
National headquarters executives
Communication includes planning and strategizing so you're all on the same page with a shared vision of what comes next.
One way to always stay on the same page is to use communication software.
OmegaOne is designed specifically for Greek communication needs, and is often used by chapters and alumni groups.
You can use this software to quickly share information, documents, and other files, schedule meetings, and survey chapter leaders.
If you're looking for a more generic all-around communication software tool that you can bring all kinds of Greek professionals in on, try:
With your goals and perspective aligned, you can bring cohesive, consistent, and comprehensive leadership to your chapter members.
2. Be Honest about Difficult Topics
The values you'll have to uphold as an advisor will lead to some difficult topics of conversation.
You'll have to talk with members about: student safety and risk management, anti-hazing policies, sexual assault on college campuses, drinking and substance abuse, and having a values-based recruitment.
The best approach is to educate yourself on these topics and use guidelines laid out for you by the Association for Fraternity and Sorority Advisors.
Consider joining the AFA and following AFA guidelines and tutorials.
Also, familiarize yourself with the standards of each chapter's umbrella organization, such as NIC, NPC, National Multicultural Greek Council, et cetera.
Be candid with members about expectations.
Build proactive strategies and goals to turn members' learning experiences into a chance to grow their leadership skills.
1. Want to Communicate Better as an Advisor? The Council for the Advancements of Standards (CAS) Can Help.
As a partner organization of the AFA, the CAS offers resources to help you reach a high standard of excellence as a fraternity or sorority advisor.
CAS offers the ability for self-assessment for Fraternity and Sorority advising programs.
This way you decide how to approach different levels of learning and communication with members.
Using CAS tools, you can learn how to foster critical thinking, build a sense of identity and social responsibility, and develop stronger communication with everyone from the freshman new member to the senior executive officer.
Communicating effectively as a fraternity or sorority life advisor has many challenges with complex solutions, but with the right tools you'll always be an integral part of Greek life on your campus.
To review:
Rely on and communicate with your community of fellow advisors and officials.
Try to bridge gaps and translate difficult information between staff and chapter members.
Broach difficult topics proactively.
Use AFA and CAS standards to achieve high standards of advising.
As an advisor, what communication tips and trips have worked for you? What questions do you have? Let us know in the comments below.
OmegaFi offers software tools to help fraternities and sororities with budgeting, communication, recruitment, and more. Click here to learn more.