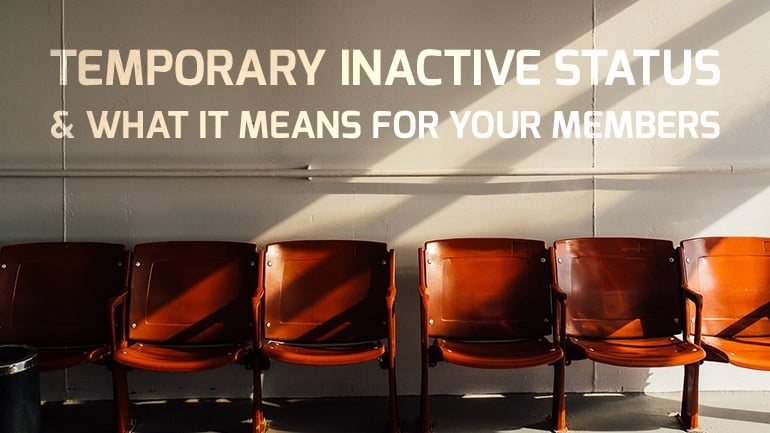 In the past, we've talked about the last-resort decision to send a brother to collections when he isn't paying his membership dues. Certainly that's an option, but we prefer to think of it as the nuclear option. You won't always recoup as much as you'd hoped by going through a collections agency, and it will definitely burn a bridge with this brother while also taking valuable time and resources from your chapter. Essentially, you're going to want to exhaust every possible option to get brothers to pay up first.
But when that doesn't work, then what?
We'd like you to consider an alternative to the woes of collecting membership dues that you can get into by letting a brother accrue debt semester after semester. It's called "temporary inactive status," and it's a kind of stop-gap for emergency situations where a member finds he's fallen on tough financial times, or for some other reason can't commit to the chapter's payment structure and related activities. He's already tried payment plans. They didn't work. He doesn't have the time to volunteer to work off his dues. There's just no other choice. So your chapter pulls the plug on that member's status for a given time.
We here at OmegaFi want to make sure you understand that it's a dicey proposition at best, and should be used sparingly, if at all. There are certain questions you need to ask yourselves when you make a decision about Temporary Inactive Status and What It Means for Your Members.
"Can We?"

There is zero point in discussing temporary inactive status with a brother if you literally can't offer this option to him. Many fraternal organizations do not allow temporary inactive status, and while there are some reasons it can be beneficial, there are also many reasons to be wary of it. It can be seen as too much of a risk, or a financial boon on the organization. Talk to nationals. Get their take on inactive status, and discuss their reasons for offering it as an option to your brothers (or not). What kind of image are they trying to portray? Does inactive status clash with that image? Are they okay with members representing your letters who don't contribute, while other brothers pick up the dues tab? And if they do offer inactive status, what are the restrictions, whether temporary or permanent? Are inactive brothers kept from making decisions for the chapter, coming to chapter meetings, events and rituals, wearing letters, etc.? Do the higher ups recommend inactive status for a particular brother's situation, or no? Nationals should be your first step in figuring out the boundaries and values in play with the use of temporary inactive status.
"Should We?"

Once you figure out if your fraternity even allows temporary inactive status, you'll want to decide very carefully each individual brother's situation. Is the brother just drifting away, not wanting to participate, or not pulling his weight overall within the chapter? Then maybe cutting that brother loose from membership altogether, rather than temporary inactive status, should be discussed. Likewise, if a brother is able to pay his dues, but chooses not to, that's also not a reason to put them on temporary inactive status.
If a brother is able to make the commitment, but simply doesn't cooperate with dues payments (even with a payment plan in place) and other obligations of brotherhood, talk with him and figure out if he really wants to be in a fraternity or not. Inactive status becomes a possibility only when a valued brother comes upon a hardship--financial or otherwise--and simply cannot meet membership dues and other requirements. This is where you really have to decide: Is this brother worth the risk? Is he worth us picking up the slack to meet our budgetary needs, trim them down, or both? Temporary means temporary. In other words, the brother shouldn't get away with sliding by semester after semester, maintaining the benefit of chapter membership while investing essentially nothing to you and your other brothers. Some guys are nice people, and decent friends, but they just aren't dedicated brothers. Decide if this member is dedicated or not before offering temporary inactive status.
"How Do We?"

So you've talked to nationals, talked to the brother. You trust him and you know his circumstances are beyond his control, and his financial concerns are only short term. If you're going to offer him this reprieve of becoming temporarily inactive, likely your fraternity offers guidelines on the process. It should be a part of the bylaws or other regulations, and if you're implementing it for the first time, do not do so until there is an official process in place, documented with your fraternity. You will also need to get the member to sign a petition for temporary inactive status, acknowledging his reasons for petitioning and his obligations during the process. A paper trail is of the utmost importance with matters of membership, and this is no exception.
Typically, temporary inactive status will be offered on a limited basis, for a set time period. For example, a chapter member might be granted this status for no more than a year. There should be very specific circumstances listed that would allow inactive status as well, depending on the fraternity, such as: extreme financial hardship, illness, family emergencies, and sometimes things like internships or other programs that don't allow a member to participate in your chapter. Some other restrictions might include requiring the member to pay national dues (though not local dues), not participate in votes or serve a position in the fraternity, and to have limited/restricted attendance to chapter activities. It's also important to follow guidelines such as:
those limiting how many or what percentage of brothers can hold inactive status at the same time,
voting procedures for granting inactive status,
the timeline of implementing inactive status,
and limits on the amounts of time a member can claim this status (ideally only once).
So, is temporary inactive status an option? Does it benefit the chapter, and is it worthwhile with a particular brother and his circumstances? Is the process set up so that both the fraternity and the brother understand the agreement? Remember that as a chapter, you have different tools at your disposal for financial hurdles. Collections is an option, if nothing else works. Before it gets to that, you have payment plans, scholarships, discount incentives, and other techniques to try to get brothers to pay up. There's also OmegaFi's Vault. Cough, cough. And of course temporary inactive status offers its own unique benefits and risks, depending on the situation. The key is to use what works on a per-brother basis. Trust us, your treasurer will be a lot happier that you did.
Does your chapter have experience with temporary inactive status? What are your thoughts on inactive brothers? Let us know in the comments below!