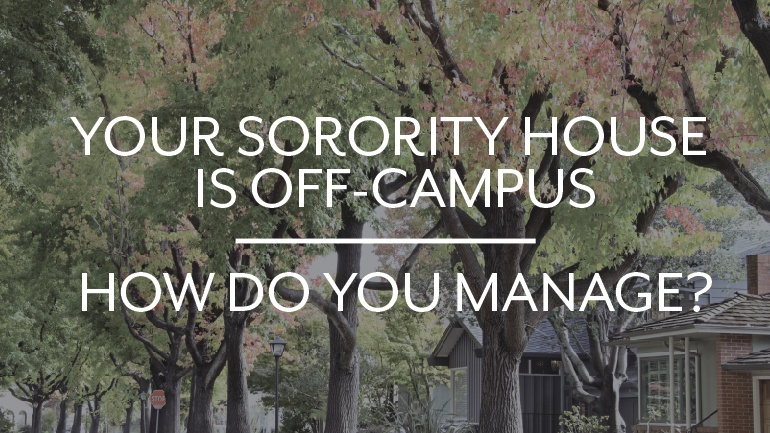 It took a lot of hard work and dedicated fundraising efforts, but your chapter eventually raised enough money to invest in a new house. True, it's not on Greek Row. In fact, it's a bit of a commute to campus. But that's okay. You and your sisters love your new chapter house. You went through all the pros and cons of an off-campus house and ultimately decided that this was right for you. The neighborhood is great, and your neighbors are nice--as long as you keep the noise down at night and maintain your yard.
This house is your chapter's perfect fairy tale ending, right?
Well, actually, no. A new house can be a wonderful thing to bring sisters together, but it's just the beginning of the struggles of managing your sorority.
That's why OmegaFi wants to help you get a handle on things. When Your Sorority House Is Off-Campus--How Do You Manage?
Managing a sorority house is tough to begin with. On campus, however, you have the advantage of a lot of university oversight, upkeep of safety regulations and equipment, landscaping and so forth. You have the proximity of university police if you have any problems. There are clear regulations about alcohol use, hazing and other behavioral rules. While your sorority may have its own way of overseeing and managing these issues, the training wheels have been removed when you live in an off-campus chapter house.
There's a lot more autonomy, but that also means you have to be one hundred percent on top of managing your house and your chapter, or things can get out of hand quickly. There are plenty of former off-campus houses out there, abandoned by sisters whose chapters were shut down, to use as examples of what not to do.
Fill in the Gaps: Where Authority Is Missing, Your House Must Be More Strict

There's a perception that off-campus sorority houses are run like underground bootlegger speakeasies during 1920s prohibition: On the face of it, they're like any other sorority house. But between their walls, it's a 24-7 party of debauchery and decadence.
That's not the image your sorority chapter wants to have attached to your letters, trust us. And once you have that reputation as "the bad sorority," it never washes off.
It's better to approach managing your house by first identifying areas that for an on-campus house would be managed by university authorities, and then filling in those areas with an even stricter and more authoritative approach to enforcement. Turn to your national advisors often to help you establish a system of enforcing rules, checking safety equipment such as fire alarms and fire suppression sprinklers, meeting payment deadlines and so forth.
It may suck at first, but it's imperative for off-campus sorority chapters to pick up the slack in their house when it comes to being more autonomous from their universities.
In the Off-Campus Netherverse, Sisters' Bonds Are All That Will Save Them from Certain Doom

Directly above is the most accurate, way-too-long heading we've ever written. Ever.
If you doubt us, answer the following question: What happens in every horror genre movie, television show or book when someone splits off from the group?
Yeah. Exactly.
Let's be honest here, sisters, living off campus can be pretty horrifying. It's not exactly the zombie apocalypse or anything, but it's a close second.
There are struggles and drama in every sorority house. It's a fact of life. Off-campus houses aren't the exception, they're the rule. When things get out of hand on campus, usually it's easier to focus on internal dramas between housemates because other aspects of sorority living are more tightly regulated by outside authorities. When you're off-campus, your executive officers are handling a lot more at once, and sister drama may seem pretty far down the list of priorities.
Yet that kind of thinking would be a mistake. It's important to put a system into place early that gives sisters a way to air their grievances and seek mediation. You need to make them aware that in order to be allowed to live in the house, they have to try to get along. Ongoing drama and fights will not end well for them, so they need to seek resolution as quickly as possible, whether that means turning to a higher authority or working it out themselves.
Nip the drama in the bud by offering to listen and help sisters compromise on issues and adding a house rule that these issues must be resolved quickly and peacefully, or there will be consequences.
Even When You're Off-Campus, You're Never Truly Off-Campus

Don't sever your life line to your university just because your house is off the beaten path. Chances are you are able to foster a strong relationship with your Greek Life office and rely on them to guide you in managing your off-campus chapter house. There are likely official bonds between you and them, anyway, as far as your standing as an organization on campus.
Keep a line open to national advisors and your alumnae and housing board. They're there to help. Finally, if you have concerns about risk management and safety, how to prevent car break-ins and bike thefts and deterring would-be sexual assaulters, bring in a representative from the University Police to talk to the chapter.
When you're off-campus, you may find that you'll end up with even stronger bonds to your university experience because you are forced to work for it. Your chapter will be better for it.
There are many issues that may arise that are unique to living in an off-campus sorority house, but we're confident you can handle them with a little fortitude and help from above.
Do you live in an off-campus sorority house? What challenges have you faced that those living in campus housing might not know about? How have you overcome those challenges? Regale us with your heroic tales in the comments below!