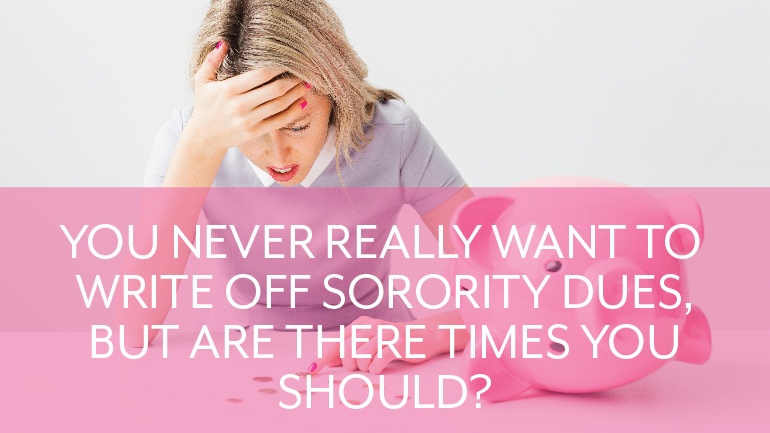 Sororities don't typically have the same trouble collecting late sorority dues that fraternities do. We mean no disrespect to our fraternity friends, but most brothers will agree that sororities run a tighter ship in that regard, while brothers often struggle with collecting a percentage of their dues beyond the deadline each semester.
However, unpaid dues are still a thing with sororities. The difference is that sorority sisters who don't pay either up front or on a payment schedule are not typically allowed to continue their membership. Fraternities may be more likely to seek alternative, sometimes punitive measures before removing a brother from the chapter. Neither method is wrong, if the chapter finds a way to ultimately collect as much dues as possible.
In the end, the method to the dues-collecting madness doesn't matter as much as actually collecting the dues. You can send a sister to collections if she continually doesn't pay, but that's not a surefire method, either. When hiring a collection agency, only a certain percentage owed by sisters will ever be recouped. Some sisters won't pay even after multiple attempts to collect.
Before you get to that point, what do you need to know about when to simply write off unpaid dues? You should do it only rarely, when it's clear the money will not be paid. Of course, there's a little more to the dues collection process than that, and that's exactly what OmegaFi wants to talk to you about today. You Never Really Want to Write Off Sorority Dues, but Are There Times You Should?
What's the First Sign a Sister Won't Pay?

Unfortunately, sorority membership isn't cheap. Sorority dues average a bit over $1,000 per semester, and that doesn't include new member fees, periodic investments in regalia and so forth, as well as expenses for cost of living. When you really get down to it, membership dues are the cost you and your fellow chapter mates are paying for an experience that includes all the best things about Greek life--from living in a big sorority house, to attending lavish socials and formals, to taking part in your chapter's most hallowed secret rituals. Of course, the most valuable part of sorority life is bonding with life-long sisters and past generations of alumnae.
What else could you ask for? Well, if you're a sorority treasurer, you're asking for sisters to actually pay their sorority dues. But it's not so much a socio-economic status thing, as many sororities want to pull in quality sisters even if their family's income isn't through the roof. Chapters sometimes go to great lengths to offer scholarships to worthy sisters, offer payment plans and other options to make sure sisters can make their payments.
Often the first sign a sister won't pay her sorority membership dues is that despite being offered these options, she still isn't paying. You see her going out and buying expensive new clothes, eating out constantly despite having a meal plan at the house, and hanging at the club practically every night. Yet when you ask for dues, you get some lame excuse and a contrite look that leaves you feeling frustrated and used.
The first sign this sister isn't going to pay is that she's made zero effort to pay even smaller amounts on a payment plan, she hasn't attempted to gain a chapter scholarship, and she has the money but isn't contributing to your chapter. This might mean you'll be giving her the boot soon, seeking payment, but ultimately you must consider the possibility that in the end you'll be writing off these dues.
Your Non-Paying Sister's Out of the Chapter. But When Should You Send Her to Collections?

Even after the tough decision to remove a sister from chapter membership for non-payment of sorority dues, you probably feel a little squeamish about using a collection agency to try to recoup your financial loss. Not because it's wrong, but because in your heart you still want to give your ex-sister the benefit of the doubt. After all, you've grown close. Aside from the issue with dues, you don't think she's a bad person. She's helped you out of plenty of jams.
The thing is, if a sister neglects to pay her dues, even with the easy online payment system sorority software such as OmegaFi's Vault provides, it's unlikely she's going to pay it on her own after being kicked out of your chapter. If you don't keep up with her, you may never hear from her again. She may avoid your phone calls. You may get nothing but cold stares when you pass on the way to chemistry across campus.
You may want to give a short grace period where you try to work it out with her and explain the next step is collections. But don't hedge your bets on this. If she didn't pay when she was supposed to and she isn't paying now, talk with your national advisors about involving a collection agency.
Your Sister Still Isn't Paying. Write Off Her Dues.

We deal with the chapter dues collection every day, and our experience indicates that even when sent to collections, the harsh truth is that you still likely won't get back a certain percentage of unpaid dues. When a sister has been sent to collections after several unsuccessful attempts to recoup her unpaid dues, it's extremely unlikely that continuing to pursue the matter will result in payment.
This may sound depressing, but the reality is that the dues news, so to speak, definitely falls short of doom and gloom. In fact, the trends we see in sorority dues collection are mostly positive. Our clients usually see roughly 97 percent dues collection. If you think about it, that's pretty fantastic. That means your chapter will only lose three to five percent on unsuccessful attempts to collect unpaid dues.
As long as you're doing everything possible to collect dues and going by the book, don't worry so much about writing off perpetually unpaid dues. As long as the percentage of non-payment is below 5 percent of your total membership dues, you're well within normal range. It's only when these percentages start creeping up that you have to worry, and at that point you might want to assess the quality of sisters being recruited in recent semesters and strategize other methods to keep the membership dues rolling in.
Have you ever had to write off unpaid dues before? What methods work for you to try to prevent writing off dues? Tell us in the comments below!