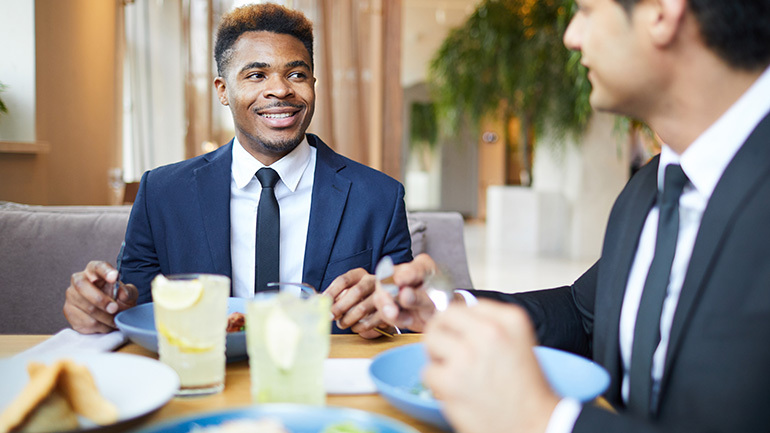 I just had lunch with a $50,000 potential prospect. It was our first meeting, and he wanted to meet for lunch. I hate meeting prospects for lunch. Inevitably, something goes wrong.
We met at a nice Italian chain restaurant. You'll find this place around the country. It's popular, so we had to wait for a table.
That was problem #1.
Meeting for the first time, the prospect and I had to wait in the reception area with about a dozen other people hoping to get a table. Making small talk with someone you just met in front of a bunch of other people can be awkward for both parties - and it was.
After about ten minutes, they had our table ready for us. We sat down, reviewed the menu and began to discuss the purpose of our meeting. He wants to get more involved in the fraternity, and he knows we are beginning a capital campaign. Knowing the waiter will soon arrive to take drink orders, I wait before jumping right into a discussion of how he can help and contribute.
We eventually order our lunch. He orders shrimp scampi. I order a shrimp and pasta dish. At last, I thought, we can get down to business.
But, no. Problems 2 through 9 are about to hit us, and it is the number one reason I hate having these discussions over a meal - especially lunch.
Immediately after ordering our food, the person who fills up drinks stopped by our table to refill our iced teas. Of course, that forces a break into our conversation. I do my best to get it back on track. All is going well for about 15 minutes until our meal arrives - another break. Two minutes later the manager stops by the table to see how we're doing - another break. Five minutes later, the waiter is back to check on us. Within 30 seconds the guy who seated us says hello to see how we liked the meal he recommended. Then, of course, the drink person is back pouring more iced tea in our glasses. If you're keeping track, that's six interruptions in about a 25 minute period.
Before we received our check, we were fortunate to have two more interruptions when the waiter asked if we wanted dessert, and yes, for a third refill of our drinks.
The customer service at the restaurant was good, but it made for a challenging environment to have a real conversation and steer the discussion to giving.
In the end, he agreed to think about a $25,000 gift. We agreed to get back together in a few weeks to discuss things in more depth. Next time, we'll do it in his office where we won't be interrupted.
Fred Maglione, CEO-OmegaFi