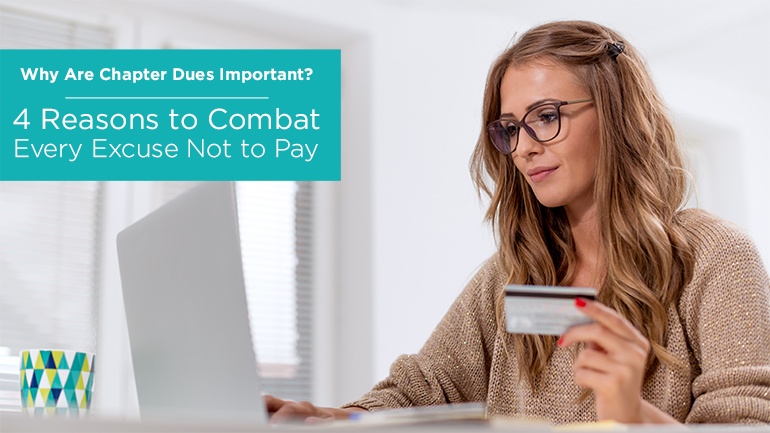 Let's keep it real: Nobody likes paying dues, and the brothers or sisters tasked to collect them would rather have a root canal. Paying and collecting money is rarely a fun experience. For many newly initiated brothers and sisters coming into their fraternity or sorority's chapter, paying further dues after putting up the initial membership intake fee can seem like a cash grab. Depending on the school and the size of the chapter, dues can range from perhaps a couple hundred dollars, to a few grand each semester. When confronted by the powers that be and forced to pay, often the prevailing question becomes "Why Are Chapter Dues Important?" It's a fair question with a simple and fundamental answer: because as an active member of this organization, it's your duty to contribute to its continued operations. Like paying taxes to greedy old Uncle Sam, although everyone would gladly sign up for tax-exemption status if they could, paying these "citizen fees" is an act of contributing to the whole, the greater good if you will.
As we've mentioned before, understanding the requirement to pay dues for a social organization such as a fraternity or sorority can be difficult to explain to a recently initiated 18- to 22-year-old. So when it's time to give the talk, we here at OmegaFi are here to give you a definitive answer to the question, Why Are Chapter Dues Important? 4 Reasons to Combat Every Excuse Not to Pay.
4. Chapter Dues Allow You to Be a Member in the First Place

As a new member of a fraternity or sorority's chapter, it may be easy to forget that the organization in question has a hierarchal system in place. This means that your chapter is beholden to a regional board, and that regional board is beholden to a national board. These boards require dues to be paid for the fraternity or sorority to function as a whole. In many ways it's a similar situation to paying a city tax, state tax, and federal tax (depending on where you live). Fortunately, however, in most cases your chapter dues will allot a certain amount of the dues payment to cover the cost of keeping your membership active on all levels of the fraternity or sorority. So yes, the dues you pay have real ripples on even your status as an active brother or sister in your organization.
3. Dues Often Keep You From Having to Go Out and Fundraise

Here's a harsh truth about chapter dues specifically: It's typically the primary (if not only) source of income for your chapter. If you were to look at a chapter of a fraternity or sorority as a non-profit (which, to an extent, it is), here's a question: How would a typical non-profit fund its operations? Some may produce goods or services to cover their costs (a non-profit that sells t-shirts, for instance). Others may solicit donations from philanthropic donors. And the rare but dedicated few will have to roll up their sleeves, get out, and fundraise directly. For anyone that has had to wake up at 7am on a Saturday, run to a Walmart or Dollar Tree, load it up with buckets and sponges, and floor it all the way to a Burger King parking lot to run a carwash knows that fundraising is rarely fun. In most cases it's hard work, and the pay-off can be pennies on the dollar compared to the sweat equity put forth. Your chapter operates and plans its social calendar based off the average amount of dues it collects per semester's intake. These dues cover a variety of costs within the chapter (more on that later), and ultimately keep you and your brothers/sisters from panhandling on the streets.
2. Socials, Banquets, and Even Chapter Paraphernalia Are Typically Covered by Dues

As we mentioned above, dues go into funding your chapter's social calendar. In truth, like taxes, your dues go to virtually every facet of the chapter's operations. For your sorority house that is trying to build a new deck out by your pool area, there's a good chance that the cost will be absorbed by your chapter's dues. For the fraternity that wants to print a hundred shirts to promote their annual party, the cost of those shirts are typically taken right out of the chapter's dues. Incidentals aside, the dues create the chapter budget for the semester and any amount that is not spent as a result of the social calendar will go directly into the chapter's surplus funds. When your chapter's administration decides that this year's social will be at a newer, more upscale venue than the year before, this is possible as a result of dues. For the benefit of your chapter, in truth, more money often means more power and freedom. The tangible effects of this can mean greater amenities for your fraternity or sorority house, perhaps new computers or an expanded study room to improve your capability as a student and as a chapter at large.
1. Dues Keep the Chapter Afloat

Perhaps the most important reason on this list is the cold, hard fact that dues keep a chapter afloat. Imagine for a moment that out of the blue no young men or women want to be a member of your organization anymore. Zero. Half of your current members are poised to graduate and the other half are generally pretty sketchy about paying their dues. For the unfortunate chapter President and treasurer, this can be a near-apocalyptic scenario—the death of a chapter. In truth, a chapter without members (particularly dues paying members) is a chapter without consistent funds. Without consistent funds, that robust social programming calendar that we spoke of? Gone. The big banquet? The annual social? Now impossible (or at the very least unwise) to try to pay for. As the lifeblood of an organization (Greek or otherwise), dues are critical to its operations. Although a Greek chapter may at times operate like a business, as it does not sell a product or service, the only financial method of drawing income is through essentially service fees, i.e. your dues.
Let us know in the comments section if you're a person who hates paying dues and are still wondering, Why Are Chapter Dues Important? Tell us your personal story/struggles with the dues collection process.