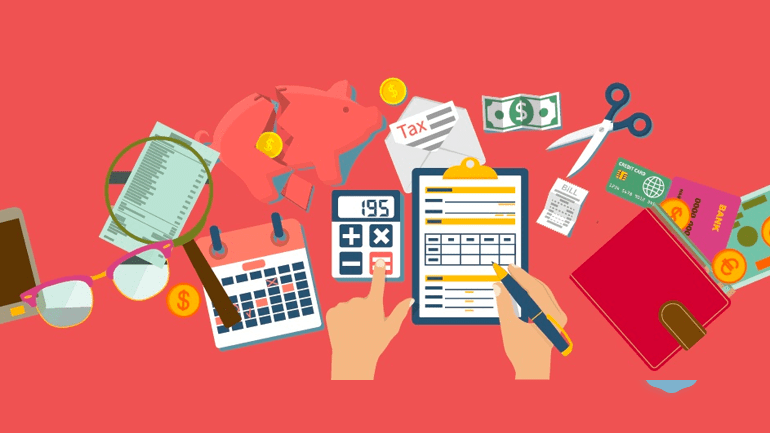 Here's what a lot of sisters might be thinking when it comes to what makes up a good sorority treasurer:
She's a math wizard, like, A Beautiful Mind or Good Will Hunting-level of genius.
She's deep into her core classes as an economics or finance major. She eats, sleeps, and breathes numbers.
She's a cutthroat CEO in the making, ready to bring the hammer down on anyone who won't play ball.
She already has an internship with Goldman Sachs, and her career on Wall Street is set.
She's--well, let's be honest here. She's a caricature of some villainous movie banker. We hate to break it to you, but she isn't real.
If you weren't thinking any of those things would be good qualities to have in a sorority treasurer, kudos to you. You're right.
Sure, it helps to have a treasurer who is inherently a whiz with numbers and money, but it isn't a requirement. However, having a balanced personality, humanity, patience, a strong work ethic and the ability to face failure with humility are part and parcel of this job.
As you can see, there's a lot to think about in electing a new sorority treasurer. That's why we here at OmegaFi want to give you a better idea of Who Should Be Your Next Sorority Treasurer.
Your Next Sorority Treasurer Should Be Well-Balanced

As we mentioned, being good with numbers is one thing. But, really, any sister who's determined and brings a well-balanced approach can be treasurer.
Here are some qualities a treasurer can use to bring balance to her position.
A well-balanced sorority treasurer is . . .
A Good Public Speaker
The fact of the matter is that a treasurer will be required to communicate complicated information about the budget to her sisters in a way that's easy to understand.
You're going to need to communicate clearly when setting a budget and giving updates to the chapter.
At times during budgeting you may have to facilitate compromises.
A Strong Writer
A sorority treasurer should know how to write and keep records, as well as correspond with sisters, executive officers, national advisors, and alumnae.
There may be financial, banking, and insurance documents you'll need to be able to understand and possibly sign off on.
You'll need to manage and communicate about the ever-evolving budget and keep track of sisters' dues, payment plans, and discounts for early payments.
In other words, an effective treasurer will create a paper trail.
Interested in Things Outside of Finance
Sometimes when you're hyper-focused on a task, you get tunnel vision and can't solve the problems. It takes a bird's-eye view and some time away from the numbers.
Outside interests give you a break from treasuring, but they can also help you solve treasury challenges with a renewed perspective.
A few examples include:
Music. Learning an instrument, singing in the shower, or even just listening to iTunes in your headphones can expose you to music's mathematical qualities and rhythms and gets you thinking creatively.
Sports and exercise. Go to the gym. Join an intramural team. Buy some running shoes. Anything that gets your heart rate up and engages you physically and mentally at the same time will keep your mind sharp.
Meditation or other mindless activities. If sitting cross-legged and silent for long stretches of time is too boring for you, read a book, watch TV, or just get your tan on by the pool. This helps get rid of chaotic thoughts and gives you clarity of mind.
Take a diversity of college electives. Different classes can bring you different skill sets.
Your Next Sorority Treasurer Should Be Someone Who's Failed
We don't mean pick a sorority treasurer who's failing out of school, or one who is prone to perpetual failure. We mean those sisters who've failed in their lives but have learned from those failures.
Everyone fails, and even the best sorority treasurer is no exception. It's doing something positive with that failure that will make a stronger person, and a better sorority officer.
A treasurer who has made a mistake and learned from it hasn't just learned the lesson of that one mistake. Rather, she's learned how to navigate future mistakes by being humble, keeping a cool head, and asking for help when necessary.
Your Next Sorority Treasurer Should Be Generous
Being too conservative on a chapter budget will squeeze the life out of it. On the other hand, being too free with funding will lead to deficits down the line.
Being generous is all about considering the desires and needs of all officers and sisters, then trying to draw up compromises that benefit everyone.
It might also mean being a natural mediator who can help officers compromise on budgetary matters and help come up with solutions to dilemmas with sorority dues.
Your Next Sorority Treasurer Should Learn from Those Before Her
At the center of what it means to be a sorority sister is your legacy. The sorority experience is generational, and what one member builds, the next builds upon.
Legacy is what allows sororities both to hold to traditions and to adapt and grow at the same time. That is a powerful responsibility, and one which a sorority treasurer can wield by learning from past treasurers.

Here are a few ways to tap into the legacy of your predecessors:
Go over past budgets with the outgoing treasurer.
Discuss immediate concerns: Pending paperwork; the dues collection process, a calendar of deadlines, usernames and passwords for important software accounts and files, contact info for the housing corporation, chapter advisors, Greek Life and university officials, etc.
Familiarize yourself with the treasurer's guide so you have a basic knowledge and don't waste time on topics you can learn on your own.
Ask about her challenges. The outgoing treasurer probably hit some snags along the way. Discussing challenges and how she overcame them will be a huge boon during your term.
Your Next Sorority Treasurer Should Trade Her Ledger for a Computer Screen

Sorority software can make or break your experience as a treasurer. Having to use multiple ineffective apps or software programs to do everyday tasks slows you down and makes finding solutions less intuitive.
Here's how sorority software can help your next chapter treasurer.
Sorority Treasurer Budgeting Software
Vault is OmegaFi's premium chapter budgeting software and streamlines the process of setting and managing a budget. This software is built specifically for Greek members, making it a natural and easy solution to financial challenges.
Here are just a few of the features that can help your treasurer:
A centralized budget, which can be managed with the help of one of OmegaFi's professional financial representatives.
Online dues payment options for members and parents to pay online.
Online banking to make it easier to transfer and manage funds.
Financial reporting for analyzing budget trends.
A linked VISA card for officers.
Sorority Treasurer Communication Software
OmegaOne is the all-in-one chapter communication software designed by and for Greeks. It's designed specifically for the daily communication needs of managing a chapter.
Communication is a huge part of being a treasurer, and nowadays we use many different apps and software solutions to keep in touch. However, OmegaOne is the software that does it all.
Here's how OmegaOne can help:
It connects to Vault. That means your sisters can make payments using OmegaOne, and you can manage those finances using Vault. And navigating between the two is seamless.
Get in touch with members in ways that make sense. OmegaOne lets you contact specific members about financial matters using email, text, or a centralized alert system. You can customize who sees these messages.
You can set chapter payment deadlines or plan budget meetings using the chapter calendar.
OmegaFi offers software solutions for Greek chapters for recruitment, budgeting, communication, and more. Learn more about our services or call direct at 800.276.6342.