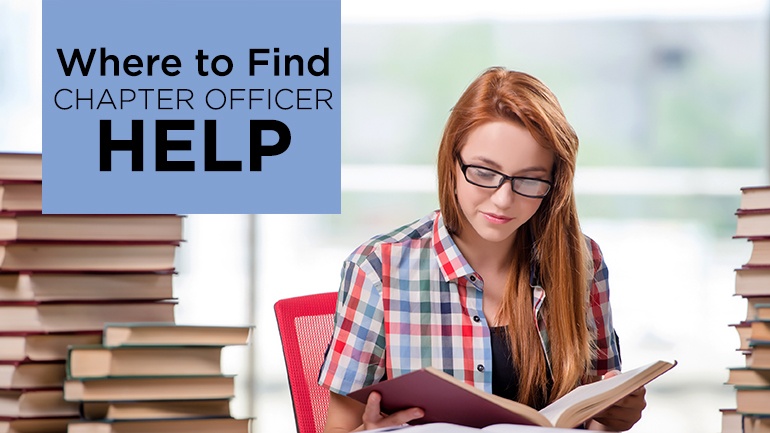 Being a chapter officer is a great honor, but that doesn't mean things don't get hectic. Even chapter officers have other responsibilities in their lives. Chapter officers are students first, which is stressful on its own. When the going gets tough, where do chapter officers turn to for help? Be sure to know where to find chapter officer help and the many resources you have at your fingertips as a leader in your chapter.
Reaching Out to Your Other Executive Board Members is a Great Start.
Gathering opinions and advice from other chapter leaders will help gage what they believe is in the best interest of the chapter. Officers possess a drive for positive impact and change. Even if they don't have experience in your position, they can give insight on how they would approach situations. It's always a good idea to ask for help from your fellow officers.
Chapter officers often feel like they can do it all on their own and be the hero for their chapters, but that's not the most effective way to lead your chapter. Asking other officers for help or advice will not only take some of the stress off of your shoulders, but it will also help build relationships within your executive board. For example, if the chapter treasurer is having trouble collecting dues from a certain member, maybe their big brother or sister is also on the executive board. Asking them for any insight on the situation will help you, while also showing that you genuinely care about their situation. For tips on collecting dues, check out 5 Ways to Make Collecting Membership Dues Easier for Chapters, Members Alike.

Chapter Advisors Know What They're Talking About.
Advisors typically know what works and doesn't work for your chapter. Remember that chapter advisors have usually been around for a few years. They're great resources to bounce ideas off of, or even to get advice on how to handle certain circumstances. Even though chapter officers usually feel like they can handle everything on their own, it's important to remember that chapter officers are students as well. Advisors are there to help because they know this. Don't think of your chapter advisor like a parent – think of them as the older sibling that has already dealt with the frustrations you're experiencing. They've also had to interact with your National organization a time or two. Take advantage of having an alumni of your organization there to answer your questions!

Like Your Chapter's Advisor, the University's Greek Life Advisor Will Have an Unbiased View to Help You.
There may be times that you don't necessarily want to go to an advisor within your own chapter. Sometimes it's easier to get an outside opinion – especially one that is still trying to help you succeed. A university's Greek Life advisor is usually a member of a Greek organization as well, so they can give insight on how their own chapter dealt with a problem, as well as provide ideas team-building and bonding exercises for your own chapter.

Your National Consultant is Not Your Worst Critic – They Genuinely Want to Help You Make Your Chapter Even Better.
Consultants can be intimidating at first, but they are there to provide help where it's needed. Although they can feel like judges giving you a rating, their job is to help you as a chapter officer. When your consultant comes to visit, be sure to talk openly with them. They won't know the real issues and improvements you're trying to make if you don't tell them.

Former Officers are Another Great Resource, Especially the Ones Who Held Your Current Position.
It's easy to say, "I'm going to do this better" as soon as you're elected into your position. Once the new semester is going at full speed, your attitude changes. Realizing that being a chapter officer isn't as easy as you once thought is a big step. Maybe you want to do things better than the last officer, but that doesn't mean you're going to change everything in one month. Even if you don't agree with how the previous officer handled your new position, they can still provide important information that you may not be aware of yet. Talking with them will also give you some ideas on how you would like to approach the chapter while you're in office. Take a look at Fraternity Officer Transitions Made Easy: 4 Steps to a Smooth Change in Power to help out the next officer when you leave your position.

The Chapter as a Whole is Always More Help Than New Officers Originally Think.
How many times do you hear "if I were in their position" from other members of your chapter? At some point, you probably felt the same way. Chapter officers often forget that the chapter outside of the executive board have ideas and opinions as well. Holding a chapter roundtable is beneficial to address issues with the chapter or to simply have open dialogue. It's also great for keeping chapter gossip down. If your members feel like there's an open forum to talk about chapter events and issues, the likelihood of gossiping outside of a chapter roundtable is slim. Chapter officers that are transparent with their chapter is important for avoiding a divide between your executive board and chapter members.

Whether you're a new chapter officer or an officer veteran, asking for help benefits everyone. Knowing your resources and being comfortable reaching out will only further your skills as an officer for your chapter.