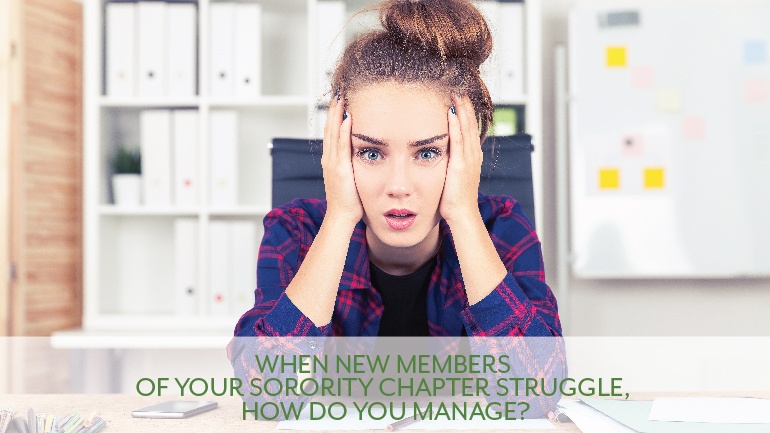 It's hard to recall those early days, when you struggled to balance classes, work, relationships, your social life and sisterhood. Over the past few years you've transformed into a force to be reckoned with, and your calendar is ironclad.
Acing midterms? Easy.
Picking up a double at the university bookstore? Piece of cake.
Catching a quick Better Call Saul episode with your significant other, then heading out to help manage an alumnae awards banquet late into the night? How about waking up at 7am for Bio I and doing it all over again?
Please.
You've got this. You're a veteran sister who proudly contributes to your chapter's success, and you have reason to be confident.
Yet it's easy to forget where you came from. This can lead to some unfortunate consequences.
While this is true in all facets of life, it can be especially damaging to a chapter's new members. If your sorority management doesn't account for new members' inevitable early struggles getting into the swing of sorority life, you're putting them at an unfair disadvantage.
Ultimately, a sorority chapter is only as strong as its weakest member.
OmegaFi sympathizes. We've all been there, as both wide-eyed new members and seasoned sisters searching for ways to help the chapter's next generation succeed. We've all wondered from time to time, When New Members of Your Sorority Chapter Struggle, How Do You Succeed?
New Member Education Is Every Sister's Job

Your chapter's new member education chairwoman must manage the integration of new members into your sorority chapter by giving them the knowledge to succeed. She does this mainly through a new member education program that builds sisters' knowledge, skillsets and values. They will learn expectations and the consequences of unacceptable conduct, such as participation in study hours and chapter events, and--in extreme cases--risks involving alcohol or hazing.
New members should be able to recite chapter bylaws and know the chapter structure inside and out.
For some new sisters, this may be enough. Once they catch on, they learn to manage sorority life with ease.
However, most new members struggle with some aspect of balancing sorority life, and helping them is not just the job of the new member education chairwoman.
When you see a new member struggling, lend a hand. Here are a few things all sisters can do to help manage new sorority member struggles:
Be patient. Try to answer all questions a new member has, even if the solutions seem straightforward or you have to repeat yourself.
If you can't answer a question about the chapter, don't guess. Delegate to someone more knowledgeable.
Be positive and encouraging. Sisters come from different walks of life and face unique personal challenges. Encourage new sisters' best traits and praise their successes.
Be constructive. New members make mistakes. Don't put them down or insult them. Give feedback that builds them up.
Be proactive. Ask new sisters how they're adjusting and if they have questions. Don't always wait for them to come to you.
Lead by example. Hold yourself to the standard you expect of new members.
Be consistent and dependable. Offer guidance whenever you can, whether it's chapter-related or not.
Don't play therapist. Be there for a new sister, but if she's struggling with serious issues like depression or anxiety, direct her to resources like your campus mental health office.
Managing new members can definitely challenge a chapter, but it's a challenge to which all sisters should rise.
The Bigger Picture of Sorority New Member Management

Beyond chapter integration, it's crucial that you expose new members to the broader context of sorority life.
Involve them in projects with other sorority and fraternity chapters. Introduce them to officers at the Greek Life office, as well as national advisors and alumnae.
Sorority leadership conferences and other educational programs can be a real eye-opener for new members. Leadership conferences have the benefit of giving sisters not only the information they need to succeed, but also the tools to put that information to good use and pass it on to the next generation.
Focus on transforming sisters from tender-footed newbies into self-sufficient leaders and bastions of your chapter's core values. Not only will they make great sisters, they'll pay it forward to the next recruitment class and bring renewed strength to the chapter.
Put New Sisters to Work Early and Often

Never underestimate new members. You met them during sorority rush week. You know what they can bring to the table. Don't second guess your recruitment decisions.
You brought in strong, capable young women, so be confident that they're capable of rising to the occasion and thriving against the challenges you give them. If they're worthy of wearing your letters, they're capable of contributing.
While you may not want a first-year sister running for sorority president, that doesn't mean they can't handle other important tasks, such as helping manage chapter events, volunteering for a major philanthropy project, coaching an intramural soccer team or competing alongside seasoned sisters to defend the Greek Week title.
A good way to help new members start working their way up the ladder of chapter responsibility is to include them in committee roles. They can work alongside more experienced sisters and under the direction of a chairwoman and executive officers.
Even if a task seems small and insignificant, use the opportunity to educate new members.
Good chapter management is in the details.
When sisters pitch in to give new members a sense of leadership, trust, friendship and belonging to the broader Greek community, it's a win for everyone.
When you first joined your sorority chapter, what did sisters do that helped most? Is there anything they could've done to make your new member experience better? Let's discuss in the comments below.