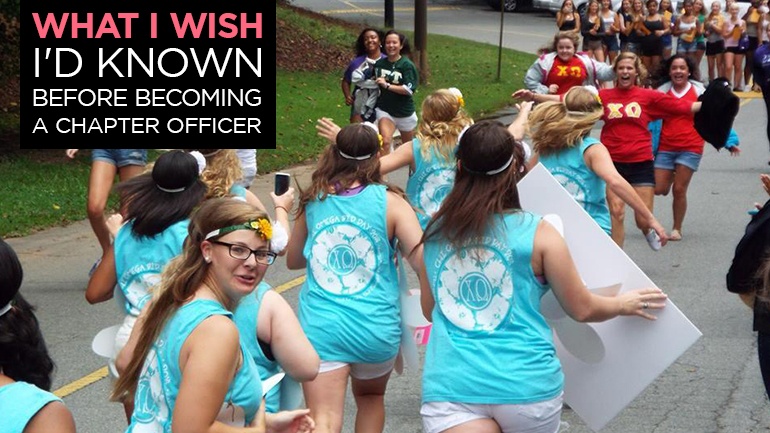 When our first slate was presented to the chapter, my stomach dropped. Excitement, fear and nervousness all hit me at once. My chapter had just elected an almost entirely sophomore executive board, myself included as Secretary.
Everyone congratulates you after the transition has been made official, but they don't tell you what you're really getting in to when you become a chapter officer. They don't tell you the good or the bad, and they certainly don't tell you the ugly.
I wish I had known that the officer transition process wouldn't be a quick 30 minute meeting. Instead, it would be almost a four month long training period. Constantly asking questions and advice from your predecessor, making sure you're doing and saying all of the right things to the rest of your chapter.
I wish I had known that being an officer for my chapter would mean putting in as much time, effort and dedication that an off-campus job would entail. Members of my chapter would be calling, texting and meeting me at Starbucks for a cup of coffee over the new bylaws and attendance policies. More meetings with the rest of the board, advisors and national consultants would take time that I normally spent watching Netflix.

I wish I had known that being a leader in my chapter didn't mean that I had to lead the same way that previous officers had, or even current officers who had different leadership mindsets and skills than I did. One person's approach doesn't work for everyone. Where one officer could be funny and witty, another would be inspiring and motivational.
I wish I had known how to talk to my sisters differently. Not everyone can be approached or spoken to the same way. What you say to one person may not be construed in the same way that it would to another person. Learning different communication skills would have made my first semester as an officer a lot easier. I would have realized that it's a lot like talking to your sister versus your grandmother. Different personalities require different approaches.
I wish I had known how much more organized I was going to need to be. My time management skills improved dramatically and my planner became my best friend. Color coding with pens and highlighters became life savers. Notebooks and lists became what kept my memory intact.
I wish I had known that being a chapter officer would make me want to go to campus events more than ever, simply to support my sisters. It would make me love my own Greek organization and Greek life as a whole even more. Being a chapter officer made me realize and appreciate the work that every officer has put in at some point or another.

More than anything, I wish I had known that the girls I served with on our executive board would become my best friends. Working that closely toward a common goal genuinely brings people together. If there were girls that I didn't become close with, I still got to know them in ways that the rest of the chapter didn't get to see. I saw them work even harder in their classes and at their jobs, or with the other clubs they were involved with on campus.
After the first year of being on my chapter's executive board, there was a huge part of me that didn't want to do it again. I didn't know if it was really going to be worth the time and energy for a second year. If I decided to serve on the board for another year, half of my time in college would have been spent in a leadership position. Was that really something that I signed up for when I accepted my bid into my organization?
I decided to serve again. This time, I had been elected as the Standards chair. I thought I was nervous the first time around... Now I was plain terrified. I would be the person that my sisters came to when they got into trouble. How was I supposed to keep any friends after this? Surely, they would stop hanging out with me as much. At first, I thought that being Standards chair meant being the "parent" of the chapter.
I wish I had known that girls didn't need to be scared of me. I didn't have to intimidate anyone. All I had to do was listen. Sisters were coming to me for advice and just to vent about their days. I became an outlet for many people, which didn't bother me one bit. Members weren't nervous to see me out at the same outing as them. Instead, they knew that I was still a sister and treated me just the same.
I tacked on the responsibility that year by applying for our Panhellenic Council as well. While serving as Standards chair, I was the Special Events chair for Panhellenic. This meant that I had to organize the university's Greek Week.
At first, I was overwhelmed. What was I thinking? By serving on these two boards as an officer, life became hectic. I expected that, but I didn't expect the relationships that I would gain with that as well.
Not only did I get to know other people outside of my own chapter, I got to know our Greek Life Advisor at the university. She became a close friend of mine that I confided in and asked advice from on at least a weekly basis.

I wish I had known that becoming an officer for my chapter and for the Panhellenic Council would make me a better-rounded person. I wish I had known that my chapter position would make me want to be involved with Greek life more extensively, simply so I would have been more involved a lot sooner.
Transitioning into a new position in a sorority or fraternity comes with many ups and downs. Sometimes, it's not fun. Sometimes, it makes you want to quit trying to improve things for the chapter. Sometimes, it just makes you want to quit. But then there are the times that make you so incredibly proud of your chapter – the times that you can't imagine spending four (or maybe five) years any other way. If I had known that becoming a chapter officer would have made my college experience what it was, I wouldn't have hesitated to sign up for formal recruitment.