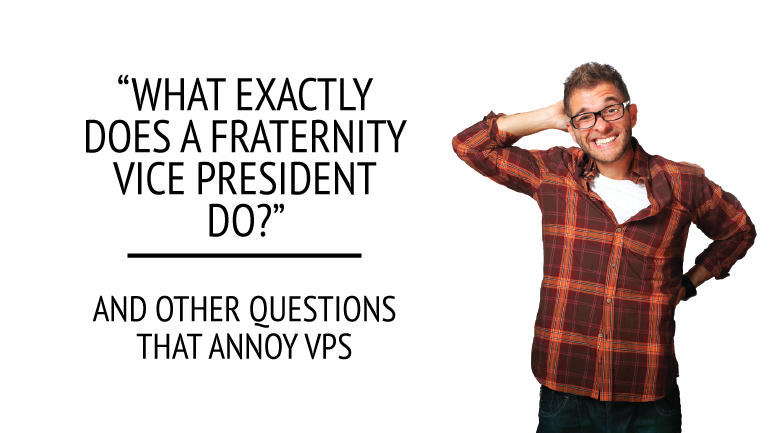 If you're a fraternity vice president, you might find yourself asking questions like, "Where's the love?" or, "Why doesn't anyone understand how much work it is to be a fraternity vice president?"
We feel for you.
The VP spot is a tough gig.
You're stuck somewhere between the notoriety of the fraternity president, the elbow grease of the philanthropy chair and the blurry-eyed detail work of the fraternity treasurer. Sometimes you feel like you're recognized for none of these qualities, instead languishing unjustly in the background like the bassist in a rock band. You might begin to wonder: What does a guy have to do to get some respect around the chapter house?
Good fraternity management relies as much on the diligence and competence of a chapter's vice president as on any other executive officer role. Some of the vice president's tasks in managing his fraternity chapter can include: leading executive meetings and standards committee, managing the roles of committee chairmen, helping with officer transitions, ensuring timely chapter reports, encouraging brothers in their roles within the chapter and filling in for the president when necessary.
So what gives? Why does no one really know what you do? And if they do know, why don't you get more props? Part of the problem may be that the role of the fraternity vice president isn't rigidly defined, so a lot of people--including brothers--may not have a clear idea of what a vice president is or does. You're kind of a jack of all trades, if you think about it in a broader sense. This gives you some leeway and freedom in how you enact the office of vice president and manage your chapter. However, it also can lead to a vague and inefficient approach to your duties if you don't fulfill the role diligently and define your own brand of leadership.
OmegaFi totally understands and sympathizes with your VP plights. That's why we want to help you and your brothers bring a sense of duty and clarity to the role, as we explore such enigmas as, "What EXACTLY Does a Fraternity Vice President Do?" and Other Questions that Annoy VPs.
Good Fraternity Vice Presidents Define Their Role from the Start

If you're going to run for vice president of your chapter, it's important that you foster an idea of what you want your role to be, in addition to how your fraternity defines the role. Since you may be chairing a committee meeting one minute and helping the new alumni relations chair integrate into his role the next minute, you must have a clear concept of your management role in the chapter, and you have to communicate that clearly to your brothers, so they understand where you're coming from and what that means for your expectations of them.
A president manages while also acting as a figurehead for the chapter, but you should think of the vice presidency as more of a supplementary nuts-and-bolts role. When you're giving your election speech to brothers about your future vision, focus less on the broad managerial goals of the president and focus on the particulars--especially when it comes to individual committees and chairmen.
You may have some flagship projects in mind such as a philanthropy event, a shift in recruitment branding or a chapter house renovation fundraising campaign. These types of big-picture ideas, while they shouldn't negate from your day-to-day role as a VP, will help cement your place as a leader among your brothers.
Good Fraternity VPs Manage like an Executive but Think like a Brother

While a fraternity president and vice president may share some broad overreach when it comes to managing their chapter, it's important for the vice president to serve as a democratic tool of the executive board, a human link between chapter managers and the efforts of other chairmen, committees and brothers in general.
While it's important for a vice president to have his own vision for the chapter, it's equally crucial that he listen to brothers about the direction they'd like to see the chapter go, and the individual roles they want to play.
That way, brothers will have a mutual working relationship with you, and clearly understand your role, because you are working together on the ground level with chapter projects and goals, and everyone has a chance to be heard.
This means being open to changing your mind, but also being true to your vision. Give suggestions to committee members, but don't be overbearing and authoritative when it isn't called for. Guide meetings in a direction that allows the most discussion while also keeps brothers on task. Perhaps more than many other fraternity officers, a vice president defines himself by his ability to achieve balance. And balancing the ideals and reality of brotherhood is no easy task.
On Some Level, a VP Will Always Be a Background Player; Embrace It

We joked earlier about bass players being somewhat invisible to concert-goers, but we all know that bassists are essential to rock bands. We made that comparison to fraternity vice presidents precisely because if a bassist suddenly stopped playing in the middle of a song and left the stage during a concert, everyone would notice their absence. The bass player is as essential to the rhythm of the band as the drummer, and without the bass the music lacks a foundation, it lacks depth and it falls flat on its lead-guitar-shredding face.
Not everyone is going to recognize all the invisible work the vice president does day in and day out, but if you stopped doing it they surely would. The chapter needs you, and that's something to take pride in. If it seems like you're in the background, unnoticed and unloved, think about how much (negative) attention you'd get if you stopped doing such a flawless job.
What do you think, VPs? Any advice for incoming fraternity vice presidents? What's your vice presidency been like? What've you learned? Lay it on us in the comments below.