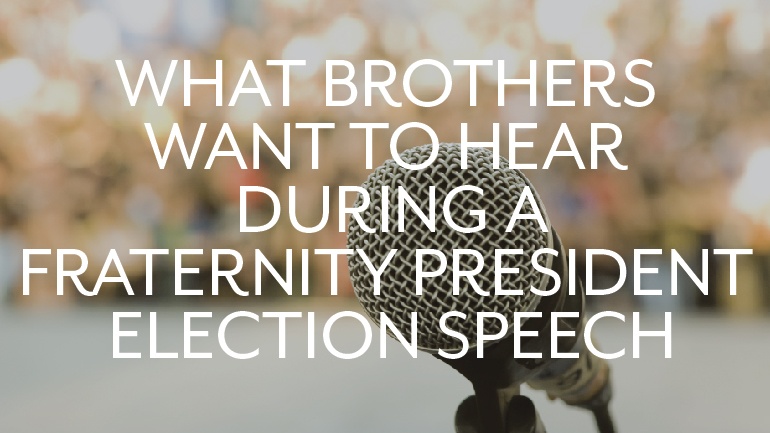 Amir is running for his chapter's fraternity president this semester. He's got a vision for the future that'll make the chapter the best thing since sliced bread . . . actually, forget the bread. Bread is so last semester, bro. Get with the times! Amir is a marketing major, and knows how to brand his fraternity chapter as the coolest, hottest group out there, second to none--besides maybe Jay-Z and Beyoncé.
We think that's fantastic!
But brothers might be a tougher sell on Amir's ideas.
You might ask, "Why? What gives?"
On the surface Amir's ideas are flashy and fun, and they certainly might help with recruiting down the line. But think about it--what are Amir's actual ideas to make the chapter better? When it comes to chapter management, what makes him more qualified or a better pick over the next brother running?
The nuts and bolts matter to brothers. When Amir is giving his election speech, they may get caught up in the glitz and glamour of Amir's plan--he is an A student in his marketing classes, after all--but when other candidates start laying out step-by-step plans for how the chapter will be managed and lead in a positive direction, Amir's flashy speech fizzles in their minds.
Amir has the spirit. He has the leadership abilities. He has the ideas. He's just presenting them the wrong way. That's why we really want to help Amir out on this one and give him the run down on What Brothers Want to Hear during a Fraternity President Election Speech.
Brothers Want to Hear the Truth

When you're up there giving your election speech for fraternity chapter president, your brothers are going to want to hear ideas that are anchored to the chapter's reality. If you're giving them pie-in-the-sky promises that don't match up with the current budget and constraints of chapter life, they're going to sniff it out. They'll figure out pretty quickly that these ideas are doomed to failure, and they'll vote for someone with a more pragmatic view of managing the chapter.
For example, let's say Amir promises that, if elected, the chapter will throw a downtown rooftop party with hot tubs and ice sculptures and expensive catering, and he's going to book the biggest DJ in the city to host it. Well, brothers who've been around more than a semester know that the budget on socials allows for some good times, but at modest costs. (Obviously, ice sculptures ≠ modest.) Amir's idea is good for recruitment on the one hand, but would draw too many crucial resources from other parts of the chapter budget.
Now let's say Amir gets up there and presents a well-researched idea of how to save costs on a philanthropy project and maximize donations and chapter exposure at the same time. Let's say he also has a concrete plan with thought-out steps to marginally increase recruitment numbers from the previous semester. Let's say he runs down his past managerial experiences and explains how he'll implement those experiences when managing the chapter as a fraternity president.
Which speech would get you to elect Amir as your fraternity president?
Brothers Want to Hear Your Truth

Focusing on the chapter itself in your fraternity president election speech is important, because it gives brothers an idea of where they fit into your vision of the chapter. But if you only talk about the chapter, they'll also miss out on hearing an important aspect of your potential presidency: you.
Now, to be completely honest here for a second, brothers already know you. You aren't going to get up there and pretend to bring more than you do to the table. Brothers have seen you at your worst, Amir--we won't embarrass you by getting into the details of that night--so they're not going to be sold on this new-and-improved Amir full of shiny new words and phrases about how awesome he is.
Just be real, Amir. Be cool. Be humble. Be yourself.
You want to be elected fraternity president for a reason, right? You've thought this out. You know what you want to say.
Another scenario: Amir scraps his original speech, in which he sounds like a used car salesman giving a motivational talk at a used car salesmen convention. This time, he writes it from the heart. He cares deeply about his chapter, and he has real ideas. These ideas stem from who he is as a person and as a brother. It stems from how he grew up and the values he holds dear. He's been drawn to the brotherhood of his fraternity chapter because this is in complete harmony with his inner truths. And this gives him the confidence to bring his vision to the table. Take it or leave it, boys.
Now that's a fraternity president election speech.
Brothers Want to Hear Their Own Truths

When you're thinking of running for fraternity president, it can be easy to get a little megalomaniacal. You've got this image in your head of leading your chapter to victory, single-handedly defeating the hordes of other chapters fighting over potential new members and creating a fraternal utopia. Walking into your chapter house will be the Zen in every brother's day, and they'll never want to leave.
But where does that leave your brothers? Certainly if you have this image of yourself as a savior and a deity, that doesn't leave much power for the rest of them.
Bro, Amir--remember when you first joined the chapter, and you were so eager to be a part of things and actually feel important to this new group of brothers? That's how they all feel, too.
Brothers want to hear how you, as fraternity president, see them and their roles in the chapter. They want to know how you envision their roles, but also they want to know that you will listen to their ideas and needs.
These truths are foundational to a good fraternity president election speech, and indeed how a good fraternity president runs his chapter. Brothers want beyond all else to elect the best fraternity president they can, and they won't settle for less. So do your homework.
What do you look for in a fraternity president? What would you hear that might sway your vote? Cast your ballot in the comments below.