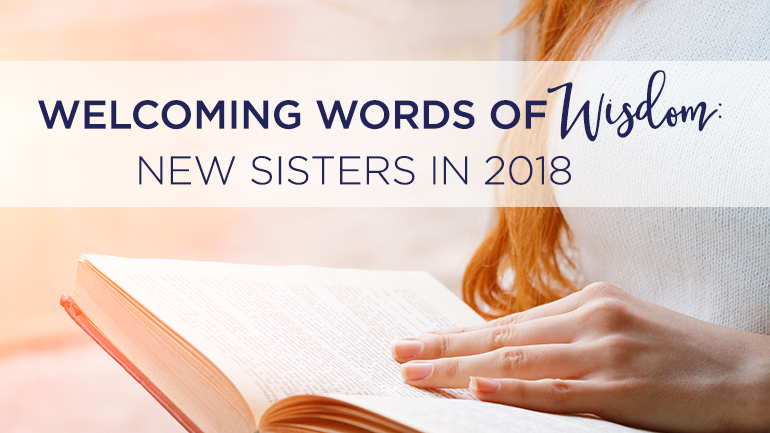 If you are reading this then that means you made the amazing decision to go Greek! Congrats and welcome to the wonderful world of sisterhood. While your sisters are extra special and dear to your heart, the Greek life community is the family that is all encompassing. Sorority women embrace the real meaning of sisterhood, and want your experience as an undergrad sister (and beyond) to be an enjoyable and successful one. These Welcoming Words of Wisdom: For New Sisters in 2018 are presented just for you by the sorority women of OmegaFi.

Financial Commitment
One of the most important obligations you have as a member is paying the dues and fees related to membership. There is no doubt that a chapter needs money to operate, and therefore, it is essential that all sisters maintain a level of awareness, accountability and responsibility.
Staying informed of due dates and upcoming charges should become a priority in order to remain in good standing. If your parents are helping with your financial commitment to the sorority, ensure they receive notifications and/or reminders of due dates as well. It is imperative to maintain an open line of communication with your Chapter Treasurer. Understanding the charges being assessed and how the money will be used is important for all members to know because what you invest in the chapter is invested back in you. For example, chapter dues are used for planning sisterhood events, providing scholarships for sisters in need, hosting formal, just to name a few. Also, if there is ever a semester you get into a bind, do not be ashamed to ask for a payment plan that works better for your personal budget.
Sheryl Bell | Alpha Omicron Pi| Zeta Pi Chapter of University of Alabama at Birmingham

Time Commitment
Your time in college is limited, so enjoy every second of it! Joining a sorority is no different. College brings an equal amount of fun and stress, but having sisters to share those experiences with makes an incredible difference. You're paying to be in the chapter you've selected, which means you should attend every event that's planned. Although it may seem like an overload on your already hectic schedule, no one looks back and thinks, "I shouldn't have gone to that one event freshman year." The best and easiest way to entrench yourself in your chapter is to attend activities and create those relationships that you desperately wanted going through recruitment.
Joining Greek life doesn't overwhelm your schedule… it actually underwhelms it. Instead of handling things by yourself, you now have a constant support system for studying, running errands and more. Make time to put your sorority on the top of your list. You won't regret it! After all, this is all about growth. Growth for you, your sisters and the chapter. Use your time to make an impact on campus, in your community and beyond!
Sam Dixon | Chi Omega | Delta Theta Chapter at Oglethorpe University

The Balancing Act
Being in a sorority looks like a lot of fun, and spoiler alert…it is! During your time as an active sister you will attend dozens of socials, formals and various events with a crazy amount of themed t-shirts to prove it. While it can be easy to get swept up in the social and "going out" aspects that a typical college student and sorority member may experience, it is important to focus on what you want your time in the chapter to represent. What legacy do you want to leave behind when you become an alumna? By no means are we suggesting you skip out on the social side of things. After all, "living it up" with your sisters is half the fun of membership. The other half? Achieving and doing great things with your sisters! Always keep the bigger picture in mind when it comes to planning your path.
A strong and smart group of women can achieve anything when hard work is involved, and you want your legacy to be a woman who was balanced and had her priorities in line. Tory Burch said, "My biggest challenge every day is to be a great mother and a great businesswoman." Her biggest challenge is also her biggest priority. When you wake up every day identifying your big priorities, challenges and goals, you are setting yourself up for a legacy of greatness. Pass this along to your sisters and lift them up daily.
Cori Wallace | Delta Gamma | Delta Omega Chapter at Williams Woods University

Alumnae Life
You've probably heard it said time and time again that being a member of your sorority doesn't end after graduation, and it's true! You have the option to be as involved with your organization as you want to be after you become an alumna. Keeping in touch with the undergraduate chapter while helping to build your alumnae chapter can be such a rewarding experience. Being involved with the active chapter by becoming an advisor or simply doing your part to help with recruitment gives you the opportunity to mentor young women and help them continue to improve the chapter as a whole. Sharing your experiences and lessons learned is very much appreciated by the young college women who are still trying to figure it all out.
Besides, you get the warm and fuzzy feeling associated with giving back to the chapter that fostered you for 4+ years. Not only is there value to staying in touch with the active chapter, but joining or building up your local alumnae chapter can also be a positive experience. By getting involved with the local alumnae, you have the ability to get to know sisters you've never met before and sometimes even sisters from other chapters. Playing an active role in your alumnae chapter gives you the opportunity to network and stay involved in the community even after your college years have ended.
Shelby Ward | Delta Zeta | Lambda Psi at Columbus State University

Wearing Your Letters
Wearing your letters loud and proud is an exciting part of your Greek experience, but with that right comes a few responsibilities. You are now part of a network that is much bigger than yourself. Every time you go out into the world with your letters on, you are showing the rest of society what both you and your organization represent and value; this can be a really great thing, or a really bad thing depending on the situation. Lettered shirts, hats, bracelets, even key chains are a right that you are afforded with membership, but it's up to you to make sure that the decisions you make while showcasing those letters shed a positive light on the Greek experience.
Joining your organization means that you are now taking on the responsibility of not only representing yourself as an individual, but your organization and Greek life as a whole. So wear them well!
Emily Rieders | Alpha Gamma Delta | Gamma Beta Chapter at Florida State University

Membership Is a Privilege
Finding your home and being a new sister of an organization is an amazing feeling. You feel on top of the world and that you can do anything! However this membership is to not be taken lightly. Once a member, you not only represent yourself but all of your sisters and the organization, too. This may seem like a lot of weight to bare, but all chapters and organizations have a set of rules, often referred to as standards, by which all members must abide. These are in place not to take away your freedom or fun, but to protect you and the organization you now represent. If any standards are broken members appear before a board to determine the action the chapter will take.
This is a whole new world to you as a new sister. Do not hesitate to ask a sister for advice and guidance. You are a part of a wonderful and sacred bond and that deserves protecting. When it is all said and done you have the right to behave how you like (I mean it's a free world after all), but it is a privilege to be a part of your organization. And privilege by definition means it is not guaranteed.
Ally Carpenter | Alpha Omicron Pi | Beta Zeta Chapter at Kennesaw State
There is a great essay written a few years back by a very well-known fraternity man called "You Are Always Wearing Your Letters." T.J. Sullivan's essay has been Googled so many times it is easy to find, has been made into videos and you might have seen it in the most recent weeks. I am now an alumna of my organization, but I still watch it/read it every now and again. It's still relevant and it will always speak to me, especially as I see wonderful and smart women join Greek organizations. I want these women (that's you!) to know that you were recruited because of the wonderful qualities and values you present every single day, and those signals that you are a good person are now connected to women all over the world. That connection is called membership, and that membership is a privilege, both for us and for you. Like any relationship, it needs to be cared for, respected, and supported. Please care for that connection, and be mindful that you will get what you give. If you give the best of yourself, you'll get the best out of that connection.
Cori Wallace | Delta Gamma | Delta Omega Chapter at Williams Woods University

Sisterhood in Good Times and Bad Times
Whether your sorority has 30 women or 300 women, there's one thing for sure…you are not going to click with every single person in your organization. Most women join a sorority for the constant support and friendship. So even though you're not going to be best friends with every member of your organization, or even everyone in your new member class, remember that you're all a part of ONE organization. If you see that another sister is upset, ask what's wrong. If another member is sitting alone at lunch, invite her to join you. Joining a sorority can be overwhelming, so be willing to extend invitations to women who are shy, don't know many other members, are homesick, etc. Not everyone has the same background, opinions, upbringing or personality as you….and that's okay!
Just remember to be respectful of one another. You are all there for the same reason. You were all searching for a way to be a part of something bigger, a part of something bigger than yourself. Embrace differences and use it as an opportunity to learn, grow, and encourage others. Use your common interest of wanting to do good things, to set goals and participate in philanthropic events. You are all a part of something amazing, so make sure to always show grace and gratitude to your sisters.
Amber Stewart| Alpha Delta Pi | Epsilon Kappa at Troy University

Embrace Your New Family
While every chapter has their own Big Sis/Little Sis matching and reveal process, the end result is the same… Littles are welcomed into their new sorority families! Your Big may be an older sister you met during recruitment or your initial weeks as a new member. Your Big might be someone you haven't had the chance to get to know yet… and that's even more exciting! You both joined the same chapter for a reason, and every Big/Little relationship is unique. The bond between Big and Little often transcends collegiate years, so embrace the time you both have! Your Grand Big (your Big's Big) and your Great Grand Big (your Grand Big's Big) will round out your family in most situations, but, if anyone has multiple Littles (Twins, Triplets), your family tree will have some bonus branches! Sorority family trees are often big and extend further than you may realize, but that makes them all the more enjoyable!
Caitlin Hannah | Sigma Kappa| Epsilon Epsilon Chapter at The University of Georgia

Honor the History
We each have the capability to destroy or encourage others with our words. A few negative members can have a drastic impact on the chapter as a whole. Never trash talk your sisters or your organization. Instead, encourage one another. For each of us, the bond of sisterhood was one of the most attractive features of joining a sorority. Strengthen those relationships through recognition and praise. Demonstrate appreciation of one another and your organization as a whole.
Alternately, refrain from speaking negatively about members of other organizations or the organizations themselves. The Greek community is diverse and close-knit. Respect each organization's members as well as your own. Make a point to get to know members of other organizations. Each of us has the power to influence those around us. Use your influence for good and represent yourself, your organization and the Greek community well.
Meghan Culberson | Delta Zeta | Lambda Psi at Columbus State University

Enjoy Your Time
Going to college is one of the best times of your life. Especially when you get to start college being a part of a wonderful sisterhood to help guide you through your first semester and show you the ropes. Transitioning from a high school campus to a larger college campus can be quite intimidating, and I know I could not have gotten through that first semester without my sisters.
To be quite honest, I didn't feel prepared enough to go to college. I mean nobody warned me how tempting it would be to RSVP "yes" to every single party, social and mixer event held by the Greek community and then skip that 8 am class the next morning because, well, I was "sick." You want to participate in everything, meet new people and create a friends group. However, sometimes your priorities can get mixed up and affect your grades and other responsibilities. I learned that lesson the hard way, but it was necessary. I learned to better prioritize and manage my agenda.
My advice for new sisters is to start slow. Don't try and run a marathon your first year when you haven't even trained for a 5k, yet. Don't be afraid to ask the older sisters for their advice on time management tips. Make a vow to not skip classes or work and limit yourself to the number of social events you attend. I promise you won't be disliked for saying no sometimes! College seriously is the best time of your life. Just try not to take on all its obstacles alone.
Enjoy your sisters, school and the solidarity!
Megan Herman | Delta Zeta | Lambda Psi Chapter at Columbus State University

This Is Bigger than You
You've just become a part of a movement and a community! That community needs you to help make in better, and they asked you to join so you could contribute your skills, talents and passions. You will figure out that the chapter has goals and objectives, and that all members play a part in the chapter's success or struggles. You are now interdependent with a new group of sisters who are counting on you. This is bigger than you are, and it relies on your commitment and personal growth to keep going. Most of our organizations were founded during periods of great change for women in the United States. We were founded by suffragettes, dreamers and women who wanted to contribute much more than the world would allow. So now's your chance to be the things you've always known you can be--we need you to step up and become the best version of yourself.
Cori Wallace | Delta Gamma | Delta Omega Chapter at Williams Woods University
Thanks for reading! Share with your sisters, and let us know if you have any words of wisdom in the comments section. Check out The Greek Resource Library for more exciting, helpful and fun content.