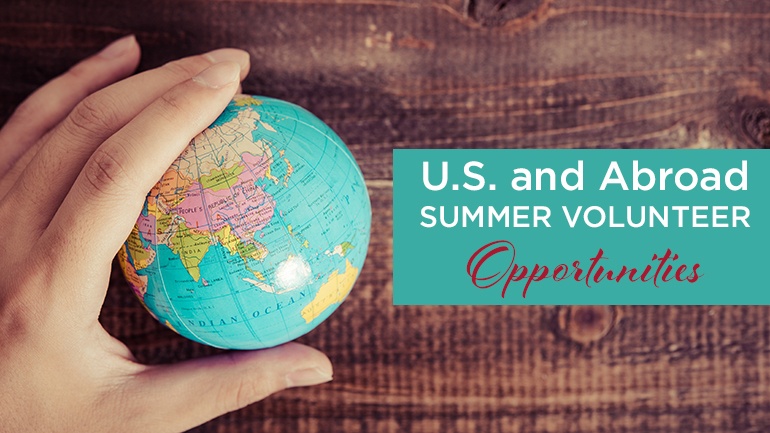 Some people just like to watch the world burn. That is, some people just like to sit on the beach with a lime-stuffed beer and watch the sand burn from behind their shades while getting a sick tan. Some people like to take summer courses to get ahead on their degree work, or if their university requires a certain amount of summer credit hours, get them out of the way as soon as possible. Some people want to volunteer, either here in the good old U. S. of A. or traveling the globe and gaining some priceless experiences abroad in the process.
Hey, whatever gets you through the slog of the summer heat, we're not here to judge.
And as far as life activities to commit to when you're just planning on wasting away the next few months anyhow, volunteering to help others is certainly a worthwhile pursuit. It will be done in the service of others, it will broaden your perspective and give you a resume builder, and it will give you a unique perspective in empathy. In truth, you never know when you might need someone's help, and the value of the volunteer becomes readily apparent. Part of being a member of a fraternity or sorority chapter, as well as a student, is being a citizen of a larger community, and having the mindset to contribute to others is worthy of recognition. To help get your efforts up and running, OmegaFi would like to present you with some fantastic U.S. and Abroad Summer Volunteer Opportunities.
Volunteering is definitely a scenario where one size does not fit all. You may not have the funds for travel expenses abroad, or you may not want to be limited to domestic services, but each opportunity has its own benefits and detractions. The benefit of all of these opportunities, however, is the net effect of good it will produce. So don't get too hung up on which is better or worse. Like when you're picking classes, a major, etc., you'll know what's right for you when you see it.
So let's say you're a homebody.

Going abroad seems too overwhelming. Luckily for you, there are plenty of domestic volunteer opportunities right here in the United States.
One group that is particularly reputable, well-known and far-reaching in its output is AmeriCorps. As a mainstay of community outreach for many Americans, you can't go wrong signing up to lend a hand with AmeriCorps. This organization is invested in long-term national service projects, but also offers summer volunteer opportunities in cities across the country. As long as you're over 17, you can join up for the summer. You can help tutor in underprivileged communities, work in camps or homeless shelters, work with other neighborhood organizers and even plant community gardens if you have a green thumb. AmeriCorps has been around for a little over two decades and is growing every day.
Just a few of the partner programs, which you might also consider volunteering with independently if not with AmeriCorps, include: YMCA, Girl Scouts of the USA, Boy Scouts of America, Boys and Girls Club, Big Brothers, Big Sisters, College Forward, Habitat for Humanity, American Red Cross, the Student Conservation Association, Reading Partners, FoodCorps, and Teach For America. So get your Corps on and get your hands dirty. You'll come back in the spring semester a brand new, more enlightened sister or brother. If nothing else, there are a number of online databases that can match you with the appropriate opportunity! If you don't find what you're looking for on one site, simply try another.
But Mark Twain said…

Yes, we know. In Twain's essay, "Innocents Abroad," he wrote, "Travel is fatal to prejudice, bigotry, and narrow-mindedness, and many of our people need it sorely on these accounts. Broad, wholesome, charitable views of men and things cannot be acquired by vegetating in one little corner of the earth all one's lifetime." You're sick and tired of vegetating, right? Want to see the world, snuff out some narrow-mindedness in the process, all while engaging in a fulfilling summer volunteer opportunity?
Well, you can thank us later when we tell you that it's a buyer's market out there in volunteer-abroad land. As with volunteering at home, you're free to shop around the internet and dig up your own opportunities, crash at hostels, and fly by the seat of your pants through another country. The culture shock alone can be a unique learning experience.
However, if you aren't the backpack survivalist type, and having your wits about you is a daily struggle (we've been there), there are thankfully already major programs that can place you in a position to do good volunteer work abroad. For example, International Student Volunteers, based out of Cali since the 1980s, are ready and willing to hook you up with a volunteer service project in places around the globe including Australia, New Zealand, Costa Rica, The Dominican Republic, Romania, Croatia, Bosnia, Thailand, Ecuador and South Africa. ISV is especially geared toward college students, so you're already on the right path by seeking a project via this organization.
Another great service is the International Volunteer Programs Association, though this one has a broader scope beyond opportunities that might fit into the life, availability and skillset of a student. We recommend checking them out not only for this summer, but for future opportunities as well. You can find a volunteer opportunity in pretty much any country, for any type of project or specialty skill you have to offer, using their database.
Whatever you choose to do, there ultimately isn't a bad volunteer choice to make. If you're helping, that's what's important, right? Nothing wrong with beaching it out or taking some classes during the summer doldrums, but you've chosen to volunteer. And that's awesome.
What opportunities are missing from this list? Have you had a volunteer experience you want to share? Give us the mental "summer slideshow" in the comments below.