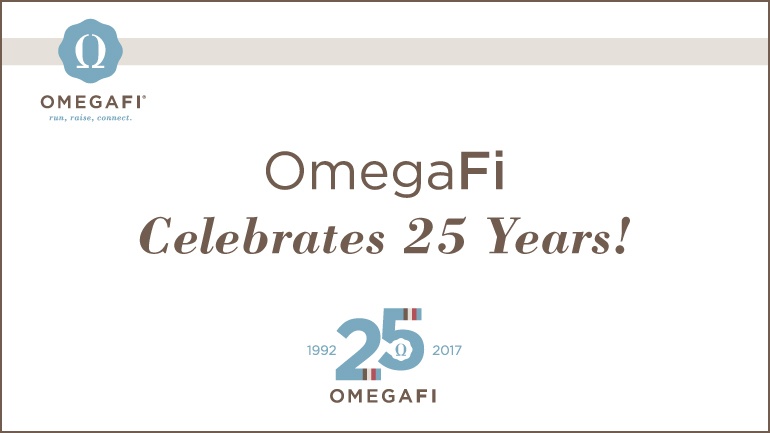 Twenty percent of businesses fail after one year. About 45% fail after five years. So says the U.S. Bureau of Labor Statistics. After 22 years, 80% have closed their doors.
OmegaFi has survived incredible odds.
On Friday, January 6th we turned 25, and we could not have reached this important Silver Anniversary milestone without the support of so many dedicated and committed chapter advisors, house corporation officers, inter/national headquarters staff and most especially the 934,259 students we've had the privilege of working with over the years.
Yes, you read that right. We've worked with nearly 1 million students over our 25-year history.
Along the way, we've mailed 17 million statements (17,420,112 to be exact), and we've helped fraternities and sororities collect more than $3.4 billion to support their operations.
Reflecting back on the past 25 years, it is interesting to note that 85% of my co-workers at OmegaFi were not born when our founder had this crazy idea to start a business formalizing the dues collection process for fraternities and sororities. None of the students we work with were even born (except for the few seven-year seniors who are hanging around for just one more football season).
People often ask me what is the secret to such longevity and overcoming the odds when so many businesses typically close after several years? There are many factors that influence our success, but I can highlight a few big ones:
Being First. We were first and invented this business. Before OmegaFi there was no company helping local chapters manage membership records or collecting dues in a professional and automated way. Being first comes with plenty of risks but has its advantages. We take pride knowing we helped define and shape an industry by pioneering and introducing new ways for chapter officers, advisors and headquarters staff and volunteers to do business.
Our People. The now 104 employees working at OmegaFi are smart, always dreaming up new ideas, work hard and care deeply. They become genuinely happy seeing their customers and clients succeed. Equally important, in my mind, they care a lot about the fraternity and sorority movement. They recognize that fraternities and sororities transform the lives of young men and women. They make higher education institutions stronger. They create better life outcomes for members. Communities benefit, America excels and society advances thanks to the civic, philanthropic, social and leadership skills and values instilled by fraternities and sororities. Our work matters because the work of fraternities and sororities matters. It was really important when a former Kappa Alpha Order treasurer from Auburn University founded this company, it's important to me, and it is important to so many of my colleagues working tirelessly to advance Greek Life.
Our Technology. Throughout our history, we've invested heavily in technology and security. We moved operations to the internet in 1996 – before the term "in the cloud" was even known. We've reinvented our key applications multiple times over our 25-year history to adapt to the changing and evolving needs of chapter officers and advisors. We've expanded our technology offerings from a dues collection service to bill pay tools, a national headquarters database, IRS Form 990 filing and tracking tools, chapter websites, electronic contract management and so much more. Our complex security systems and sophisticated back-up procedures across multiple data centers are costly – and rare in this industry - but provide the value and peace of mind that is so important. We've watched multiple companies go out of business over the years because of a technology flaw or vulnerability. We have and will continue to invest in technology to protect client funds and data.
Our Client Partners. Certainly, we owe so much of our success to the individuals and organizations who have relied on us to manage their precious membership data and critical financial operations. We owe tremendous thanks to our first paying customer, Sigma Nu at Auburn University. We are forever indebted to the first inter/national organization that entrusted us with so much of their operations, Alpha Xi Delta. We've formed lasting friendships with many Executive Directors and even more chapter advisors over the years. We've celebrated with thousands of chapter treasurers and officers as they achieved the goals for their office of eliminating chapter debt or holding that year-end band party because they collected so much money. We've also celebrated their personal achievements as they graduated, were accepted to graduate school and received their first job offer.
It's been an incredible 25 years. After all of that time, we still consider ourselves in start-up mode – continuing to innovate the way we do business and the way fraternities and sororities operate.
We believed it in 1992, and we know it to be true today - prosperous, fiscally-sound fraternities and sororities are better positioned to grow and focus on their members, their communities and their mission. It's been our pleasure to work with so many talented, committed individuals to find and implement the solutions fraternities and sororities need for long-term success.
- Fred Maglione, CEO - OmegaFi