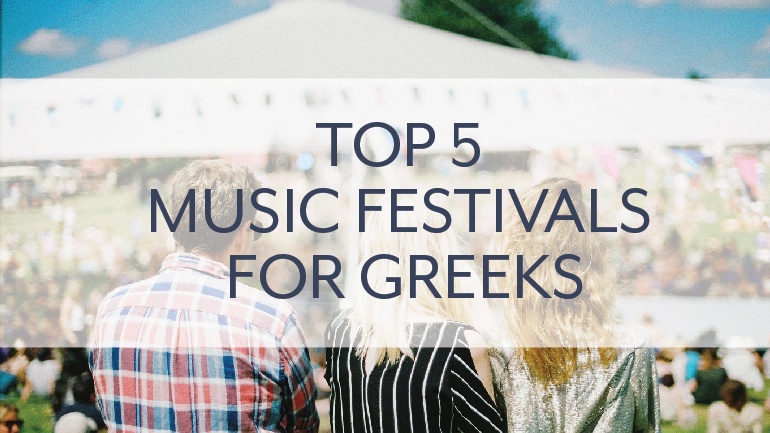 Ah, the music festival. It's one of those hallowed traditions pretty much every college kid experiences when he or she is coming of age. It's a rite of passage! It's a feather in your hat. Your cowboy hat. Wait. That's sort of weird. You grew up in Connecticut and go to NYU. Why do you have a cowboy hat?
Okay, so, let's put the whole cowboy hat issue aside for now. You can wear whatever you want, and actually a wide-brimmed hat might not be a bad idea if you're going to a multi-day music festival where the sun will be beaming down on you for hours on end while you and your friends sweat and stink.
Trust us, you will definitely sweat and stink.
But that's part of the fun! While you're getting filthier and filthier, you're also dancing to your favorite bands and becoming fans of bands you're hearing for the first time. You're meeting people. You're in a state of utter bliss and Zen enlightenment. It's letting go and being a human, and it's the social experience of one's dreams.
Who, I ask you, is better at being social--"socializing," if you will--than college Greeks?
It's rhetorical, Lisa. Put your hand down.
On top of that, Greeks have sisters and brothers in pretty much any city they go to, which only enriches the experience.
The only question now is which music festival is the right one for you and your fellow chapter members to snag tickets for, and then it's time for . . . ROAD TRIP!
We're here to help. That's why OmegaFi wants to give you the lowdown on the Top 5 Music Festivals for Greeks.
5. Lollapalooza

The Music:
Many of you have likely heard of Lollapalooza. It's a huge annual music festival that we've included on this list for obvious reasons. In case you haven't heard of it, though, we're here to tell you why you don't want to miss this one. Lollapalooza is a summer concert in Chicago, a city known for producing talented musicians, from Kanye West, to the Smashing Pumpkins, to Jennifer Hudson, to Styx--Styx! Okay, you're too young to know Styx. But our point stands. This festival takes place on the first weekend of August in Grant Park, with too many performances to name. Okay, we'll give you a few: Arctic Monkeys, Bruno Mars, Jack White, Vampire Weekend, and tons more to bang your head to, or whatever it is you kids do these days.
The Greek Experience:
If you have the time and the inclination to head south a few miles to the Hyde Park area, you can visit the stunning University of Chicago and marvel at its towering gothic architecture. And, oh yeah, there's also an active Greek culture on campus. So say hello to your long-lost sisters and brothers from the Windy City.
4. Ultra

The Music:
Sadly, you've already missed this year's Ultra electronic music festival in Miami, Florida, which takes place at the end of March. The takeaway from this, though, is that it's never too early to plan your next music festival experience! You heard us. Being an adult means planning ahead. Also, plan to bring sunscreen. Miami is hot. It is basically a swamp, after all. Set at the gorgeous Bayfront Park, sandwiched between sleek Miami high rises to one side and the placid waters of the bay on the other, this music festival is packed with all the electronic music you can handle, including artists such as Azealia Banks, The Crystal Method, Afrojack, Modestep, Empire of the Sun and many others.
The Greek Experience:
Besides slipping over to South Beach to enjoy the wide, golden sands of south Florida (because you'll definitely want to do that), take note of the Zeta Community Center established for community needs by the Beta Tau Zeta sorority, whose members play an active role in mentoring young girls and helping low-income pregnant teenagers, among other local efforts by this sorority in the many decades of their existence in the area. Our point is that Miami is a slick, fast town with lots of glitz and glamor, but it's also a place of hard work and people who care about their communities. If you can take all that in on your trip, then you'll truly understand this place.
3. Coachella

The Music:
Coachella is one of the biggest, most beautiful music festivals out there, and it's going down mid-April of this year, so you'll have to make plans fast if you want to hit this one in 2018. With Indio, California's breathtaking view of the sun setting over the mountainous desert, Coachella boasts a diverse line-up of artists from Jamiroquai to Beyoncé to Eminem. You won't want to miss it.
The Greek Experience:
So there isn't exactly the biggest Greek Life experience, per se, to be had in Indio. You're more likely to run into that in bigger cities and more coastal areas. However, there's plenty for you to do in the area once the music stops. Hit up one of the casinos in the area, or else consider planning a retreat for your chapter; there are plenty of hiking and outdoors experiences between the valleys and hills, as well as the opportunity to spend some quality time together camping at one of the beachfront sites of the Salton Sea State Recreation Area, a quick drive south from Coachella.
2. Warped Tour

The Music:
Whether you live in Japan, Canada, or anywhere across the United States, Warped Tour is your music festival for the ages. Why? It's a travelling show, so you don't have to factor in the expenses of plane tickets or gasoline to drive cross-country, plus lodging . . . you get the idea. You'll have to check out their tour dates to see when Warped Tour will be heading near you. Artists range in style and genre, and this year's lineup includes plenty of musical diversity while sticking to the festival's punk-rock roots with groups like Less Than Jake, Pennywise and The Interrupters.
The Greek Experience:
Who knows better than you? Since Warped Tour likely stops off in your home turf, you may have the opportunity to host other chapters or Greeks who will come to see the show from neighboring cities. If you know of any Greek friends visiting, or just see them wearing their letters at the show, say hi and show them a good time. What is there for college Greeks to do around here, you ask? Well, let us show you! Right after we jump in the mosh pit, that is.
1. Bonnaroo

The Music:
Bonnaroo is Bonnaroo. If you haven't heard of it, we don't know what to tell you. But we're thinking you probably have heard of it, because it's one of the biggest, one of the most renowned North American music festivals period. The Bonnaroo Arts & Music Festival takes place this June in the wilderness of Manchester, Tennessee, and you are missing out if you skip it. Trust us. There are parades. There's art. Yes, there's even yoga. We said it. Yoga. But of course, mainly, there's lots and lots of music. We like Bonnaroo so much we want to send you and a friend! Learn more and enter at the end of this post.
The Greek Experience:
Tennessee is an easy place to get lost in the trees and the Great Smoky Mountains and the beauty of it all. It also is home to some bustling historic cities like Memphis. Now, Memphis is a few hours' drive from Manchester, but the trip is completely worth it. Besides, when are you going to be back this way? One thing to check out in Memphis, besides Elvis Presley's Graceland mansion, is the Chi Omega executive headquarters. Chi Omega has been a staple of sorority life in America since 1895, and this facility more than represents the grandeur and elegance and sturdy construction of this organization. Luckily for you, they're offering tours, Monday through Friday during regular office hours.
Whatever your destination, Greeks have a place at any of these top 5 music festivals. We'd love to hear about your experiences with these or other festivals you've been to. Share the love in the comments below!