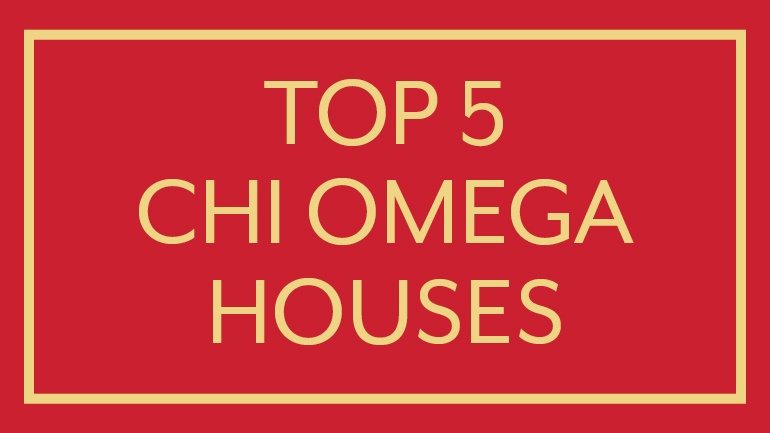 Chi Omega is one of those organizations whose letters have become synonymous with sorority life on college campuses. They're a veritable powerhouse in the university Greek community, and they have been building their presence in North America steadily since their founding in 1895.
Although they now boast roughly 180 active chapters and 345, 000 initiated members, their beginnings were humble. Chi Omega founders Ina May Boles, Jean Vincenheller, Jobelle Holcombe and Alice Simonds brought the organization to life over a century ago at the University of Arkansas. After a decade of existence, Chi Omega had installed ten chapters around the United States and joined the National Panhellenic Conference.
Officially, Chi Omega was known as--and still proudly uses this historical term today--a women's fraternity, and the organization has long found itself a leader among university women's organizations in general.
It is now considered the largest women's fraternal organization in the world.
That's quite an impressive history. And as with all Greek organizations, much of that history has been built into the brick and mortar of their chapter houses over many years. OmegaFi wants to honor that history here by showcasing the Top 5 Chi Omega Houses.
5. University of Oregon

The Psi Alpha Chapter of Chi Omega at the University of Oregon definitely owns one of the organization's most impressive chapter houses. The dark brickwork of this historic Jacobethan Revival style home perfectly blends with the deep greens of the Eugene campus's Pacific Northwest luster.
The house was built in the mid-1920s, and its pitched, gabled roofs, bay-style windows and towering chimneys give the house a feel of both the stalwart history of the house and that of Chi Omega.
The stone arch and oak door lead sisters and their guests past the peaceful, perfectly manicured lawn scattered with various trees into an immersive architectural experience where sisters study, conduct chapter business, relax and have fun together. The three-story home has plenty of room to explore the past, present and future, making this one of Chi Omega's top houses.
4. Mississippi State University

Anyone who's ever seen a Chi Omega house knows that they're all about the giant, white, Greek style pillars. It's not an architectural styling that's unique to these sisters, but they certainly know how to rock it better than many.
However, just because you've seen a Chi Omega house doesn't mean you've seen the Mississippi State University house of Chi Omega's Phi Delta chapter. This thing has pillars for days. We're not saying it's nothing but pillars, but check out the pillars! Ten pillars in all, with broad stairs leading to the French-doored entrance, surrounded by two stories of white brick that make up this Greek revival style home.
The house has undergone 20,000 square feet of new construction and 5,000 square feet of renovations, including the chapter room, dining room, library and dorm wing with sun porches. The house is an open, spacious and elegant example of pure Chi Omega style, which is why we consider this one of their top houses of all time.
3. University of Tennessee

This house belonging to Chi Omega's Pi Chapter at the University of Tennessee is 16,800 square feet and three stories of magnificently crafted brick and stonework. The house, completed in 2013, has a chic feel that takes the traditional, with its towering chimney and sturdy frame, and blends it with the sharp, sleek edges of the contemporary.
Forty two sisters call this house their home, and what a home it is. This house has so many great amenities, including a great hall with a fireplace, double-suite bedrooms with flat screen televisions and walk-in closets, laundry rooms, a chapter and dining room, study and ritual rooms and a full-sized commercial kitchen.
And get this--they have a bricked and gated courtyard area with an outdoor fireplace! That's about the coolest thing we can think of. So if you ever find yourself in Knoxville, Tennessee, you should definitely check out this fantastic house, one of Chi Omega's finest.
2. University of Texas-Austin

The Iota Chapter of Chi Omega at the University of Texas, Austin has a house that proves once and for all that they know how to rock it in the Lone Star state.
Chi Omega has been on the Austin campus since 1904, and they've been a part of the university's historical fabric ever since. The house is a lightly colored, mixed brickwork with tall windows and shutters, an arched entrance, and a balcony with an ironwork railing. It presents the straightforward yet elegant grit of living in Texas, with a live oak shading the lawn out front as sisters pass in and out.
It's not the flashiest or the biggest Chi Omega has to offer, but boy do we find this house just stunning to look at. It actually feels like you're walking past a hallowed, elite-yet-understated structure on a university that exudes those same qualities.
1. Southern Methodist University

The Iota Alpha Chapter of Chi Omega at Southern Methodist University boasts one of the top, most luxurious chapter houses for women's organizations on any campus, period. It's essentially a palatial mansion that's so over-the-top marvelous that it has garnered media attention from outlets such as Cosmopolitan and Dallas Business Journal.
Well, it's hard not to have an awesome chapter house when it's worth $4.5 million.
Seriously, wow!
The three-story brick, pillared house had previously been the SMU Faculty Club, until several years ago when it was renovated into a 25,000-square-foot chapter house for 40 sisters to live in luxury. The Chi Omega women moved from their previous house because of issues with fire codes and safety hazards due to its age. The new house has state-of-the-art dining facilities with seating for up to 160 members, kitchen, laundry, living areas and much more.
Again, wow.
Let's make something clear: Chi Omega has a lot of fantastic houses. We've highlighted a few of our favorites here, but there's no way we could hit them all. And there's a good chance someone will feel snubbed from the list, or disagree with our picks. That's why we want you to tell us which Chi Omega houses you think are the best of all time in the comments below!