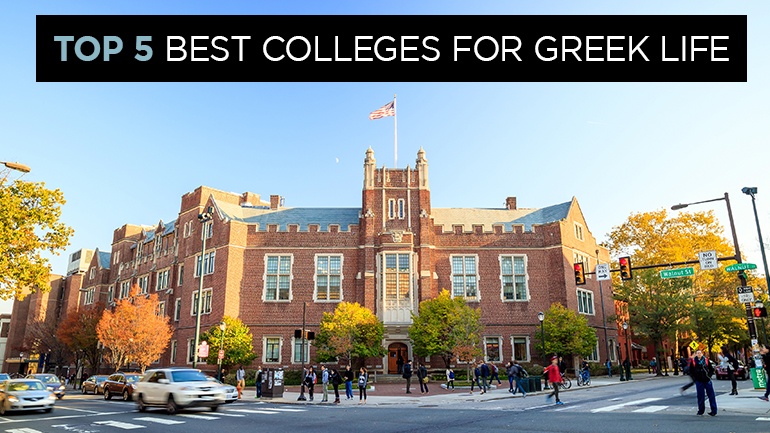 When it comes to applying for colleges, there are a lot of variables to consider. The first is based on what you're trying to study, meaning that the school with the best program will typically be the first on the list. The second is location and cost. How far is the school from where I live, and how much is it gonna cost me? The third and perhaps most pertinent is this:
What's up with that Greek Life though?
Call us a little biased but Greek Life is important. Not only is it essentially the pinnacle of collegiate social involvement, but it's a bond that you form during your most formative years. For many Americans college is often the best and most freeing part of their lives. There are few responsibilities outside of oneself: You go to class, maybe work and then go home and hang out. The amount of freedom and outright independence you have during this time is downright addicting, and once it's over, will be a time of your life that you will always look back on fondly. With that said, the Greek experience is like putting a hemi engine on those golden years and flooring it. It's the icing on the cake. It's the accent splotches on the walls. It's the potpourri.
Greek life can be a tremendous experience, so it should always be something to consider when picking a school. But how do you base the criteria of a school with a good Greek Life? Is it the number of Greeks they have? Is it the engagement of their Greek population as it pertains to social involvement? Or is it simply who's having the most fun?
For your benefit, OmegaFi is here to break down the best of the best of the best out there and give you insight into the Top 5 Colleges for Greek Life.
5. Southern Methodist University

Deep in the heart of Texas, where the stars at night are big and bright, roughly 33% of the student population will be affiliated with a fraternity or sorority. That's a big deal. That means when a professor does the clichéd "look to your left, look to your right" speech, meaning one of the people you look at will actually be Greek (if you aren't Greek yourself). Consider that for a moment. Think of the brotherhood and sisterhood that is strengthened by a campus that is all about Greek life. No more subpar events or a lack of attendance and professionalism by brothers and sisters. With such wide-scale involvement, the campus at large takes Greek life seriously and acts accordingly.
4. Ole Miss

There's something special about the south that's hard to ignore when it comes to Greek life. Maybe it's the hustle and bustle of big city colleges in New York and LA that serve to de-emphasize the importance of Greek life, or the small town liberal arts colleges that would rather sit and read Chaucer than engage in brotherhood or sisterhood, but something about the space and natural beauty of a southern college seems to promote bonding. All diatribes aside, Ole Miss is a powerhouse in the Greek community. For starters they contribute heavily to philanthropies, putting up roughly $40,000 per house. Featuring sprawling plantation-esque houses and a general party scene that could rival the hottest clubs in New York, Ole Miss has a Greek Life you don't want to mess with.
3. University of Alabama

As another entry representing the south, the University of Alabama has gained this spot above Ole Miss primarily because of their Greek life and football team. Sporting twenty-nine IFC fraternities and 18 Panhellenic sororities, this school doesn't play around when it comes to Greek life. They prefer to do things big. A benefit to being southern situated is that in Alabama's case it draws from neighboring states like Texas, Georgia, Virginia, and Mississippi, adding a nice blend of culture and diversity. Given the southern extravagance of nouveau riche Alabama, the houses can be expected to be reflected it thusly: They're HUGE. And again, whether you're deeply involved in the draw that is there humongous Greek community, there's always football.
2. Florida State University

Florida State University's Greek life is on another level altogether. Excusing the fact that they've got a pretty storied football franchise, Florida State University offers 55 fraternities and sororities across the IFC, Panhellenic, NPHC and MGC councils. With an emphasis on inclusion and diversity, these organizations frequently work together in coordinated efforts thanks to the guiding hand of the office of Greek life. But Florida State University's Greek community isn't only diversity, their fraternities and sororities sport huge houses and even bigger member numbers. Doubt it? Look at the Pi Kappa Alpha chapter of FSU and then look at its house. It's the biggest in the state.
1. Penn State University

We'll start here: Penn State University offers 50 fraternities (with an "F").
Yes. That's a lot.
So needless to say, the PSU's full Greek life scene is massive. The benefit to a large-scale Greek life scene should be obvious in this sense, aside from the small things like social gatherings, men/women, parties, etc., a large Greek affiliated campus means a broader sense of brotherhood and sisterhood. This means a greater network of lifelong friends after college and further still, a broader network of mentors and leaders. PSU is also renowned for its ability to generate huge philanthropic donations annually as a result of these many organizations. Now on to the social scene. First off, everyone seems to have a huge house, which means that brotherhood and sisterhood have a lot of space to develop. Adding to that, there seems to be a good bit of collaboration and engagement between the school's fraternities and sororities, meaning that most Greek events are co-ed in nature.
If you think your school has the best Greek life community around, don't just sit there twiddling your thumbs in anger, let us know in the comments below!