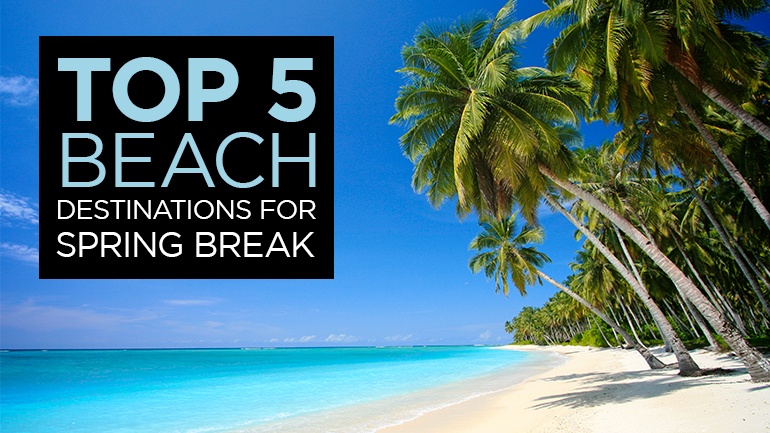 Aw snap.
Regardless of where you live in America, the introduction of spring means it's about to go from cold (or less hot in South Florida) to hot. You already know what that means.
It's time to show some skin.
The American college spring break is a rite of passage for thousands of young men and women in the prime of their lives. During this spring season, the 18-22-year-old college demographic comes alive across our shores and coastlines as they enter the great migration to our nation's beaches. Needless to say, this can be a thrilling experience for all involved within this college demographic (not so much the locals of these towns), as spring break can often represent the first extended road trip for college students living away from home for the first time. Whether to get away from classwork and tests and relax, or downright PARTY, spring break is a time for the average college student to let loose in any way they choose.
With that said, let's talk about destinations. Sure, you'll have a full week off—plus the weekend before—but where are you going? Although a destination like the beach is a no-brainer, a couple variables need to be considered in order to make a wise and fun-filled decision: location, cost and travel. If you live in Montana you're flying no matter what, but the difference between spring break in Miami and Clearwater Beach, Florida can present a sizeable difference in hotel costs, so your budget will have to be taken into consideration. And as always, if finances are an issue, we've got you covered.
For your benefit, OmegaFi is here to take you by the hand, rub some sun screen on your back, lead you down to the water and dive into the Top 5 Beach Destinations for Spring Break.

PRO TIP: Make sure to check below this article on how you can enter for a chance to win a cruise!
5. Miami Beach, Florida

Let's start with this: As far as destination cities in the state of Florida, it's a hard feat to beat Miami. They've got great sports franchises, culture, money and a history that is both diverse and storied. With that said, the beaches of Miami are famous for reason: They're gorgeous, as are the people that frequent them. Although a bit more expensive given the nature and popularity of the city, you'll be hard-pressed to find a restaurant you don't enjoy, or a club that isn't the best club you've ever been to. The nightlife of Miami Beach can be thrilling on a Tuesday, let alone during spring break. Whether your deal is to hang out on the beach or just walk around the city and enjoy some time on your feet, Miami beach is littered with high-end stores, galleries and areas of the city that are known for the street art and culture (Wynwood).
4. Key West, Florida

Even if you're driving from within Florida, getting to Key West can be a bit of a slog. But oh, is this slog worth it. Key West is a small city, if anything it's more so a developed town. But as the quintessential beach town it has a lot to offer. For starters, less is often more. What we mean is that compared to a big city like Miami where meeting someone means that in the next 5 minutes they've met someone else, a more concentrated area like Key West offers a certain degree of intimacy based on proximity. You understand what we're saying here? You understand what we're saying here. Whether it's charter fishing, relaxing on the beach drinking margaritas or eating Key Lime pie and fresh seafood, Key West has a ton of stuff to other for those looking to be absorbed into the beach town life. Be sure to get your hotel accommodations in early though, as the small size of the island can raise the scarcity of proper lodging.
3. Puerto Rico

For those looking for something a little different than the usual American beach, try Puerto Rico on for size. As a "foreign" spring break destination, Puerto Rico offers an experience that few other destinations can provide. To start, it's an American territory, which means that for the most part, everyone speaks English. Second, the citizens use the dollar, and are deeply connected with American culture (they can vote in the Democratic Primaries!) and even have a Governor. The beaches of Puerto Rico are plentiful and the tropical feel of the island gives an impression of being in a discount Hawaii. We recommend hanging around San Juan, renting a car, driving to the Island's east coast, and taking a ferry to the island of Vieques or Culebra. As a destination that's just off the coast of Florida, a flight there isn't going to be too pricey and neither will the lodging if you keep yourself to a strict budget.
2. Daytona

It's easy to ignore Daytona as a destination city for Spring Break when comparing it to the more glamorous Miami, or upcoming St. Pete and Clearwater. However, that name still rings true for millions of Americans that have made the journey. The reason why? The 20 miles of beachfront. Far and wide, Daytona attracts the eyes of tens of thousands every year and to this day serves as a classic American Spring Break destination. Whether it's surfing (for which Daytona sports some impressive waves), tanning on the beach or embracing the all the hub-bub of this NASCAR stuff, Daytona is a great location to absorb the essence of Florida life and culture while getting a little sun while you're at it.
1. Panama City

We would be remiss if we failed to mention one of the biggest spring break destination spots in the US: Panama City, Florida. Those of you readers in the Southeast understand the draw of Panama City but it's power is in its culture. Panama City isn't known for having the best beaches, nor is known for having the best club destinations, however, what it is known for is the FULL-SCALE BEACH PARTY vibe that extends along the entire coastline. No matter where you walk on Panama City beach during Spring Break you will undoubtedly be met by thousands of young people that are interested in the same thing you are: partying. The atmosphere can be intoxicating so be sure to give yourself a day to just relax and try not to party too hard. Finals are just around the corner.
If you enjoy partying, raging, turning up, being lit or generally being on one, let us know where you're headed this year in the comments below! Don't forget to enter for a chance to win a Carnival Cruise Line gift card valued at $500 so you can build your own dream vacation.