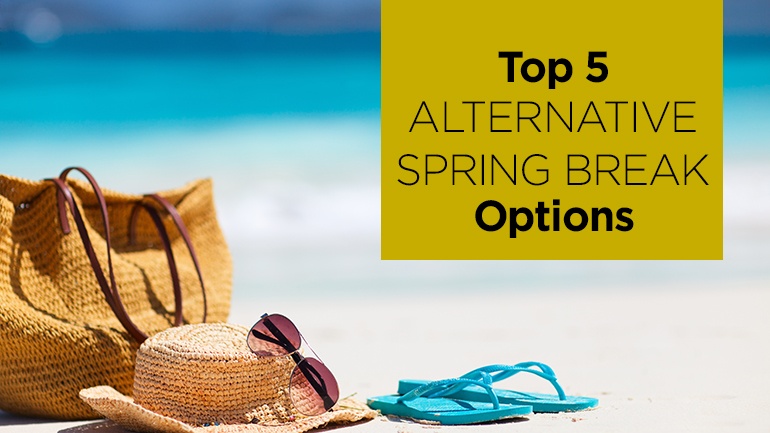 What's the first thing that comes to mind when you think of spring break? Is it a trip to Vail or Mexico or Panama City? What about going on a cruise, visiting a new state or flying halfway across the world?
When I think of spring break, I think of going to the beach. I think of staying at a nice condo with 10 of my best friends, spending all day lying in the sun and spending nights hanging at The Wharf shopping and catching concerts. Spring break is a time to step away from school and take a vacation from your studies. It's a time to relax and let loose, and being at the beach with your best friends and having no worries in the world only makes it that much sweeter.
The beach is definitely the most popular spring break destination. It's no secret that more and more people each year are headed south to these popular destinations to soak in the sun and relax while watching the waves roll in. But the beach is not the only place to spend your spring break. There are so many other options when it comes to spring break plans and destinations. The most important thing to remember when deciding how to spend your spring break is that this is your spring break and you should spend it however you want. You've worked hard all semester long, and you deserve to reward yourself with a spring break trip that you've planned and that you're looking forward to. So, if you're looking for some spring break alternatives this year, we've got your back. Below we've listed our Top 5 Alternative Spring Break Options.
1. Travel to a different destination.
Instead of going to your favorite spring break spot, go somewhere new. College is the time to expand your horizons, and your spring break week shouldn't be an exception to that. Maybe you've always wanted to go skiing, but you still end up at the beach. Make this the year that you ditch the waves and trade them in for a snowsuit and skis. What about Disney World or Disney Land? They're magical places where you're guaranteed to have just as much fun this year as you did 5 years ago. Maybe you're able to afford to travel to Las Vegas or New York or even abroad. I bet you'd ditch your normal vacation spot for one of those options in a heartbeat.
2. Have a Staycation

If your college campus stays open during spring break, you could stay behind and just relax. You could spend your days binge watching Netflix, playing video games, reading, or even sleeping. For one whole week, you won't have a care in the world or an event on the planner. Of course, you need your best friends to staycation with you, because nobody wants to spend spring break alone, but the beauty of a staycation is that you are able to fill your agenda at your own pace. A staycation is relaxation at its finest, and it just might be what you need to rejuvenate yourself to get through the remainder of the semester.
3. Donate Your Time

Are you one of the many millennials wanting to do something that will make a difference? Do you dream of changing the world or starting your own non-profit business one day? If so, spring break is the perfect time to get involved with a project that will allow you to make a difference in the lives of others or the community around you. There are so many organizations that would love for you to volunteer to spend your week helping them help others. You could go anywhere from across town to the local food bank to across the world to deliver goods to those in desperate need. This is your spring break and you can serve with any organization of your choosing. Researching and choosing an organization is easier than ever and choosing to serve alongside them during spring break is definitely a decision you won't regret.
4. Work

While no one wants to spend their spring break working, it is an option to consider. If your work will allow you to pick up the extra hours, you may want to do so. Being available is an easy way to earn you some much need extra funds on your next paycheck.
But what if you don't have a job? Where can you find work in such a short amount of time? You might consider babysitting, making and selling homemade crafts on Etsy, or driving for Uber. No matter where you spend your spring break working, you'll thank yourself when you're able to fund the rest of the semester's Starbucks trips and gym membership fees.
5. Road Trip

Taking a road trip is something that everyone should do at least once during their college career. It's a great idea for so many reasons. You can see more and do more in one week than you could have with just a one destination vacation. And, you get to split the costs and share the responsibilities with a car full of your best friends. What more could you ask for?
Giving your road trip a theme is also another great idea. Planning your road trip around landmarks, national parks, or home cooked meals that have been featured on Food Network are just a few ideas.
So tell us, what will you be doing for spring break? Will you be going to the beach, or will you consider an alternative option when choosing how to spend your spring break?