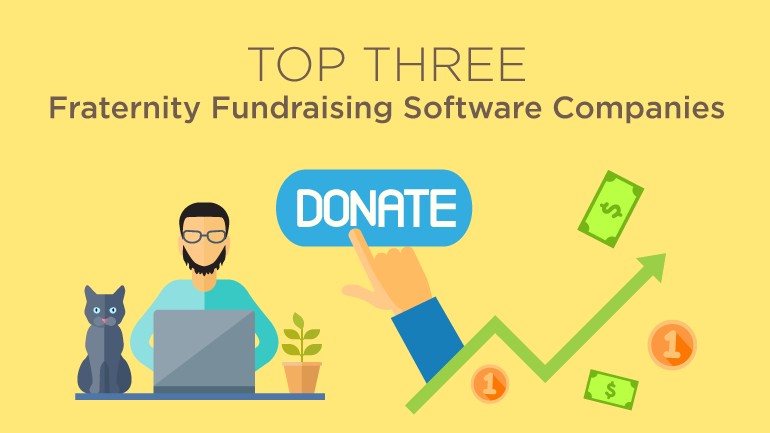 Fraternity fundraising can be a tricky task for any chapter, as the level of expertise you need to properly implement your fundraising efforts can be daunting, to say the least. Unfortunately, being a fraternity brother isn't all about socials, ultimate Frisbee and road trips. It's about all those things, and more. It's about building bonds that will last a lifetime with your brothers and your alumni. It's about growing your chapter so that it thrives, and living in a chapter house that allows you the space to go through your collegiate trials and tribulations together.
Of course, whether you're a current member or alumni, you know that if you want your chapter to thrive, you will have to fundraise.
It's that simple. It's also that complicated. This may be enough to make you want to take out all your frustrations on some unsuspecting racquetball on gym day. Luckily for you, as is true with many aspects of being Greek these days, there are experts and fraternity software out there that can help.
So maybe hold off before you freak out your racquetball partner with fits of rage and flying balls.
While you take this time to cool off a little, OmegaFi would like to help you out. Let's talk about the Top 3 Fraternity Fundraising Software Companies.
Good Ink


Do you like looking stylish and raising money? Do you like sporting your threads for a good cause? If you answer that question with a "no," we're going to have to hang our heads in shame. But of course the answer is a resounding (in the vocal stylings of Lil Jon) "yeeeah!"
Of course you want to look good while you raise money. That being the case, consider how Good Ink can help. Good Ink is a shirt design and fundraising company, with humble beginnings as a 4-person print shop operation. Now you can design and sell shirts to raise money for this semester's philanthropy or other chapter needs. You can not only design the product, but also customize the price and fundraising goals, as well as post information about your fundraiser direct to Good Ink's webpage.
The best part? No investment.
That's right. You heard us. Good Ink sells your product without the chapter having to shell out an initial cost for bulk shipments. Everything is done direct. Easy peasy.
Another benefit is that you can use the campaign in conjunction with other fundraisers, by advertising the shirts during, say, a lip sync contest or a car wash.
In the end, not only will you raise funds for your cause, but you'll see your shirts being worn around campus long after the event! That means you can take pride in the fact that you're getting your message out there and promoting your chapter at the same time. Who doesn't love free advertising? To that one person who would say "me," it's rhetorical. Please sit down.
CrowdChange


Some of the difficulty of fundraising is optimizing how you do it. This means how to connect with software like how to create crossover with mobile apps, building a modern website to centralize fundraising efforts and collect contact information from donors, and more.
CrowdChange's fraternity fundraising software lets you do this. You can create customized event tickets for donors to purchase digitally, promote through popular mobile apps like Snapchat, and customize and centralize all fundraising data through one hub, which is, let's face it, amazing for the typical brother busy with school, work, romance, and chapter duties.
What is valuable here is cutting out the middle man, so to speak: There is no need to use outside 3rd party fundraising companies or software, which makes CrowdChange the optimal fraternity software for your next fundraiser.
Another important feature--wait for it--CrowdChange isn't just your standard fundraising platform. This company is aware and engaged with the concept of Greek philanthropy fundraising on your campus, with their campus councils program, and allows Greek life leaders to centralize information on various philanthropy events going on at their universities. CrowdChange offers certain software features specific to campus philanthropy programs. On top of that, they offer your national organization a way to help organize and enhance your fundraising efforts. They can collect data and create reports at the click of a button.
If you're looking for a rounded software platform for fraternity fundraising, CrowdChange is a good place to start.
Pennington & Company


What sets Pennington & Company apart from some of these other platforms is the nature and scale of their specialized expertise. Also, what we've discussed thus far and what Pennington & Co. defines as "fundraising" are quite different. Here the focus is on large-scale fundraising campaigns for housing corporations, alumni, and chapters in general.
We listed Pennington & Co. as fraternity fundraising software, but in reality, there's much more than that to what they offer.
Why? you might ask. And we would say, good question!
The answer is that we here at OmegaFi believe fraternities navigating the world of technology shouldn't be solely concerned with the software itself, but with companies that help you navigate the fundraising terrain of a world where fraternity software is omnipresent. What you're really getting when you use Pennington & Co.'s services is the expertise of professionals to guide you through the process of fundraising for, say, the construction of a new chapter house. They can guide you through the process, including pre-campaign feasibility studies, capital campaign development, alumni relations and annual campaigns, gift managements as well as strategic assessments of risks, needs and opportunities.

They funnel this expertise into the electronic world by helping with website building and web presence through a multi-pronged outreach. You should know by now that being multifaceted is a must in a world where fraternities thrive with the use of software and web presence and fail miserably without these things.
Okay, we know that seems like a lot to bite off at first sight. But take some time to navigate their website. Check out their success stories, and the relationships they've built with organizations over the years. Send their link to your alumni, housing association, or national organization, especially if you know they've got a big project in the works.
Whether you're building a new chapter house or raising money for your cancer research philanthropy, we feel these Top 3 Fraternity Fundraising Software Companies are the perfect place to start. What's your experience been like using software to enhance your fraternity fundraisers? What's worked in the past for you, your alumni, and others in your organization? Regale us in the comments below!