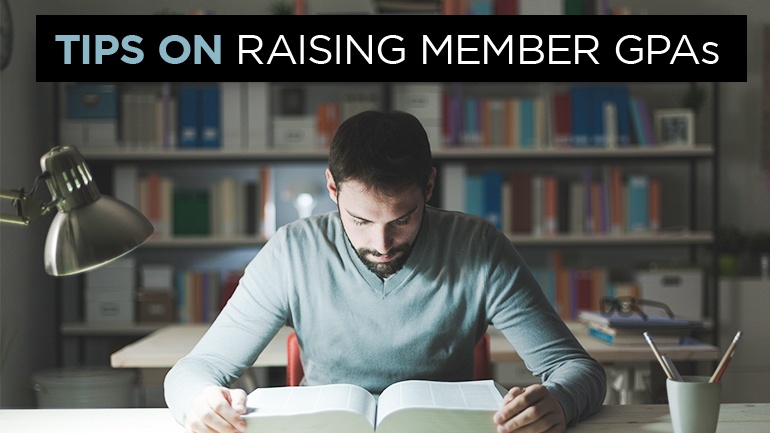 From an outside perspective, people don't typically think of grade point averages when they think of a Greek organization. This is in part because of the stereotype of poor academic performance that surrounds members of fraternities and sororities. With a closer look, or experience in your own organization, you'll see the stress put onto members by the chapter, their local Interfraternity or Panhellenic Councils and their National Organizations. Each member makes a difference in the average GPA for your sorority or fraternity. Here are some tips on raising member GPAs so your chapter can claim the highest GPA on campus bragging rights.
Have Your Chapter's Scholarship Chair Create a Team. The Scholarship Team can help members create new study habits or tweak existing skills. Members may be too proud to approach just one person within the chapter when they're struggling in classes. Creating a team of people will let members choose the person that they feel comfortable asking questions.
Sometimes, members just need help learning how to manage their time. College can be a huge wakeup call for young adults and their current time management practices. Instead of going to class for seven straight hours a day, college students have more flexible schedules. This can be great, but it also creates a sense of time that may not be realistic. Procrastination can quickly become a habit. Having a support system, like a Scholarship Team, is the first step to raising member GPAs.
If you're a chapter officer and need advice on how to best manage your time, see 4 Steps to Managing Your Time as a Fraternity President.
Start Requiring Study Hours for Members. Each individual grade counts towards the average sorority GPA for your chapter and for Greek life on your campus. Ignoring just one member's grades can negatively impact the whole. If your chapter's goal is to have a cumulative 3.0 GPA for a semester, require hours for the members who made below a 3.0 the previous term. The closer your members are to a 3.0, the less study hours they have to do. While this can seem elementary at times, it's a great strategy and incentive for members.
The Scholarship Team can proctor study hours at designated times throughout the week for members–whether it be at the house, in a coffee shop, at the library, or somewhere on campus. Being able to have a blocked time period for members to study will also benefit members who struggle with time management.

Create a Majors and Minors List for the Chapter. Making a master list with members and their area of study is extremely beneficial, especially for new members. With a majors and minors list, it takes two seconds for members to find someone else in the chapter who has taken certain classes in their field. Being able to shoot a quick text to another member will benefit every member of the chapter. Whether it's for advice on a class, teacher, or study skills for a test, this master list will give your members another resource right at their fingertips.
Give GPA Discounts or Prizes. The final grades from last semester have been posted and it's a new semester. When your Scholarship Chair gets the list of member GPAs, reward your members. Whether it's a discount for the current semester, a free t-shirt, or a pint of Ben & Jerry's ice cream, don't forget to give recognition for hard work.
For example, let your Scholarship Team hold Fraternity/Sorority Academics. Create an "A-Box" that can be passed around in each chapter meeting. Members can put their names in the box with what assignment they made an A on. Create a point system to go along with the A-Box, so whoever has the most points at the end of the year gets a prize.
Chapters (especially those members on the Executive Board) often get caught up in the things that aren't going perfectly. When you reward members for a job well done, they're likely to keep up the good work. For help with taking on an Executive Board position, see So You're a New Fraternity Officer: 5 Lessons to Keep You Sane.
Recognize Members on a Frequent Basis. Just like giving prizes, recognizing members when they do well on their finals, or even a test at the beginning of the semester, is extremely important. Not only does it keep chapter morale high, but it also makes members work harder to raise their GPAs. If there is an incentive with a light at the end of the tunnel, you can bet that the chapter's GPA will increase.
Using the Fraternity/Sorority Academics example from above, the point system can also help with any members who are on academic probation. If they earn enough points, they can attend a social event of their choosing. This will help with not completely punishing members. Instead, they'll have opportunities to make up for where they didn't do so well in the past.
Besides grades, it's good to reward members for actually going to class. Pass around a jar for members to put their names in, but only if they didn't skip any classes for that week. Draw one name from the jar at each chapter meeting. Whoever gets chosen will get to be "Genius in Jeans" at the next formal chapter. While everyone else has to wear dress slacks, the Genius in Jeans will get to be comfy in a pair of nice jeans.
Need more incentive ideas? Check out 3 Fun Incentives to Entice Brothers Who Won't Pay Their Dues.


Designate a "Quiet Time" for the Chapter House. Just like having proctored study hours, designating a quiet time for the house or residence hall will let members know they can come to the house to study. It's important to remember that not everyone can study in the same way–some people can't focus at the library, or maybe they need to have background noise (or complete silence). Letting your brothers or sisters know ahead of time when the house will be used for studying will broaden the chances members have to attend either study hours or quiet time. Bonus perk: You'll get your members to spend extra time together and hold each other accountable.
Raising member GPAs will help the chapter as a whole in the long run. The average sorority GPA or fraternity GPA is one of the first things people outside of your organization look at. Whether it be with Nationals, IFC or Panhellenic, or recruiting new members, having a good GPA benefits everyone. Follow these tips on raising member GPAs and your chapter will be the one to beat!