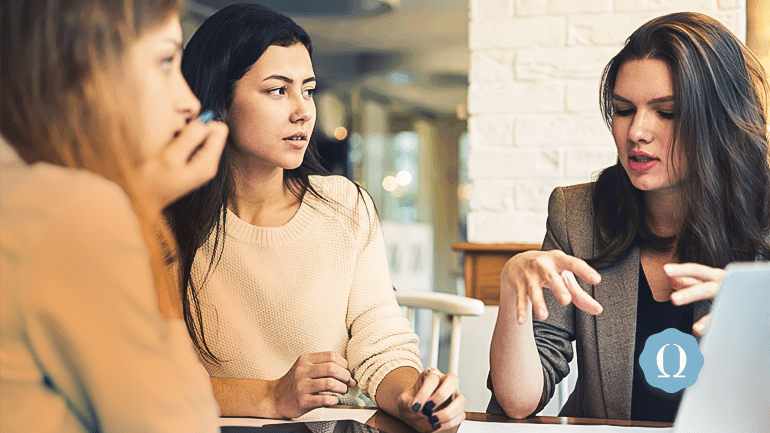 Let's be honest: sorority recruitment can be stressful, time-consuming, and a mad dash for the end of the line. Even if you are confident in your chapter's ability to recruit solid new members, something could go wrong or could change in the recruitment process. Your goal is to recruit a certain number of sisters, typically aiming on the high side, but you also want to recruit women with similar values and interests who would add quality to the chapter's membership. Basically, you want to win recruitment, which is not an easy task.
Sorority Recruitment
Sorority recruitment is an ongoing, year-round endeavor for just about every sorority chapter. Recruitment involves a great deal of strategy and planning from the executive board, in addition to holding recruitment-related events, providing ongoing member education, and voting and placing bids for membership. You should investigate the contents of your sorority management toolbox, as the tools inside relate to sorority recruitment.
If your chapter is part of a college Panhellenic or related Greek council, then you will need to ensure that you abide by their rules regarding sorority recruitment. Also, check with your chapter's charter to be sure that you are following those rules.

While the requirements for sorority recruitment will vary from chapter to chapter, there are some things that are important to consider for all chapters. A recruitment chair should be appointed very early on, and it is pivotal to choose someone who you would want to be the face of the organization and the main point of contact for potential new members.
The recruitment chair can then dole out various tasks and responsibilities to fellow sisters, with the assumption that most will be willing and able to complete those tasks. Tasks could include ensuring that all promotional materials (i.e. clothing and such) are set, finalizing recruitment and bid day themes, assisting with recruitment-related events, etc.
The success of your chapter's sorority recruitment thoroughly relies on sisters' ability and commitment to being on the same page. Success can be accomplished in a number of ways, including connecting sisters with the helpful people around them, brushing up on old recruitment rules and learning new ones, and using the sisters' shared set of values to plan things like retreats and bonding sessions.
Certainly, your chapter needs to possess clear, reasonable goals for sorority recruitment. This could consist of anything from recruiting sisters who are focused on academics to improving overall Greek life on the campus. Also, be sure to avoid the possible negative aspects of recruitment, such as the possibility of hazing.
Time Management in Sorority Recruitment
You could say that sorority recruitment starts on move-in day, when you and your sisters notice new freshmen women beginning life at your college or university. You can certainly make yourselves available to help these women, wearing your sorority letters and assisting in any way possible to make a strong, early impression on them.
At the same time, if you're the recruitment chair or an executive officer, you don't want to think too far ahead. This just might cause your brain to explode.
Of course, on the flip side, don't rush through your sorority recruitment. That will certainly not accomplish your recruitment goals. Instead, take recruitment one day at a time, while simultaneously thinking far enough ahead to be prepared for recruitment week and all of its craziness. It's a delicate balance.
Implement better time management strategies by first determining how much of your chapter's budget is to be set aside for sorority recruitment. Obviously, your chapter's budget depends on a variety of factors, including your current membership dues and expected future dues. The sorority treasurer and recruitment chair can work together to determine what is best for the chapter.
Inevitably, time management in sorority recruitment becomes more complicated when there is no sorority house. Without a large space in which sisters can congregate, it is important to emphasize communication when making plans and organizing for recruitment.

It's true what they say: powerful sorority women run (and rule) the world. Sorority sisters can affect change and attract a plethora of exceptional new members by using their voices. Powerful communication makes for successful, solid sorority recruitment. If you want to build a stronger sorority chapter by recruiting new members, focus on relationship-building and communication. And, this starts early on, not simply during or right before recruitment.
How Sorority Software Can Help with Time Management in Sorority Recruitment
Even if every member of the chapter does her part when it comes to sorority recruitment, things can go south. Recruitment can be unpredictable, especially with the numerous activities and events that are taking place. As such, time management can be difficult and seemingly near-impossible.

Sorority recruitment software like OmegaRecruit can help with your sorority's recruitment needs.
OmegaRecruit can help grow your sorority's chapter with a system that is designed to streamline the recruitment process. All recruitment-related information for your sorority is kept in one place, with detailed graphs always available. This is a great way to keep track of things such as chapter votes and varying trends.
You can also tag and vote on PNMS (Potential New Members) in real-time. Other highlights of OmegaRecruit include the ability to make the member-PNM matching process easier, a slideshow of PNMs, and chapter reports. OmegaRecruit integrates with campus ICS recruitment software, so that new member bids can be sent electronically.
OmegaRecruit can be especially useful for smaller chapters to perfect their sorority recruitment. It makes recruitment tasks go quickly, enabling you to focus on what is really important: communicating with PNMs.
There is also OmegaOne, a useful tool for managing communication within the chapter -- and not just for sorority recruitment. This software is a centralized hub in which sisters can communicate with each other via their mobile devices.
You can learn more about OmegaFi and our products by visiting www.omegafi.com. Or call 800-276-6342 or email us at info@omegafi.com.