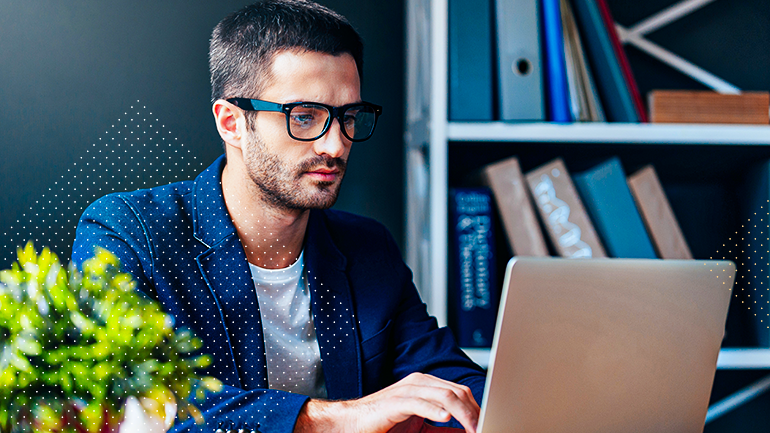 Hear us out--the right fraternity software can make your life easier.
As a fraternity chapter advisor, you have a lot on your plate. It's your job to function as a liaison between the chapter and national headquarters, plus you keep the chapter officers and members organized and on track.
Is everyone on time for events?
Paying dues?
Who's tracking the fines?
It's all on you.
When it comes to recruitment, you're there, making sure everything runs like a well-oiled machine. On the personal level, you provide guidance, support, and encouragement for hitch-free events and day-to-day operations.
How would fraternity software make your life easier? You may think you don't have time to take on a new software system. Surely there's a steep learning curve, and when you're as busy as the average chapter advisor, you may not feel like it's the best investment of your time or money.
That's where you're wrong.
Investing in the right fraternity software can not only free up your time, it can make everyone in the chapter more efficient and organized. Here are some fraternity software basics that you need to know before taking the plunge into a new system. After all, we're here to help, not be a burden or an unnecessary step. At OmegaFi, we pride ourselves on producing, maintaining, and updating the best fraternity software on the market today. Here's how.
Financial Management with Vault

Perhaps your number one goal as a chapter advisor is to provide sound financial guidance for the chapter. Keeping the finances organized shouldn't be a burden. Here's how we make it easier, with Vault.
With Vault you can
build budgets and track expenses
invoice members
collect dues, fees, and rent
create on-demand financial reports
accept donations and raise money
segregate funds for chapters and house corps
manage and pay bills
With Vault Pro, you can do everything listed above plus
access prepared financial reports
access managed accounting services
With our Premium Features, you can
file taxes
utilize contract management
provide officer purchasing cards through VISA
The Vault App is management on the move. Members and parents have the convenience of
paying their bill
accessing their account
communicating with members via mobile phones
"Through personally working with almost two thirds of Delta Chi's Chapters and Colonies, it's evident how our members can benefit from our partnership with OmegaFi. Vault is making the roles of our officers so much easier now that dues collections, mass chapter communication, and IHQ reporting is all in one place!"
Zach Stroth
The Delta Chi Fraternity - Kansas State University
Communication Tools with the OmegaOne App

As the number one communications platform for fraternities, our all-in-one app makes it easier for you to manage chapter operations, from event management to billing, and more.
With OmegaOne you can
utilize event management tools
manage chapter billing
collect dues
handle mass communications via email or text
provide emergency check-in
use the "Wall" feature to post announcements and photos
order merchandise
Database Management with Compass

Let Compass guide the way to a future where your member data is secure. Compass provides
a customizable dashboard unique to your needs
event management organizational tools
member, alumni, and potential new member reporting
Greek-specific fundraising tools
online giving
mobile app option for one-the-go management
"My excitement for our new national database is complemented by OmegaFi's ability to support the financial management needs of all SAE chapters and house corporations at the local level. I am very enthusiastic about the work our staff and the OmegaFi team will accomplish together in support of our chapters. We encourage every chapter and house corporation leader to contact OmegaFi to learn about security, efficiency and collection effectiveness."
Mike Sophir
Chief Executive Officer - Sigma Alpha Epsilon
These fraternity software basics cover the most pressing needs of a fraternity chapter today. Financial management is critical to keeping the chapter with reliable receipts and in keeping chapter members and parents involved every step of the way. Communication tools keep events on track, and insure that the entire chapter balances the load rather than having all responsibilities fall on the officers and chapter advisor. Smooth communication holds everyone accountable for the chapter's success.
Database management makes recruitment and alumni communications streamlined. It keeps your data in a central location and allows you to sort and organize those most important to the success of the chapter. Recruit management simplifies your recruitment period and makes sure that your chapter is focused year-round on bringing in the best and brightest talent.
"OmegaFi has consistently made our dues collection process as painless as possible while also providing a very competitive rate for their services. It would be unrealistic to say we do not struggle collecting dues from our brothers, however, OmegaFi's software allows us to keep track of our brothers and easily charge special fees for large events, manage a roster of more than 120 rotating members, and provide outputs to [Microsoft] Excel to customize data to suit our exact needs."
Phillip Newsom
Sigma Alpha Epsilon - University of Tennessee
Good fraternity software will reveal weak spots in chapter management and shore them up. It should show you more efficient pathways to achieve your goals, drive success, and help you act as an effective community leader more consistently.
OmegaOne is built by Greeks for Greeks and is meant not just to solve your problems today, but to anticipate the problems of tomorrow. Strong, direct communication among members is the fuel that drives the engine of chapter management, from funding, to planning, to engagement. The stronger your engine, the further you'll go.
OmegaFi offers software solutions for fraternity chapters for recruitment, budgeting, communication, and more. Learn more about our services or call direct at 800.276.6342.
Leave your questions or comments about our fraternity software in the comments below!