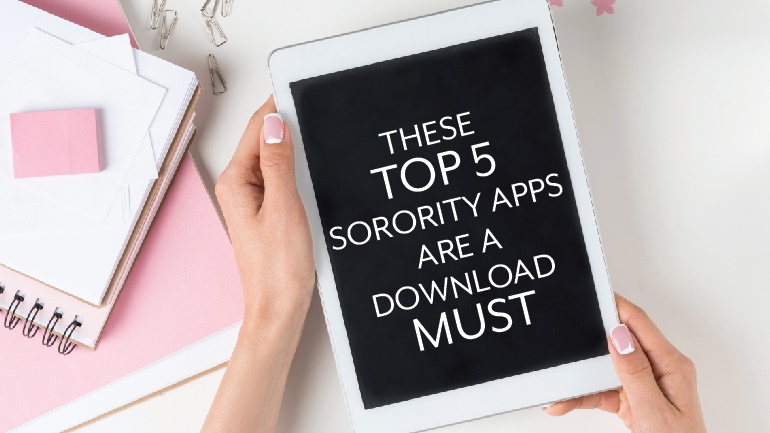 The words you're reading this very moment could have been written using a bulking computer tower like the ones down at the computer lab. Or they could have been written with a laptop, maybe sitting in the common area of the campus library or the local Starbucks. Or--and pay attention to this because it's important--it could have been written using a phone app. In fact, there are a variety of blogging and composition phone apps out there for the convenience of all you budding Virginia Woolfs out there.
Therein lies our point: Sorority software devices such as traditional personal computers, tablets and phones have become so integrated and interchangeable that you can't tell the difference. And that matters in today's busy go-go world where convenience and efficiency take precedence.
When sororities are looking to fill their software needs, sisters will have access to a variety of programs for any number of applications for chapter functionality: Financial management, fundraising, communications, and many other goals can be accomplished with the use of these pieces of sorority software. But the kicker that will draw sisters in is the almighty app. If you're anything like us, you won't admit it readily, but your phone is at the center of your day in many ways: keeping track of schedules and calories burned, keeping in touch with friends on social media and even taking a few mindless minutes to save the world from falling patterns of candy. Most sorority software developers worth their weight understand this, and have readily anticipated your mobile needs. That's why we here at OmegaFi are excitedly Swype texting you and hitting the send button: These Top 5 Sorority Apps Are a Download Must.
5. Planning Pod

The Planning Pod app can be used by sororities to organize and coordinate pretty much every aspect of planning an event. We're looking at you with this one, social chair. Although realistically this app can help any sorority chair accomplish her event planning goals. The idea is to take tasks that are usually spread out over different platforms, such as email or spreadsheets, and centralize all these tasks in one place.
By using this sorority app, sisters can collaborate in planning an event. This might include things like budgeting for catering and venue rental, scheduling, and creating checklists for tasks, as well as sharing documents, images and other files while communicating about event planning goals. This web-based app also allows you to collaboratively create floorplans, register guests and manage RSVPs for headcounts, create event websites and check in event attendees. So for planning that next formal, ceremony, philanthropy or even a pool party, let the software make your lives easier. Planning Pod is a must-download app for sororities.
4. GreekStudy


Have you ever heard that saying, "It's like herding cats"? That saying was invented to describe getting a bunch of sorority sisters to keep up with their study hours. We're kidding. Sort of. But either way, managing study hours can certainly be a pain. Back us up on this one, academic chair. Your fellow sisters are like cats to a fault: independent, loving, fun, brilliant, fierce, and completely and utterly unmanageable. That's where GreekStudy comes in. This sorority app is definitely a download must for helping bolster the academic success of any sorority chapter.
This app does it all when it comes to study time: It tracks the time sisters spend in designated study locations, maintains minimum study hours for each individual sister, sets up customizable fines for missing hours and produces weekly progress reports. It also creates a system of accountability for sisters that will ultimately increase their academic responsibility, and by extension, their GPAs. It's extremely customizable, too, allowing you to set certain study locations and times for certain sisters on an unlimited basis. You can even share chapter academic information with Greek councils that sign up for the app. Designed for minimal scratching and clawing come exam time.
3. Bidlily



Recruitment chairs get some much-earned love with this sorority app. When seeking out Potential New Members, Bidlily should be on the top of your sorority app list. All from your mobile device or tablet, this software allows you to customize voting criteria, access user profiles of all potential members, follow recruitment events in real time and communicate with sisters about voting for potential new members, track quotas and scoring, view reports and analysis as well as integrate with other sorority software such as ICS, GIN and ChapterBuilder. Let us put it this way: Recruitment is a numbers game, but when it comes to numbers it helps to have a calculator.
2. Select-A-Sis


Like Bidlily, Select-A-Sis is a piece of sorority software with a downloadable app to be used directly on your smartphone during the recruitment process. While voting on potential new members, you can upload recruitment data directly to the app, and then allow sisters to vote while each round of voting can be viewed by chapter leadership. Leadership can then sort, edit and manage the data from the voting process and present it to Panhellenic. In conjunction with Bidlily, Select-A-Sis is another recruiting must.
1. GINsystems

Last but certainly not least, considering apps are all about connecting, GINsystems is the absolute must-download sorority app for all your communications needs in one place. This sorority software gives you mobile access to a number of communications tools, such as group texting, polls and questions, a way to organize and track study hours, sign-up sheets, member directories, photo posting, and more. You can communicate with sisters, nationals, and other groups. You can share files. And you can track event attendance and emergency check-ins. Think of this app as a digital sorority house when you and your sisters can't all be in one place at the same time. Downloading this app gives you that sense of connectivity even when you can't be physically together.
Whether it be for communication, recruitment, tracking study hours or event planning, These Top 5 Sorority Apps Are a Download Must. What'd we miss? Let us know your favorite apps in the comments below.