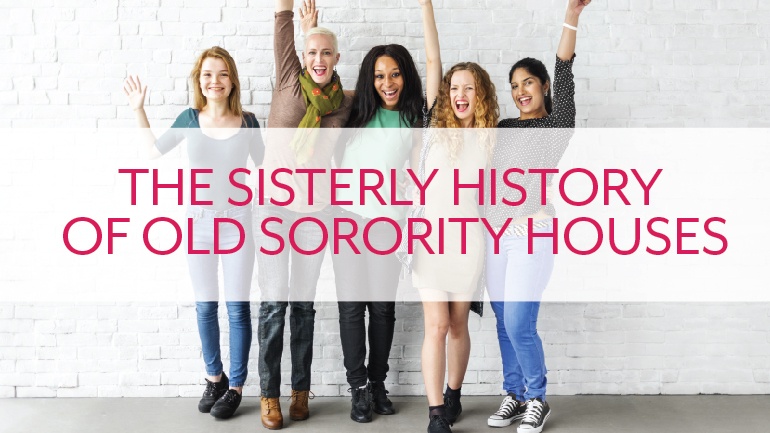 Sorority houses have been around for over a century in the United States. And while fraternity houses get a lot of attention for being big and old, sorority houses have just as much history as any other Greek housing.
So what gives? Why do fraternity houses get all the love?
We're here to address that injustice and right that wrong. The thing of it is, sisters are profoundly proud of the history of their chapters, their sororities at large, and yes, their houses. For what is a house if it is not also a home? And often, the older the sorority house is, the more it's tied into the sorority's lineage and the fabric of generations past.
It's hard not to wax philosophical when you think of your sorority as a family who grows, learns and, ultimately, leaves their chapter house to pursue their lives in other places. Because what history really comes down to is heart. If you leave your experience living in a sorority house without your heart indelibly altered, something went wrong. Honestly, we question if you really "lived" in a sorority house at all. Because it's impossible not to be touched by the love and companionship and even the struggles shared with your sisters, past, present and future. Of this we're sure. That's why OmegaFi is more than pleased to share with you The Sisterly History of Old Sorority Houses.
Alpha Phi - Syracuse University

We have to start, of course, with the oldest sorority house of them all. Technically, because Alpha Phi was formed at a time when sororities were not yet in existence, they're known as an international women's fraternity. They were the first women's Greek organization on a college campus to own their own chapter house, which was commissioned and built in the late 1800s. Before this, women Greeks usually rented houses for their members, who lived with a chaperone.
Alpha Phi is a pioneer for women in Greek life for a variety of reasons, a bastion of women's rights who eschewed the men's fraternities that denied them membership. Alpha Phi went on to form a highly successful organization, now boasting 170 chapters and over 200,000 young women who've joined their ranks.
As you can see, this organization is rife with history, and the house they built is no exception. They lived at the historic site for several decades until the chapter grew too large, and they moved to a newer location in 1902 on Walnut Park, housing up to 30 women. The old location was sold to the university to use as a dormitory.
Gamma Phi Beta - University of Michigan

Just a few years after Alpha Phi entered the scene, Gamma Phi Beta was formed at Syracuse, and some young women at the University of Michigan formed a second chapter. Gamma Phi Beta--and the University of Michigan chapter in particular--is historically known as the first women's Greek organization to be referred to with the term "sorority," which has remained in use ever since.
Gamma Phi Beta started out with just six members. The organization has rich ties to the University of Michigan, as sorority founder Frances E. Haven's father once served as the second university president there. Gamma Phi Beta considers the University of Michigan chapter their very first colony.
The house they preside in is decidedly newer than the chapter itself, as it is roughly sixty years old, with major renovations done in 2015. Some of the newer additions include an entryway with towering Tuscan-style columns, as well as new and updated rooms and fire safety systems, but to be sure, much of the older architecture has been incorporated into the rebuild. You can certainly sense the history of this great sorority organization when you step between its walls. The women who came before are the bedrock of its foundation.
Alpha Kappa Alpha - Howard University

At the turn of the 20th century, young women of color faced adversity based not only on their gender, but racial inequality and segregation as well. That's what makes the history of the Alpha Kappa Alpha sorority one of great significance to not only Greeks but the country itself. In an effort to uplift and bring like-minded young women together in the name of racial equality, Ethel Hedgeman formed the basis of Alpha Kappa Alpha at Howard University in 1908, and it was incorporated in the District of Columbia in 1913, with only nine members. It was the first Greek-lettered sorority formed in the United States by African-American women. The organization remains a triumph, boasting 290,000 members and alumni, with 107 chapters in 42 states and in countries abroad.
Alpha Kappa Alpha has influenced the history of their own organization and communities across the world in countless ways, by establishing social justice initiatives: everything from helping form the American Council on Human rights, to pledging half a million dollars to the United Negro College Fund, to building schools in South Africa and much more.
In the 1920s, Alpha Kappa Alpha lived in a two-story chapter house with a meager architectural style and a handful of bedrooms. Old black and white photographs can still be found of the house if you search for them. It looks like exactly the kind of place serious-minded young women with a penchant for humanity and reason would come together to grow their minds and do their work.
While Howard University doesn't appear to currently have Greek housing on their campus, they are teeming with history, and even stepping on their grounds you are surrounded with it. The university is open to those of all walks of life, but is historically known as an African-American college. Howard was established after the American Civil War as a theological seminary to educate African-American clergymen, and was expanded into a university. The university's landscape is deeply entrenched in the civil rights movement, including being home to Alain Locke, who wrote The New Negro and helped usher in the Harlem Renaissance. Many improvements have been made on campus, including the renovation of Howard Hall, but the history of both Howard University and Alpha Kappa Alpha remains very much a part of its foundation.
These are just a few of the many historic sororities and the places they call home. Home may be a house, it may be a community or it may be a feeling. What would you add to the list? Let us know in the comments below.