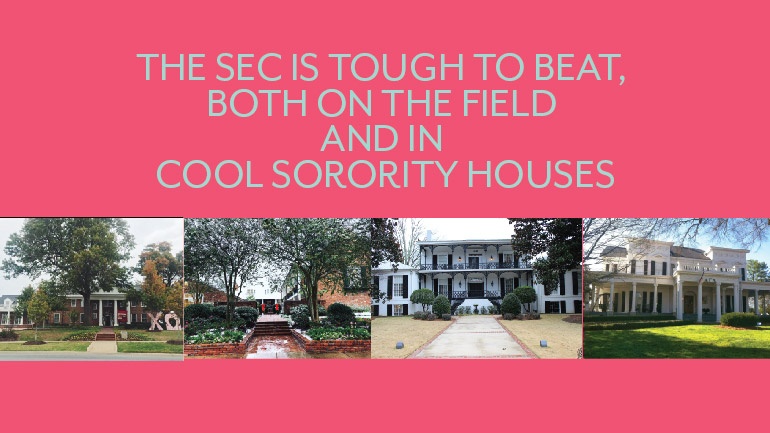 Mississippi State Bulldogs women's basketball. Alabama Crimson Tide football. Florida Gators volleyball. What do these teams--and all SEC sports in general--have in common?
The answer is toughness.
The Southeastern Conference is all about grit, perseverance and fundamentals. Their athletes earn every win, every championship and yes, every heartbreak loss. They glue back together the cracks in their spirits, they tape up their injuries, and they play on.
These schools take the same hard-nosed approach to academics as well.
Vanderbilt University, for instance, is considered an elite school for both graduate and undergraduate programs. Vandy also ranked 14th in U.S. News's 2019 best National Universities poll and 7th in best value school.
Or how about the Niche Best 100 Colleges poll, which ranks Florida, Texas A&M and Georgia in the top 10 for academics?
Inside the classroom or out, the SEC fights hard to be the best.
Their sorority chapters are no exception, sporting some breathtaking historic sorority houses. It's no surprise. Southern states hold some of the country's most awe-inspiring historic architecture, from St. Augustine, Florida; to New Orleans, Louisiana; to San Antonio, Texas.
These houses reflect the history and tradition of southern architecture, while within their walls sisters struggle for a brighter future. OmegaFi wants to take a look at what makes these houses, and the sisters living in them, so special.
In case you didn't know, The SEC Is Tough to Beat, both on the Field and in Cool Sorority Houses.
Chi Omega - University of Arkansas

Chi Omega's Psi chapter calls home a traditional southern-style brick sorority house with Greek pillars towering above its entryway. The house stands as a testament to the history of the university, the architecture of Fayetteville and the chapter itself--the oldest sorority on campus.
Chi Omega sisters have lived in the West Maple Street house since the 1920s, when they only had about 40 members. If you count mid-century additions to the house, that number would only fill about half the available living space.
They've grown since to a whopping 432 members.
A few years ago the house underwent a massive renovation, including a 9,000-square-foot addition of various facilities and more bedrooms, so that nearly a hundred sisters can live in the house at a time.
The updated house blends tradition with the modern, so these sisters always remember where they came from and where they're going next.
Delta Delta Delta - Louisiana State University

Tri Delta's Delta Omega chapter has its own courtyard.
Seriously.
Can we just let that settle for a minute?
This Delta Delta Delta house gives sisters their own privately gated, picturesque world, overlooking the placid lakes of LSU campus.
The house is rife with history as well. In 1966, famous architect A. Hays Town built the structure using influences from Louisiana's Spanish, French and Creole architectural stylings. It houses an impressive fifty-four sisters, with top-of-the-line amenities within its walls.
The chapter recently renovated that oh-so-coveted courtyard, which sports rocking chairs, swings, a fountain and many other relaxing features that make it the perfect hangout spot.
According to their website, the chapter uses the spaces in their massive home for "philanthropy fundraisers, recruitment parties, initiations, retreats, and various panhellenic events," including the wonderful work the chapter does with St. Jude Children's Research Hospital.
The Tri Delts have been on the LSU campus since the mid-1930s, and they plan to use their house to continue making history.
Alpha Gamma Delta and Phi Mu - University of Georgia

This entry in our list is a little different than the others.
Netflix's The Haunting of Hill House adapts Shirley Jackson's classic horror story this October, and judging by the reviews, it's definitely keeping people up at night.
It's only fitting that as Halloween approaches, we delve into a little haunted house story of our own.
The Phi Mu women's fraternity was founded at Wesleyan College in the middle of the nineteenth century. It wasn't until 1921 that Phi Mu's Alpha Alpha chapter took root at the University of Georgia. In fact, it became the first sorority at UGA, which had initially been an academic institution for men only.
Their house is one of several on campus said to be haunted. Sisters know the stories all too well of the man murdered by a family member and buried under the front steps, his late wife haunting the house after her death, crying out at night.
The house itself is hauntingly elegant, as you walk up the drive to its black ironwork and simple white façade, and step the supposedly tragic double stairway.
Alpha Gamma Delta's Gamma Alpha chapter boasts another of the houses on UGA's haunted Halloween tour. Legend has it that a jilted bride hung herself in the attic. Sisters claim they can sometimes see her staring out the attic window, awaiting her groom--who, as it turns out, didn't have cold feet but was simply running late.
The house sits in the dappled shade of some trees, a broad balcony overlooking the lawn where the tardy groom allegedly walked to find his deceased bride-to-be inside.
University of Georgia captures the southern gothic mythos like few other places, and whether these stories are true or simple fireplace fictions, the rich history of the university's architecture is undeniable. There's even rumored to be a secret underground tunnel connecting several of the Greek houses.
Don't worry, though. Unlike most horror stories, ours has a happy ending. Sisters of these chapters make a positive impact on their communities every day, they contribute to important philanthropy projects and they work hard at earning their degrees. They aren't ghosts, but they'll certainly have left their mark by the time they graduate and move out of their houses.
These are just a few of the amazing, beautiful and sometimes spooky sorority houses the schools of the SEC have to offer. We could never cover them all, but we hope you're encouraged to go check out the ones we couldn't include.
What are some of your favorite SEC sorority houses? Which ones did we miss? Let us know in the comments below!