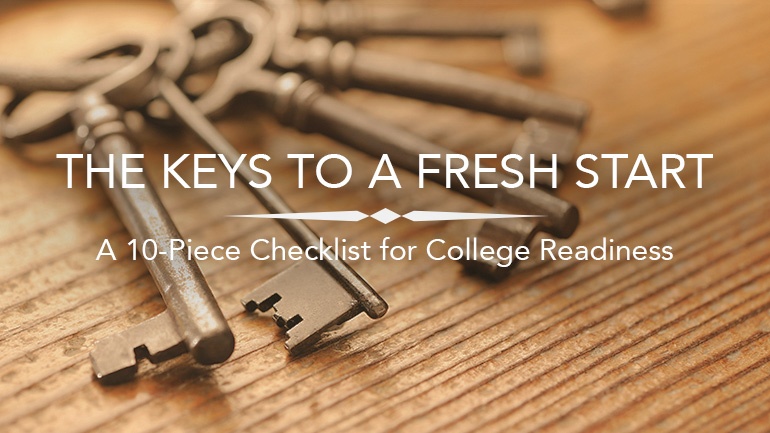 Readiness is next to godliness…or was that cleanliness?
*Searches the Internet*
Whatever, we're going with readiness.
Why? Because when it comes to getting ready for college, you're going to need all the readiness you can get. Within your first weeks of classes you're going to have all types of obstacles and problems thrown at you all at once.
You're going to have classes that are easy as pie at first, then become mind-numbingly difficult.
You're going to be inundated with calls to be more involved, to reach out to social organizations and get the most out of your abundant free-time—ultimately leading to a decline in your time put towards academics.
You're going to be broke as hell if you're doing it right. And you'll still be struggling to find money for drinks or, God help you, a date.
And though you'll handle all these things with varying degrees of difficulty, you don't have to. Thankfully, OmegaFi is here to give you a helpful boost with The Keys to the Perfect Fresh Start: A 10-Piece Checklist for College Readiness.
10. A Day Planner

At OmegaFi, we can't stress this one enough: Get a planner. Whether this planner is a physical calendar or simply using Google Calendar, this instrument is going to be vital to your success as a student. Trust us. You're going to have a litany of different dates and deadlines and despite going to class on a regular basis and having CMS systems like Blackboard to keep you on track, it's best to have things like homework, quizzes, exams and tests written down for yourself.
No missed deadlines. We repeat. No missed deadlines.
9. A Credit Card

Although there are some truly great student-friendly credit cards out there, we advise you to exercise caution when getting a credit card. Why? Because more than likely you're a broke college student. And giving a blank I.O.U. to a struggling college student isn't always the greatest idea. There's a high risk of running up a lot of debt without an income to pay it.
However, a college-friendly credit card with a low APR and a low balance ($250-$500 tops) can serve as a great way to build credit early on while giving you some financial wiggle room during emergencies.
We repeat. Emergencies.
8. A Car or Bike

The individual with the car reigns supreme.
Especially if you're in your freshmen year. You will easily become the most popular person on campus as your new friends look to you like a child to a parent as a source of mobility. A car can also get you around the state or on road trips for those looking to get out of their college town for a weekend. However, cars are a large expense. You've got repairs, parking decals (get ready to be hit over the head with the cost), and gas.
If you don't plan on making long trips, a wiser investment may be a bike. If your college town is bike friendly, having two wheels instead of four will help you save on gas, keep you in shape, and get you from point A to point B without sitting in traffic.
7. A Spare Phone Charger

This one is simple: In college, your phone will die frequently. Get a spare charger. A simple USB cord will do. You can bring it around with you, plug it into your (or a friend's) laptop and get a quick charge while you're in class.
Although a phone can certainly be a distraction, it's also a tremendous asset in information-seeking and technology. Keep your phone charged and alive, because about 99.9% of the time you will need it for something, even if it's just checking the time.
6. A Suit

First impressions are often the longest lasting. When it comes to going to formal events on campus, internships or even job interviews, it's best to have a formal business suit in order to make the greatest impression.
You don't have to wear it often, or even a lot, but it's always good to have formal attire for when opportunity calls for it.
5. A Gym Schedule

The freshmen 15 isn't law. It can be overcome. Although an unlimited meal plan and a sedentary lifestyle will certainly lead to spike in weight gain, with your tuition also comes a free gym membership. So, use it. Create a workout plan that simply gets you up and active.
Whether it's a 30-minute routine or an hour, the hardest part is often just walking through the doors. Look at your school schedule, and create a plan that works best for you. An hour a day at the gym can add years to your life and keep you looking great.
4. A Good Laptop

This one is a bit tough because although a good laptop isn't necessarily the cheapest thing to get your hands on, it's undeniably useful. You can never go wrong with a nice Macbook Pro—they don't get viruses and you're probably used to the interface if you've got an iPhone—but they're pricey. If cost is an issue, the library has laptops for rent. Create a schedule of studying that puts you in the library for a few hours a day and you won't need to buy one. Just use the free resources provided by your campus and save your files to a cloud-based system like Google Drive.
3. A TV and a Netflix Account

We mentioned this briefly earlier but college is expensive, largely because you have no income. Aside from tuition, food and rent, you still want to have a little money for entertainment. But dating in any city (particularly for men) can get expensive if you're paying for two.
The remedy?
Get a cheap TV off Craigslist if one isn't included in your dorm or off-campus apartment. Then either purchase or buy a Netflix account and have a movie night. Sure, we're talking about "Netflix and Chill," but the literal version, so get your mind out of the gutter dear, reader.
If you want to go on a cheap date night outside the house, we're willing to bet your campus has a movie theatre that's free to students. So, look up the schedule and plan your dates out. Take advantage and save some money.
Being cheap may be a negative, but thriftiness will always be an admired quality.
2. A Smartphone Full of Productivity Apps

Although we've mentioned this before, there are a lot of apps available these days that are not only free, but can truly change your life.
Here's a shortlist:
Wunderlist: A to-do list style app that allows you to set repeatable (daily) goals.
Forest: A productivity app that blocks your phone for a designated period of time to help you focus.
Sleeptown : A sleep scheduling app that blocks your phone at a designated time, allowing you to sleep uninterrupted by the temptation to check an incoming text.
1. A Healthy Diet

Easily the most important item on this list, your body's health—both physically and mentally—depends significantly on what you put in it. Drinking water frequently will help with cognitive ability, wakefulness, and focus, while we all know the importance of eating on mood and overall energy levels.
We advise a diet that eliminates the consumption of fast-food (McDonalds essentially), in favor of real foods like fruits, vegetables, lean protein (chicken), and good fats from avocadoes and fish.
And with that, you've been officially given the cheat-code to a successful college year (at any stage). What do you think? Did we miss something?
Give us an earful in the comments below!