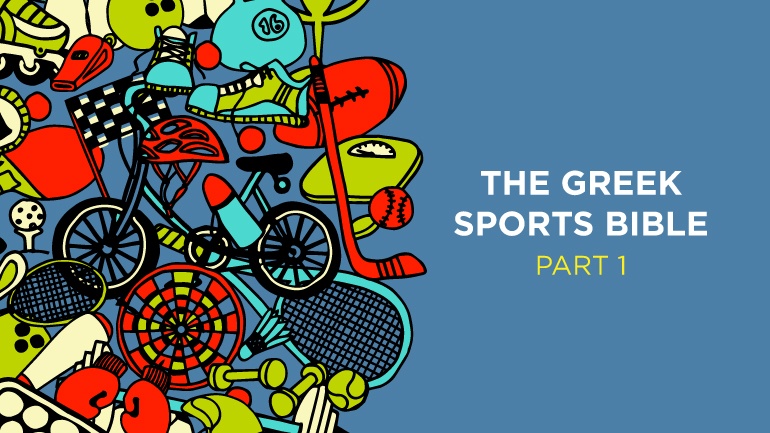 Sports! You play them. You watch them. You love them. Whether it's Aaron Rodgers or Tom Brady lobbing a bullet pass down the field for a Super Bowl touchdown, Stephen Curry landing a 3-point jump shot over the head of LeBron James in the NBA finals, or Serena Williams serving up another ace to a winded opponent at Wimbledon--you're all in. As for your own athletic prowess, you're up for anything: Frisbee golf at the university park. Intramural flag football. A pickup hoops game. We'll make this intro brief, so we can get to the hero worshipping part, dear sports fanatic reader. For your love of everything athletic, OmegaFi is happy to share with you The Greek Sports Bible: Part 1.
The Only Way to Shut People Up: Terry Bradshaw

This Tau Kappa Epsilon Louisiana Tech alumnus is as known for his comical hairline and career as a sports commentator as he is for his career as an NFL quarterback. Still, there are few pigskin-loving women or men from coast to coast who haven't heard of this larger-than-life personality. He's got southern charm, been featured in TV and movies, zings with his one-liners, and has all the football know-how one could imagine. He's also a Pro Football Hall of Famer. Throughout the 1970s, Bradshaw led the Pittsburg Steelers to four Super Bowl victories and eight AFC Central championships, and was voted Super Bowl MVP twice. He famously said, "The only way to shut people up is to win."
And win he did.
The Fighter: DeMya Walker

In 2005, DeMya led the now-folded WNBA Sacramento Monarchs to a championship over the Connecticut Sun, cementing her career accolades as a WNBA All-Star. She now plays the forward position with the New York Liberty. Yet DeMya's path to stardom--both before and after she played for the University of Virginia as a Zeta Phi Beta sister--is a long and inspiring one. DeMya considers herself a fighter, and for good reason. In high school, she set all kinds of records: 851 career rebounds; 14.2 rebounds per game; the most rebounds in a game of 29; 675 points for most in a season; and a record 1,546 career points. With UV, she led the team in field goals and blocked shots, and landed 9th in most points scored in the school's history.
The Brickyard Brother: Bobby Rahal

Motorsport fans know Bobby Rahal as the Indy Car (at that time CART) driver who was a 3-time Indy Car champion and won the 1986 Indy 500--one of the most prestigious racing events in North America. These days Rahal runs an Indy Car team along with famed talk show mogul David Letterman and Mike Lanigan. He's competed and managed in other series at different times in his career, such as NASCAR, the infamous 24 Hours of Le Mans in France, and even a brief stint with the F1 Jaguar team. So why does Rahal's on-track prestige matter? Probably because if you're a Phi Gamma Delta brother, then you know this alumnus represents the fraternity with lightning quick prowess every time the rubber hits the pavement.
In the Ring and on the Ropes with Summer Rae: Danielle Louise Moinet
Moinet, who is famous for her WWE Pro Wrestling persona "Summer Rae," is also a well-known reality star on the hit show Total Divas. The show follows female wrestlers like Moinet in their personal and professional lives, as well as their relationships and dramas. Before hitting the ring and the stage, though, Moinet attended East Carolina University where she gained her sisterhood as an Alpha Delta Pi. She's been in the WWE since around 2011, featuring such signature wrestling moves as the Summer Crush, spinning heel kick, and Lotus lock.
Brothers Like Mike: Michael Jordan

Long after Michael Jordan's retirement from his NBA stardom, mostly with the Chicago Bulls, there's no denying he's as much a household name as ever. Up-and-coming greats like LeBron James and others are inevitably compared to Jordan's records. People still wear shoes branded after the man. Before he went on to become one of the greats, Jordan joined the ranks of Omega Psi Phi at University of North Carolina. Do we really need to rehash the man's accomplishments, which are plastered all over America's sports history pages? Okay, we'll cough up a few: Jordan is a 14-times NBA All-Star, 6-times NBA finals champion and MVP, 1991 Sports Illustrated Sportsperson of the Year, and 10-times NBA scoring champion. C'mon, now. Who doesn't want to be like Mike?
You Got Served: Zina Garrison

This tennis pro and honorary Alpha Kappa Alpha sister follows in some very important footsteps--Althea Gibson was the first African American athlete to compete in international tennis, shattering a racial boundary and going on to win the French Open in 1956. Continuing that legacy is 1988 Olympic tennis Gold medalist, 1990 women's singles runner-up at Wimbledon, and three-time Grand Slam mixed doubles champion Zina Garrison. Despite some unfair comparisons to Gibson, Garrison nonetheless has gone on to compete in the French, Australian and U.S. Opens, as well as Wimbledon, twice. Since retiring, she's been a TV commentator, founded a charity for victims of homelessness, and currently coaches pro tennis player Taylor Townsend.
Sisters on the Green: Nancy Lopez

Nancy Lopez, University of Tulsa graduate, Sigma Kappa alumna and Women's PGA star, has won 48--count them--48 WPGA Tours. She's won three other major golf championships, was awarded player of the year four times, and has been inducted into the World Golf Hall of Fame. She was awarded LPGA Rookie of the Year, Player of the Year, and the Vare Trophy in her 1978 season. She now owns a successful company which manufactures and sells women's clubs and accessories. Lopez is undeniably one of the great golfers of all time. Her numbers speak for themselves.
The Grand-Slam of Impact Players: Jackie Robinson

Robinson was vocal about civil rights, breaking the color barrier as the first modern African American MLB player, and the importance of having an impact on the lives of others. Robinson may very well be one of the most famous baseball players ever to run the base pads. But did you know that before he became famous for his bat, Robinson played football (as well as basketball, baseball, and track) as a UCLA brother of Alpha Phi Alpha? Robinson may very well have gone on to play football professionally; however, WWII interrupted his career and he was drafted after the attack on Pearl Harbor. Even then he stood up for civil rights, when refusing to move to the back of the bus with fellow soldiers and being court martialed on trumped-up charges. Playing in the "Negro Leagues," Robinson later went on to join the LA Dodgers, where he faced adversity both in the game and from players, coaches, and fans who opposed his playing alongside white players. Yet Robinson helped lead the Dodgers to six World Series, and in 1955 LA snatched the pennant from their rival, the New York Yankees. There's a reason Robinson's name is still on the tip of every baseball fan's tongue to this day.
These are just a few of the famous athletes who've come out of Greek chapters to compose this first part of our Greek Sports Bible, but rest assured there are more! Who should we include in the next segment? Who's worthy of a shout-out? Let us know who and why in the comments below.