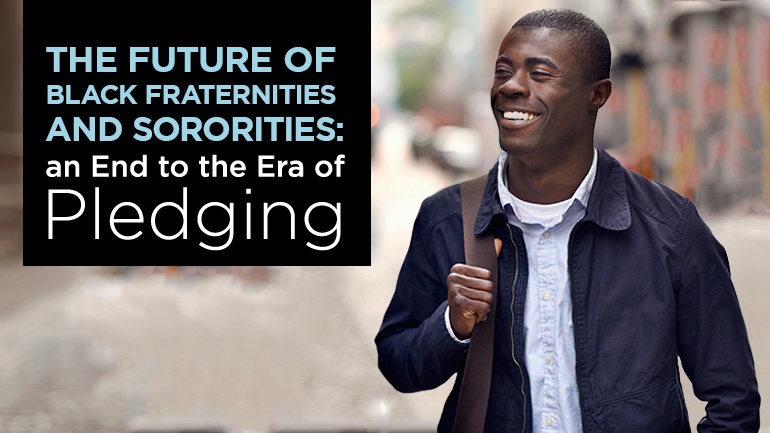 Guest written by Cameron Kennerly
I'm going to be frank for a moment and admit an increasingly obvious truth: Pledging is inextricably tied to the history of black fraternities and sororities. Whether it was the death of Robert Champion within the FAMU Marching 100 (a fraternity of sorts outside of the Divine 9) or the increasing visibility of hazing incidents at predominantly white institutions (PWIs) and historically black colleges and universities (HBCUs), the spotlight on pledging is here to stay. For clarification, the term pledging is used to define aspects of a pledge process that are designed to build and uplift the individual. In comparison, hazing on the other hand are often acts of violence or humiliation that serve no greater purpose other than to demean. In short, hazing is the unfortunate—and sometimes dangerous—side of a pledge process, however, overlap within these two practices is often inevitable. As the internet age has infiltrated the historic secrecy of these centuries old organizations, it should come as no surprise that this newfound scrutiny has led to an increased frequency of organizational suspensions. Nowadays it's incredibly difficult to find a university (HBCU or PWI) that has a fully intact Divine Nine (National Pan-Hellenic Council for the laymen). And as national leadership continues to distance itself from the pledging culture that has been integral to the identity of many Greek individuals, it seems as if black Greek life is undergoing a gradual shift away from the core experience its predecessors and potential applicants could previously depend on.
In short, paper processes (pledgeless membership acceptance) are becoming a creeping norm as chapters are suspended, their traditional members matriculated out, and become re-established under strict alumni-control who remove any aspects of a process outside of what's been nationally recognized. For many chapters, the tie between neophytes (newly initiated members) and their alumni—within the chapter itself and abroad—is this sense of mutuality in the pledge process: a precise mechanism that is championed for building camaraderie and lifelong bonds. Simply put, your prophyte (older brother) went through the same process as you—as did your neo. This similar bond and structure is what allows a brother to take pride in his chapter while connecting with other members of the fraternity abroad. The same goes for sororities.
But when death can be a consequence, even when weighed against the potential benefits of a process, can it ever be considered worth it?
For decades, mainstream America generally ignored black fraternities and sororities. For a while the internal structures of these organizations were shrouded in secrecy, and the only insight into this world was either to enter it directly or fail to make it through. However, with the advent of the internet, decades long practices and customs within fraternity and sorority culture have suddenly been put out on full display.
In truth, pledging can be a dangerous endeavor, and there is a litany of examples of individuals getting injured—superficially and permanently. As we continue to move into an increasingly transparent world, where there are full blown factions dedicated to exposing secrecy (Wikileaks), can the underground culture of black fraternities and sororities continue to exist? And more importantly, should it?
For your enlightenment, OmegaFi is here to delve into a hidden world: The Future of Black Fraternities and Sororities: And End to an Era of Pledging?
A Brief History

I'm going to start with a brief history of black fraternities and sororities to impart a bit of context to the culture of pledging. And no, I don't mean excessive drinking or participating in humiliating acts. That's hazing: harassment without a true lesson or point. As most fraternities and sororities were founded over a century ago, with the first black letter organization, Alpha Phi Alpha, being founded in 1906 at a predominantly white institution (Cornell), life for an African American student at this time was incredibly hard. For context, slavery officially ended in June of 1865. For blacks to be in an ivy league school within only 41 years was a dynamic shift for white America. Needless to say, the opportunity for blacks to even get into these universities was extremely difficult to obtain, meaning entrance into student organizations at white institutions was essentially impossible. Although several black fraternities and sororities were founded at HBCU's (Howard University specifically), the reasoning behind this is directly related to the fact that many blacks were barred from white institutions, either directly or financially. Thus, they created fraternal and sorority organizations themselves at their own schools. Particularly within fraternities and sororities founded at PWIs, the modern "pledge" process derived directly from the experiences they encountered. For some founders, the process of simply being a black student at a white school was a dangerous endeavor. Classes were segregated, which meant that in certain cases, these individuals had to literally take their class through the windows outside. For others, violence was a daily occurrence, meaning the act of carrying a brick in one's purse for protection was an understood necessity. In the years that followed the founding of these organizations, the lifestyle in which the founders were forced to live by was replicated for new initiates. Over time, this culture became what black fraternities and sororities called the "process."
So What Does the Future Hold?

As it stands, black fraternities and sororities have managed to adapt with the times without forgoing the core traditions of their roots and rituals. Although with increased scrutiny the recklessness of the pledge process has been toned down to match current standards, there seems to a gradual distancing within the processes of alumni brothers and newly-made neophytes. Although this current discrepancy is minor, as the process continues to become softened over time and black Greek-life adapts itself to the shifting expectations of general Greek life, the traditional rites of passage for black Greekdom may one day end.
Although brothers and sisters of these organizations may lament as black Greek culture begins to assimilate into the norms of general Greek life, the objective reality is that a safer process is fundamentally a better process. The purpose of these organizations upon their founding was to create a space of community, of brotherhood, and of sisterhood for those who could find no bastion or safe space within the larger society. To this effect, the safety of its initiating members is paramount to this vision and to the continued longevity of these organizations. Though some may make the argument that a "pledgeless" process is ultimately detrimental to brotherhood and sisterhood, the reality is this: True brotherhood and sisterhood depends on you. We all know the brother or sister (pledged or not) that got their letters and disconnected with the active chapter. After graduation, they're nowhere to be found. In group communication channels, they're always silent. It happens. However, the focus for the continued existence of these organizations must be one of inclusion and pragmatic practices.
The bond is what you make of it.
What are your thoughts on pledging? Let us know in the comments below.
Cameron Kennerly is a freelance writer, former NPHC President and proud Nupe of Kappa Alpha Psi.