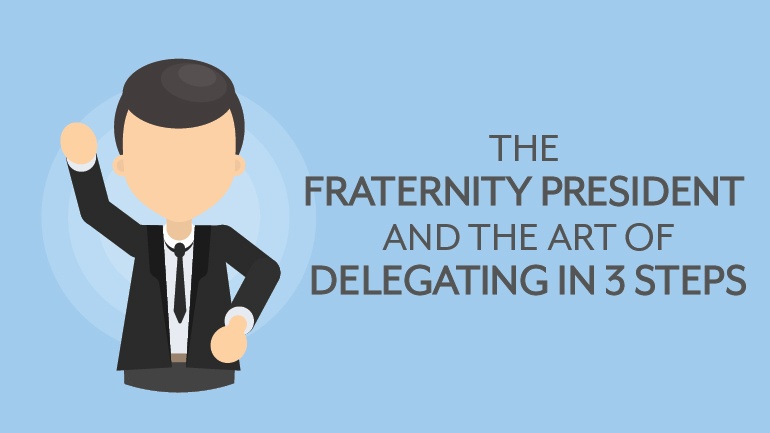 If you sought out the position of fraternity president, chances are there's an element of control freak in you. We're not saying you're a full-blown narcissistic megalomaniac bent on world domination or anything--unless you're the kind of guy who watches Spider Man movies and roots for Doctor Octopus.
And if you are, We're calling the police.
But chances are you just are simply intelligent, independent and driven to be a leader. You may have a particular way you like things done. You may feel like you have the solution to every problem and hate to ask for help. If this is you, you're like most chapter presidents. Even if you're overburdened and on the verge of mental collapse, you'd never let your men down.
This is both an admirable quality and a sign that you may be taking on too much, which ultimately will have a negative impact on your ability to run your chapter effectively--the opposite of what you're going for.
Here's the thing. The difference between a good fraternity president and a bad fraternity president may be as simple as this: Do you know when to delegate?
For example, consider the following scenario:
Dan is not paying his fraternity membership dues. You're already using OmegaFi's financial management and budgeting fraternity software that lets you shame non-payers with reminders and updates, and gives them basically zero excuses not to pay. The treasurer, let's call him Fred, has been on Dan's butt for months.
He's given every excuse in the book. Now Fred wants you as president to make Dan pay. You've got a bunch of Officer Reports to deal with as well as a midterm. On top of that, the recruitment chair, Javier, wants you to design a rush tee-shirt.
You're on the berge of pulling all your hair out. But no, you mustn't do that.
Your hair is your best feature.
So, what do you do?
Well, you already know what you're doing wrong. You're doing too much. That's why OmegaFi is happy to impart some wisdom for you about The Fraternity President and the Art of Delegating in 3 Steps.
1. Know What a Fraternity President Does (and Does Not) Do


This means do your homework before you ever get elected. Spend the semester before shadowing the fraternity president before you. Study the officer guidelines for both president and other chairs, and ask questions when you don't understand something. Really knowing what your role is without confusion lets you know when you're supposed to step in and when you need to manage and delegate.
It varies by chapter, but often a fraternity president's role is managerial, in the sense that you're the face of the chapter to both your brothers and higher ups like the Chapter Advisory Board Chairman, Housing Corporation President, Alumni Club President and university officials. A lot of the reports and other paperwork will fall on you, and making sure brothers and chairmen are doing what they're supposed to.

Use your vice president in helping delegate and update on the status of other chairs and chapter goals. Implement disciplinary measures when necessary and appropriate for you to do so, if brothers aren't pulling their weight. Try to stick within the duties of president and only help other chairs in their tasks when absolutely necessary. For some chapters, there are already guidelines laid out for how to properly delegate.
Basically, know your role and stick to it as much as you humanly can. Direct Fred to the treasurer guidelines. He'll have to work out the dues payments with Dan on his own.
2. Know When You Need Help and Ask for It


Your chapter may have access to a Leadership Consultant or others in your national organization who can help guide you in your leadership skills. Or your Greek Life office may offer leadership seminars. The point is that you should basically be in constant contact with others who can guide you. Take a former fraternity president or knowledgeable alumni member out for lunch and chat about the chapter direction and goals.

Ask them what made life easier and what made life more difficult for them in their time with the chapter.
In addition to relying on those above you in the pecking order, don't allow others to over-rely on you when it's not necessary. Instead of having new officers constantly bugging you about how to do their jobs on top of all your tasks and school work, make sure they are going to the chapter guidelines and national bylaws first, and then to you only when those questions can't be easily answered. Even then, they can be directed to former officers of those positions.
Make sure they're avoiding the usual mishaps when transitioning into their new roles, and be encouraging about officers being more confident in their decision making.
3. Know When Not to Delegate


There are times when you absolutely must take control and be decisive. You cannot send unclear messages or make wishy-washy decisions, because that will always make your job harder. Trust us. If you give an inch, brothers will take a mile.
Simply put, while you should make sure all chairs are following their roles to the tee, you are the face of the chapter.
And that's something you cannot delegate.
Period.
You'll lead ceremonies and rituals, serve as chairman at chapter meetings and you're going to be the first person other fraternities or sororities speak to when you're fostering new relationships in the Greek community. You'll also be the glue between the chapter and the national organization, your university officials, and organizations that have business or philanthropic relationships with you.
But most of all your brothers are going to look to you as their leader, someone who gives them a positive example to follow. When new recruits look at your chapter, you're supposed to be the ideal brother. You're the benchmark.
So, there you have it, fraternity president. Knowing the art of delegating can get you far in your new role, but the important role of the president himself as a leader of men cannot be delegated.
Are there times you wish you'd done a better job delegating, or leading your brothers? Do you find it difficult to achieve that balance? How so? Let us know in the comments below.