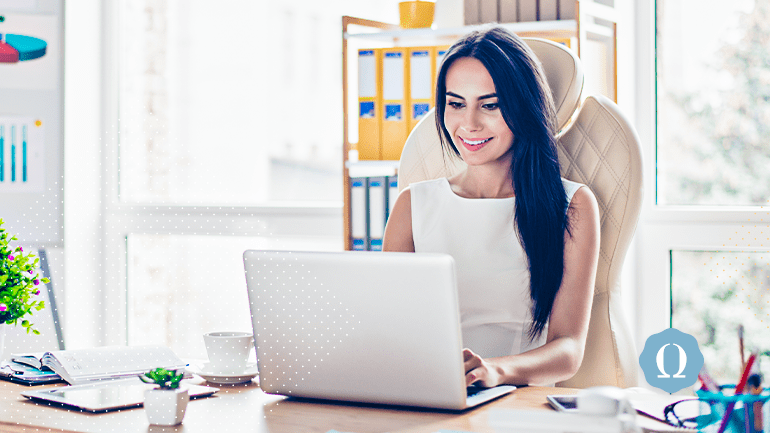 If you've invested in sorority software, it pays to know how to get the best solutions out of it.
Yet it's easier than you think to underutilize your software.
Think about all the software you use in your life. As a college student, you're likely using all kinds of academic software.
You're using programs every day such as:
word processors
spreadsheets
slide presentations
study apps
digital workbooks and classroom programs
Of those programs, do you know and use every single option available to you inside and out?
If you're like some students out there, you know how to write a paper for English class—but when you start exploring all the menus within menus of your word processor, you're soon lost in a world of layout and design tools, as well as other paragraph, line, margin, citation, and other options.
You can design a spreadsheet like a pro; you are a sorority sister, after all. Spreadsheets are pretty common in chapter management. But who knew there were so many equations you could use? And did you know you can manage your stock trading data with Microsoft Excel?
---
OmegaFi's Chapter Software Solutions Include:
OmegaOne – all-in-one communication software
Vault – budgeting and financial management software for chapters
OmegaRecruit – Potential New Member management, voting, and bidding software
---
Maybe you already know all this. Maybe you're a whiz and can run your programs inside and out.
If so, that's great! It means you'll be able to easily adapt to what we're going to tell you.
If not, don't worry.
OmegaFi's sorority software solutions are designed to be intuitive and easy, and once you know how to optimize your experience, your chapter will be running like clockwork.
Using our premium sorority software solutions like OmegaOne will help you manage chapter life like a pro.
But finding the right sorority software solutions for these programs? It's an absolute game changer.
Solution: Budgeting Communication

When you're setting and managing a budget, communication can be the difference between pulling off your goals and crashing and burning.
Your chapter budget is central to everything you do throughout the year. Naturally, it's going to be the center of a lot of discussion.
Having OmegaOne communication software gives you the tools to communicate better.
Vault software helps you set and manage your chapter budget like a pro.
But are you using these programs to optimize budgeting communication?
That's the brilliance of sorority software that focuses on real chapter-based solutions: It's built to allow you to fluidly and naturally connect tasks and goals and switch between them seamlessly.
Rather than viewing communication and budgeting as two separate chapter management tasks, you can use this software to help one facilitate the other.
Here's a hypothetical rundown of how that would look:
Rhonda is chapter treasurer. She uses Vault to set and manage a budget. However, she's still in the planning stages.
She uses OmegaOne to send alerts, texts, and emails to executives and members of her financial planning committee. She uses the shared calendar to alert relevant sisters about upcoming meetings to discuss and set the budget.
She shares files, such as previous budget spreadsheets, using OmegaOne's customizable cloud storage.
Rhonda sets and manages the budget, manages bank transactions, and more via Vault.
She sends reminders about dues owed, and sets future finance meetings using OmegaOne's chapter calendar feature.
Meeting attendance can be managed using OmegaOne's points tracking and appeals system.
Sisters or parents can pay membership dues using OmegaOne, which connects these actions directly with Vault.
Chapter finances can be complicated—which is why budgeting communication using sorority software should be as easy as possible.
Solution: Managing Recruitment Risk and Planning for Success

Recruitment is a huge time of year for sisters, and a lot happens at once. It's controlled chaos, if you've planned for it, but chaos nonetheless.
This requires a high level of real-time chapter management, or else things can unravel in a hurry.
Some of the biggest concerns for chapters during recruitment time include minimizing risk and maximizing your ability to secure values-based bids.
With the right software solutions, these recruitment worries can be assuaged. Here's how.
Kylie is the recruitment chairperson. She uses OmegaRecruit software to manage Potential New Member data, cast rounds of recruitment voting, and compile and send the chapter bid list all from her mobile phone.
She uses OmegaOne software to make customized recruitment updates and announcements that appear on sisters' personalized alert "walls." She sets meetings with the recruitment committee, exec officers, alumnae advisors, and Greek officials using the shared chapter calendar.
Any quick updates or adjustments to the plan or schedule of events can be made into real-time alerts to sisters.
Risk management's important announcements can also be made via OmegaOne prior to and during recruitment events.
Important files can be shared via OmegaOne's cloud storage, including things like updated recruitment rules and expectations, important public safety contacts like campus police and university officials, and so forth.
In the event of an emergency, OmegaOne's emergency alert system allows an automated alert to be sent to sisters so everyone can respond if they are safe or not, and they can use geo-location for authorities to locate them.
The event check-in, points tracking, and appeal system will ensure sisters will be where they're supposed to be during recruitment events.
The best software solutions usually require a lot of flexibility and options that anticipate the difficult chapter management situations sisters face every day.

OmegaFi hopes to fulfill those solutions and bring greater success to sorority chapters just like yours.
OmegaFi offers software solutions for sorority chapters for recruitment, budgeting, communication, and more. Learn more about our services or call direct at 800.276.6342.
What solutions do you need out of your sorority software? Have any software success stories? Share them in the comments!